37 Weeks…It's Coming Near!
37 Weeks…It's Coming Near!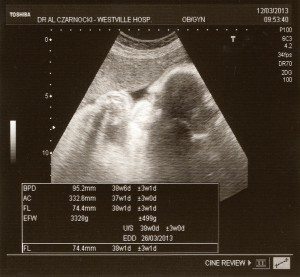 Yes, for those of you who recognised it, it's a Sega Bass Fishing reference…or what Nick say's to me every morning on the way to work.
Just two weeks after our last scan we were back in Dr Czarnocki's rooms for our 37 week scan. Baby Girl Prior is doing well and has grown to 3.3kgs according to her scan. That said Dr C told us that the scan generally over-estimates and that she's probably sitting at around 2.9kg in reality.
He also told us that first children generally come a little late which was a tad disappointing. It's not that we want to rush her out, it's just that we're hugely excited and can't wait to meet our little girl.
Sadly (as you can see) the photo we got wasn't great since things are getting a little crowded in there. That said we saw her relatively well during the scan and could see her opening and closing her little mouth.
Sharon is due to go on maternity leave at the end of the week, so it really is all coming to an end…or is this just the beginning.