A Slow Morning At Inanda
A Slow Morning At Inanda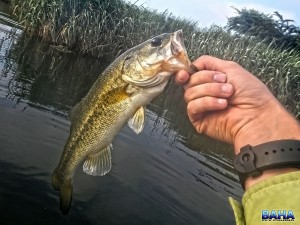 Bass seem to be topping the todo list of late. I guess it's because they're close to home and great fun to fish for on the surface. So on Sunday we headed back down to Inanda Dam to have another go at the good old largemouth.
I got down at 5:45 only to (once again) discover that the gate only opens at 6am. Rather than standing around I put this time to good use and inflated my tube and kitted up my rod. That way when the gate opened I was ready to go and was on the water within 5 minutes.
This proved to be a good move as I picked up 3 fish within 15 minutes of kicking out. After that things went quiet and I started to struggle. Whether it was the bright sun or the hundreds of boats on the water I'm not sure, but I'm glad I got that first quarter hour in.
Nick got down a little later with the family and was forced to queue for ages at the gate while people completed the necessary paperwork for their boats. This meant he missed the initial good spell and struggled through the morning without catching a fish.
Thankfully he hung around for most of the day and picked up a couple of fish later on on a small black wooly bugger.
It was amazing to see just how busy the dam was with the Christmas holidays in full swing. We may need to wait for January before we head back down to the water.