A Tough Day On The Bushman's River
A Tough Day On The Bushman's River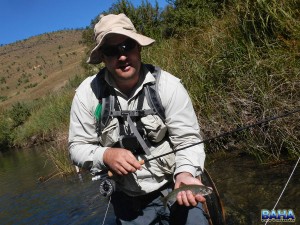 After a poor showing on the rivers for most of the season we decided that a trip to the Bushman's was in order.  A Monday public holiday gave us the perfect opportunity so we booked the water and were on the road at 5am, heading for the Giant's Castle area.
Our usual coffee stop was a little disappointing but with few other options on the route I guess we'll be back for more. However despite the muddy water they served us the cup of coffee still helped pass the time until we arrived at the hatchery just before 7am. We were met by Vaughan who took us back to the cottage where we kitted up the rods and got ready for a day on the river.
From Snowflake Cottage the walk to Puffadder Pool was quick and easy. Upon arrival we immediately spotted several fish in the middle of the pool and went into stealth mode. Nick threw a few casts to no avail while I sighted the fish for him. We then switched roles and tried again. I too was rejected by the sneaky troot.
After giving Puffadder our best we continued our walk back towards the cattle grid before jumping into the river. Fishing was tough with very few fish seen on the lower sections, and none coming to hand. We tried nymphs, dries, and dry/dropper combinations, all with no success.
Back at Puffadder Pool we enjoyed an early lunch while watching the same fish as earlier. In fact at one stage I could see over 20 fish, all of good size, patrolling the pool.  But sadly they once again evaded every fly we had to offer.
Eventually we gave up once again and continued up the river, hoping for more luck in the runs and riffles. Fishing remained tough and we still had no fish when we passed Honey Hole. Thankfully Nick saved our blank day by picking up a small rainbow shortly after the pool. Never in my life have I been so happy about a single fish.
From our only successful pool we fished up to the Hatchery before climbing out of the river and heading back to the car. I was baffled by the tough fishing and put it down to one of three things…or perhaps all…
The crystal clear water
The cold water temps due to the recent snowfall
The low river conditions.
With my first ever blank on the Bushman's River hanging over my head we opted to stop at the Nottingham Road Hotel for a quick draught before heading home. Despite the tough conditions it was a great day on the river, made worth it by an ice cold beer.