A Weekend At Kamberg
A Weekend At Kamberg
With Sharon and I both being exceptionally busy at work, and leave is a gift from above. So when a long weekend crept up on us we made the last minute decision to head to the Kamberg Nature Reserve for a weekend in the mountains.
Our first stop was at Piggly Wiggly, early on Saturday morning, with the plan being to enjoy the journey as much as the destination. Sharon browsed the shops while Emma and I played on the jungle gyms, allowing her to stretch her legs. We then did what every family enjoying a long weekend should do, and sat down to a healthy breakfast – pizza. With that out of the way we let Emma dip a Pluto candle before getting back onto the road.
Our next stop was in Nottingham Road where we did a little last minute shopping (we'd forgotten the sherry) before stopping again at the Rosetta Farmers Market. It was smaller that expected but, being situated next to a small dam with a craft beer stand and a lot of hippies, I was definitely not disappointed. We browsed the market briefly but mostly chatted to Dion and Megan while enjoying a few of their home-brewed craft beers. Emma enjoyed her freedom by running between the stands to her little hearts content, making forts under the many tables used to sell everything from creams to homemade, baked goods.
We then climbed into the car for the last time and arrived at Kamberg just after lunch, and checked into our cosy little chalet. Of all the Kzn Wildlife resorts, Kamberg still has (perhaps) the best accommodation. The chalets are nestled on a hill, overlooking the reserve's dams, and consist of a small kitchen, bathroom, and an open plan living area. They come equipped with everything you need including a fireplace, balcony, and small braai area. And despite being built many years ago, they're incredibly well maintained and definitely worth a visit.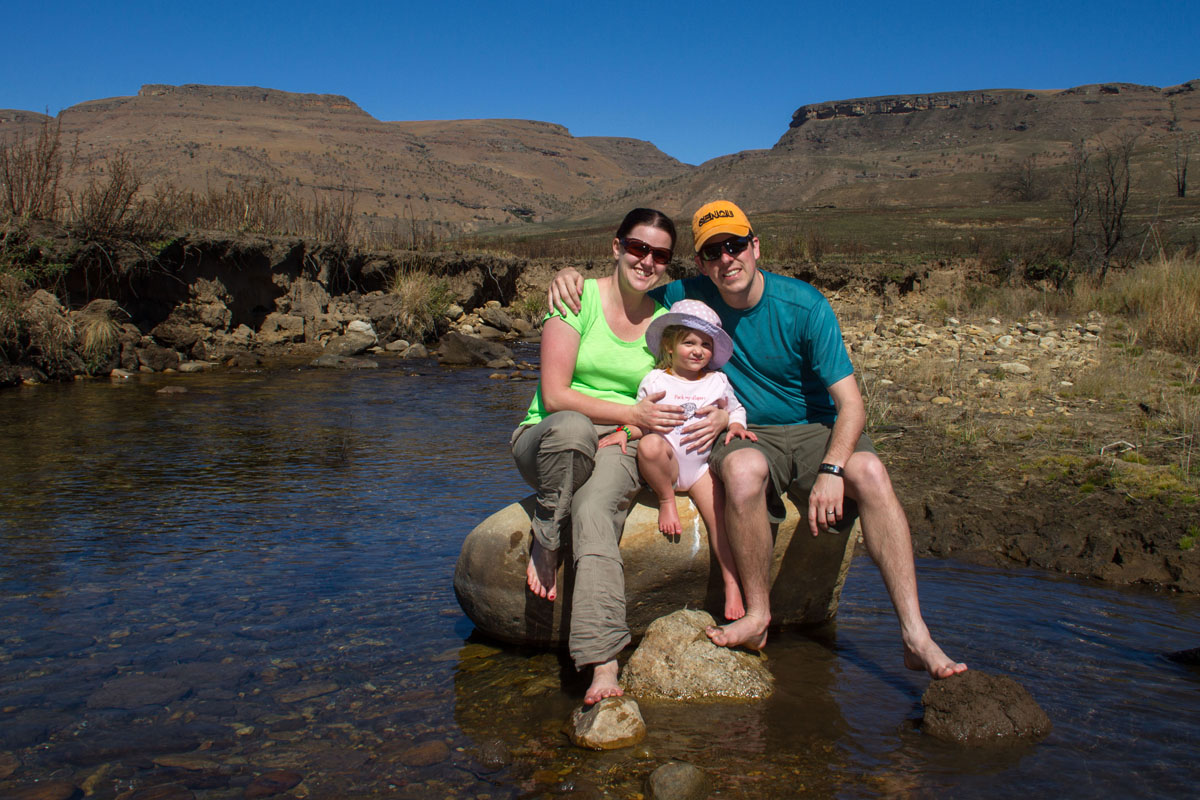 Sharon served a late lunch consisting of hot-dogs, sans tomato sauce and we then relaxed on the balcony. Emma meanwhile had her afternoon nap, while I headed down to the dams for a late afternoon fish.
Upon arriving at the dams I was greeted by a friendly Joburg fisherman asking for tips. I pointed out the usual spots, handed him a few flies, and then we headed off in our own directions. He'd been at Kamberg for a few days and was yet to land a fish. I crossed my fingers in the hope of better luck; sadly it was not to be and an hour later I hadn't even sniffed a fish.
Emma and Sharon then joined me which significantly improved my mood as I continued not catching fish. Emma took great pride in swinging a reed from 10 o clock to 2 o clock, just like daddy. Perhaps I'll have a fisherwoman on my hands after all.
As the sun dipped below the horizon we headed back to the chalet for dinner – a braai consisting of steak, a ciabatta, and fresh salads. It was surprisingly warm which was great as it allowed us to teach Emma the joys of stalk the lantern; well, a kiddies version at least.
The next day began with Emma rushing for the swings. I don't know if it was a good or a bad thing that they were mere meters from our front door as they quickly ate up any free moments we had. Thankfully while I pushed Emma on the swings Sharon put together an amazing breakfast consisting of crumpets with honey glazed bacon, tomato relish, and mascarpone cheese. Heaven on a plate.
Fueled for the day we headed out on a hike. Having left our hiking maps at home we made use of a very old clay model of the region to choose our route. We elected to head for the Roman Baths as it appeared to be an easy hike of around 4kms in each direction. It got off to an good start following an old road, and passing what appeared to be an abandoned ranger's post (including an old toilet with a view which I just had to try). Things then took a turn for the worse as we lost the road and were forced to hike to higher ground in the hope of spotting the trail.
Thankfully from the hilltop we not only spotted the trail, but also got a good idea as to how far it was to our destination. The model had clearly mislead us as we'd already walked 4kms and weren't even half way to the pools. Emma was getting tired so we decided to make a few changes to our route and hiked down the valley to the Mooi River. The new plan was to find a pool on the river where we could swim and have a quick picnic.
Thirty minutes later we found our spot, and tried to have a swim in what was clearly run off from the snowfall two weeks earlier. The water was freezing! But Emma didn't seem to mind and had an absolute blast. Sharon and I elected to rather relax on the bank and have a few snacks while Emma splashed away.
Back at camp Emma and Sharon headed off for a nap while I did something I hadn't done in years…I relaxed and read a book.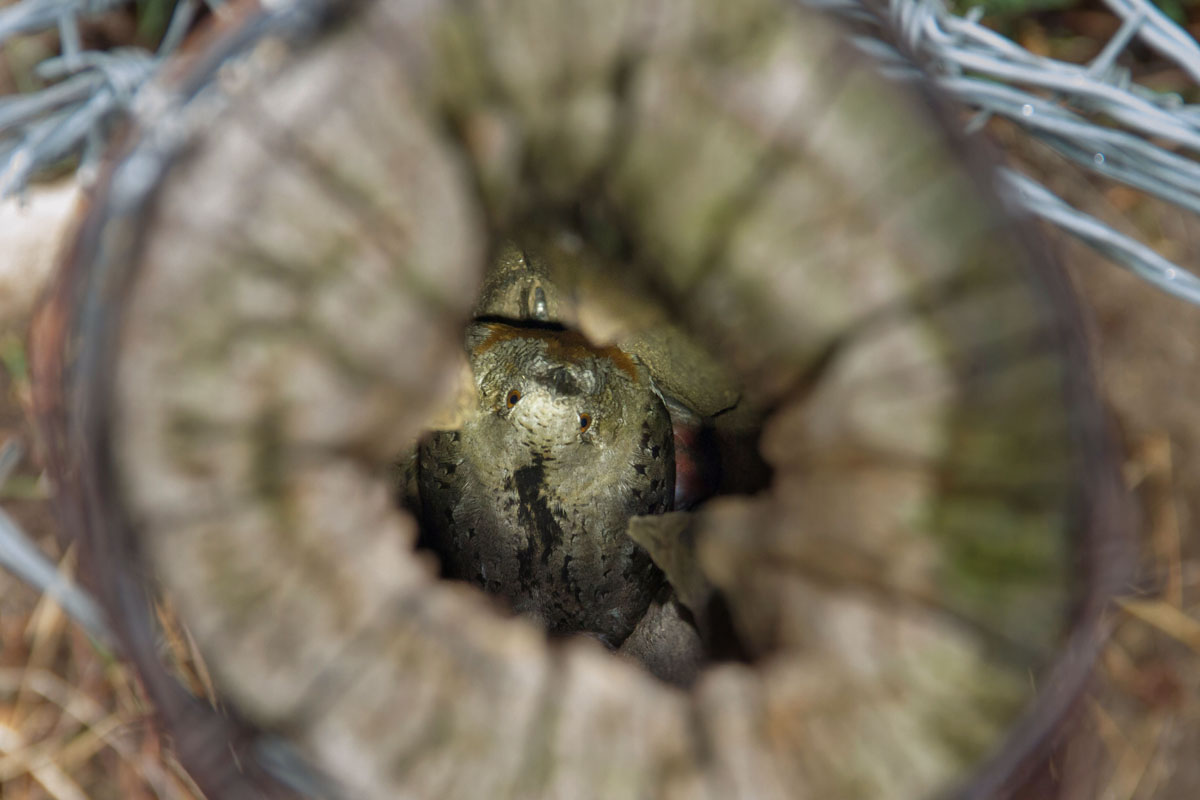 That afternoon I headed back down to the dams in the hope of improving my luck of the previous day. Again fishing was tough, or perhaps I've just lost my touch. And I was again thankful to have Emma and Sharon join me an hour later. We had a pleasant cheese and biscuit picnic on the bank while enjoying a few cold beers, again helping me forget about the lack of fish. I then sat with Emma on the bank and let her fish with a real rod for once. But sadly there were no fish to be had.
That evening we braaied ribs, bread, and salad once again. This was much to the delight of Emma who'd taken to her version of stalk the lantern and wore us out in the dark.
The next morning we sadly had to head for home. We forewent breakfast, instead opting to stop at the waffle place on our way home. Sadly this was clearly not to be as the waffle house, Lavender Trout, and many more of the Meander's establishments had shut down. We were left wondering if this was as a result of Piggly Wiggly opening and putting pressure on them? A sad reality I guess which left me hungry all the way to Maritzburg where we were forced to stop at a coffee shop for chocolate cake prior to my demise. A good end to a very relaxed weekend away.