Brian's Bulls – Clay Pigeon Shooting
Brian's Bulls – Clay Pigeon Shooting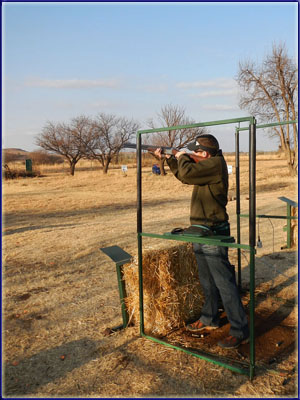 With my wedding out of the way it was time to move on to the multitude of other weddings on the cards. This meant heading to Joburg for Brian's bulls party, an event definitely not to be missed.
But let me not get ahead of myself. On Friday night, before heading to Joburg, Sharon and I had my mom around for pizza and to look at the wedding photos. This saw us sitting in front of the TV and going through the 1000 odd photos delivered to us by CJ Photography. All in all this took us close on 4 hours, with a mandatory trip to the pub for pizza in the middle.
On Saturday morning we were up early and by 6am I'd arrived safely at the airport with a cup of coffee in hand. Sharon, having dropped me off, continued on to Richards Bay to spend the weekend with her family. I meanwhile climbed aboard the plane, backpack, sleeping bag and mattress attached to me like a European backpacker, and headed for a very chilly Joburg.
Upon arrival I collected my rental car, a high in demand Atos, and set off in the general direction of the Fourways Mall. I say "general direction" because even with a GPS I took a few wrong turns and spent longer on the road than I perhaps required.
Unsure as to what to do for a couple of hours I killed time by browsing book stores and watching the only movie I managed to be on time form, "The Set Up". It wasn't great but it got me to the next event of the day…Brian's bulls.
I headed north from Fourways with a slightly dodgy map in hand. Thankfully I found Waterhaven with minimal issues and was in fact the first to arrival. After playing with the in house pig I spent a while chatting to the owners (and instructors) who were original from Wales and very keen shooters.
Eventually the rest of Brian's friends arrived and we got down to business…the shooting of vicious (and very angry) clay pigeons. We were quickly briefed in shotgun usage, handed a set of earplugs, and walked out to the various stations.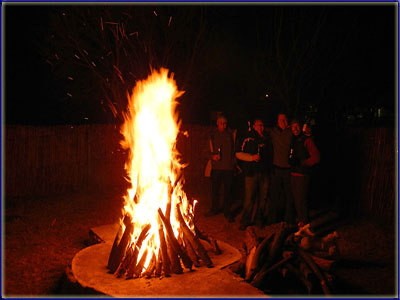 Our first station included a rabbit (sneaky pigeons which run along the ground) paired up with an angry pigeon. After adequately destroying those critters we ventured forth to various other stations which included pigeons flying towards us, away from us, across us and upwards.
Much fun was had and before we knew it our bullet pouches were empty and it was time to enjoy a few cold beers. We chatted about those pigeons hit (and missed) and then sat down to a fantastically prepared meal of steak, potato bake, vegetables, rolls, and more.
As the evening wound down (and cooled down) we gathered around a roaring bonfire in the boma and sucked on a few more ales. Time passed rapidly and eventually, at around midnight, we retired into our tents in the below 0 temperatures.
The following morning we were all up by just after 6am. After enjoying a cup of coffee and a few rusks everyone headed off to their Joburg homes. I on the other hand managed to hunt down a shower at the venue before heading to Emperor's Palace to meet up with Chippi (an old varsity friend).
After discovering (much to our horror) that there's absolutely nothing to do at Emperors Palace besides eat and gamble, we ended up in yet another movie theatre watching Spiderman. Two movies in one weekend must be a record for me, especially since I can't remember the last time I went to a movie.
From there we headed for Hooters where we enjoyed a light lunch and a few beers before I headed back to the airport and boarded yet another plane. The flight was delayed, but thankfully only by 10 minutes, and before I knew it I was back at home and climbing into a much appreciated bed.
What a great weekend. Those pigeons better keep an eye out for me in future.