Cape Vidal 2013
Cape Vidal 2013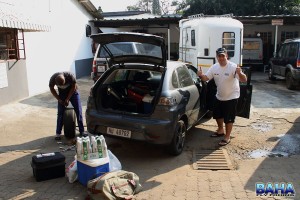 The much awaited Vidal trip took place over the weekend of the 6th – 8th of September. With 12 Baha and DFT members booking out two separate cottages we once again had quite a crowd!
Departing from Durban at 4.30 am we made our way to the St Lucia Wimpy for a quick brekkie and a soup bowl of coffee. Spirits were high and there was much excitement from the "Vidal Virgins" who eagerly asked where to fish, what to expect and what flies work.
We left the Wimpy in our hordes to make our way to the beach, knowing very well that a buster was on its way up the coast. While leaving the car park I sadly noticed we had a flat tyre (personally I think Neill Van Rooyen had something to do with that) so Warren and myself had to make a quick pit stop to have that repaired while the rest of the boys raced to the beach.
Fifteen minutes later we were on route and talking strategy. We had always heard of Mission rocks but had never stopped in to test the water. Always keen to try new venues and strategies we made a last minute decision and pulled into the car park at Mission Rocks.
We were fishing the outgoing tide and decided to walk south where the gullies looked better. Knowing that the buster was on the way I opted for the trusty T-50 to tame the hurricane. We had kilometers of ledges and gullies all to ourselves but alas only two fish came out. That said there was something special about fishing with an African Fish Eagle calling above you and whales playing behind the waves. We hardly had room to complain.
We headed back to Vidal to meet with the rest of the pack and discuss the fishing. By now the buster was in full swing, blowing at around 35 – 40 km/hr and some of the boys had already called it. We were greeted by the "die hards" – Bruce, Steve and Graeme – walking off the beach empty handed and sand blasted. Nevertheless we went down for a session before checking in.
Walking north the beach was flat with very few holes. This made the walking easy but the fishing tougher. Thankfully every now and then we would find one, only to pull out a small shad or a wavie. Warren however was lucky enough to land a beautiful specimen of a wave garrick, probably weighing close to the 2 kg mark.
Heading back to the chalet for lunch we decided we'd be back for a late afternoon session. To pass the time some guys tied budgies to throw at the kingies while most of us sucked on an ice cold beer. Eventually, at about 3.30pm, we headed down to the beach. By now the wind had picked up even more and backhand casting was the only option to try and get a fly into the water.
Again only a few small shad, juvenille kingfish and moonies came out. Steve Brooks was fortunate enough to hook into a kingie but he was smashed off on the bricks before being able to land it. We fished until around 30 minutes after sunset and then called it a day and headed back to the chalet.
The evening was uneventful with most of the guys tucked in early licking their wounds after a dismal first day on the beach. The "boozers" that stayed up late were greeted by the resident bush pigs who, after scavenging the camp, moved off.
Saturday morning saw most of the guys forming groups and walking about 5 kilometers north in search of some fishing grounds. On our walk up the beach we came across Dave Smith who popped out the bushes with his fly tackle. It turned out he had been camping at Vidal since Wednesday.
When we finally got to the ledges, where Neill and co. had been fishing for most of the morning, we were disappointed to discover large swells making the ledges mostly unfishable. Sadly only a few stone bream had come out and things didn't get much better than that.
At this stage the north easter was in full swing which posed more of a challenge than a problem. We hung around for an hour or hoping the seas would die down but unfortunately that never happened. Fishing back along the beaches a few "rats and mice" were plucked from the surf, but again it was nothing worth righting home about.
Saturday afternoon's session was called off as the north easter was blowing so hard it was near impossible to cast a fly line. That evening Graeme, Neill, Bruce and Dave held a send-off for their very close friend and Vidal stalwart, Hayden, who sadly passed away while fishing. What a way to go! He will truly be missed, but never forgotten.
That evening we partied hard, many stories (some dodge) were told and although the fishing was not the best new friends were made. I guess that's what makes Vidal such a special place.
On Sunday morning we were greeted by a howling easterly. A few of us fished the bay and rocky outcrops for a few hours before throwing the towel in. It was great to pick up some rockcod but fishing was generally poor.
A dismal weekend to say the least, with less than a 100 fish coming out between all of us. But hey, that's fishing. You can't always dominate!