A Chilly Lake Eland
A Chilly Lake Eland
With a brand new tent gathering dust in my cupboard I decided that it was time to take the family camping. Being the middle of winter meant that the Berg was out of the question for Emma's sake. I therefore decided on the "warmer" Lake Eland, located roughly 30kms inland from Port Shepstone.
We left home just after 8am and took a lazy drive to Scottburgh where we stopped at Wimpy for breakfast. It's always a winner with fantastic views over the ocean and their famous R20 (now R23) breakfast. Sadly I believe that this iconic Wimpy will soon be closing it's doors, so visit it while you still can.
After polishing off our breakfasts (and Emma's chocolate milkshake) we headed down to the beach so that Emma could stretch her legs before continuing on to Lake Eland. She quickly covered herself in sand, and found every available rock pool to get herself adequately wet that we needed to change her before continuing on our journey. But I guess we should've expected nothing less from our little adventurer.
From the beach we had a quick play on the jungle gym before changing Emma, and climbing back into the car. Thankfully we'd succeeded and Emma was adequately tired that she fell fast asleep for the rest of the journey.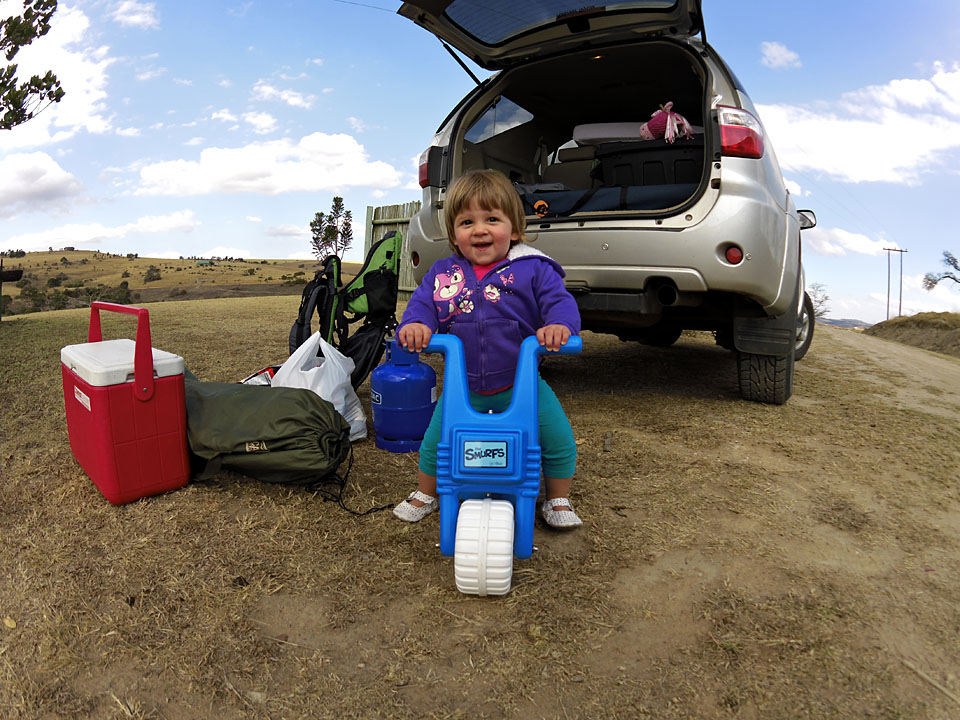 We arrived at Lake Eland shortly before midday. The staff were incredibly helpful and efficient, and before we knew it we'd checked in and were on our campsite. The venue was larger than expected with 2 camping areas, each overlooking their own dam. There were also several log cabins overlooking other dams, a pipe converted into a small cabin, fisherman's cottages, and a lodge. And to top it all of there was a large kids play area as well as a restaurant and small shop. Fantastic!
For the more adventurous Lake Eland also offers zip lines, paint balling, game drives, a swing bridge, and 3 mountain bike trails (up to 45kms long). There's certainly no excuse to be bored – just my kind of place.
We pulled out our new Camp Dome 600, set Emma free, and began the process of erecting a tent for the first time. It was perhaps a little tougher than our old tent but I'm sure we'll improve with time. That said, the minimal extra effort was definitely worth the reward.
The Camp Dome 600 consists of a central "dome", with a small room on each side. This means that Emma has her own room, which will be a blessing as she gets older. The center dome is also large enough for a few chairs and a table, and provided a great area to sit once the sun went down and the chill crept in.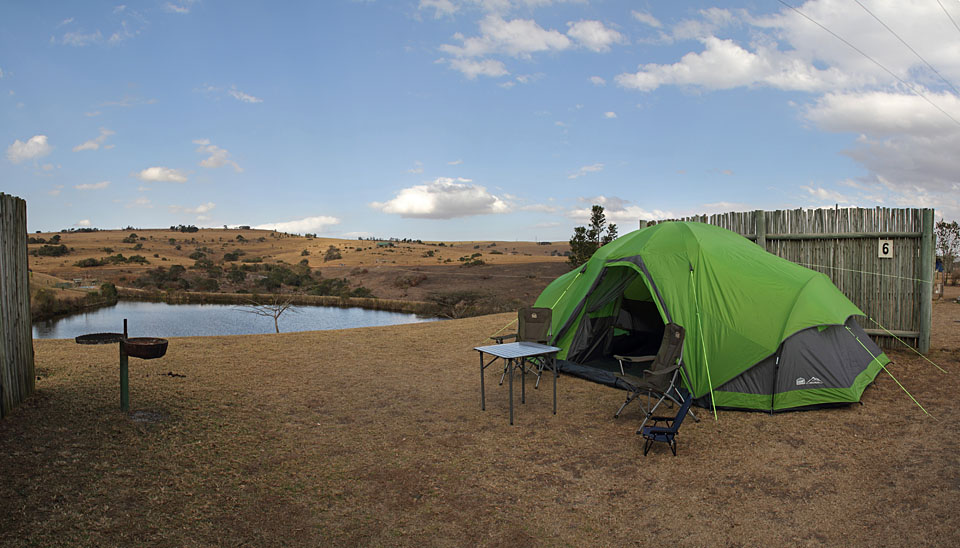 With camp setup we decided to head out for a short game drive and to look for a geocache. The cache took us to a 130 year old Natal fig tree (Ficus natalensis) which was apparently the favourite spot of a tower of giraffes. I looked in a few obvious hiding places while Sharon controlled Emma who wanted to run off into the park on her own little adventure.
Having had no luck Sharon took over and even went so far as to do a little tree climbing (ironically she can go up but not down). Once she had given up I too did some tree climbing and explored a few hiding spots in more painful, thorn covered locations. Finally, as we were about to conceded defeat, I had one last look in the very first spot I'd searched, and found it. I didn't know whether I should be excited or annoyed…but I opted for the later. We signed the log, and then headed back to camp.
At this point it's worth mentioning that game was abundant in the park and we came across large herds of wildebeest, zebra, blesbok, impala, giraffe and of course eland.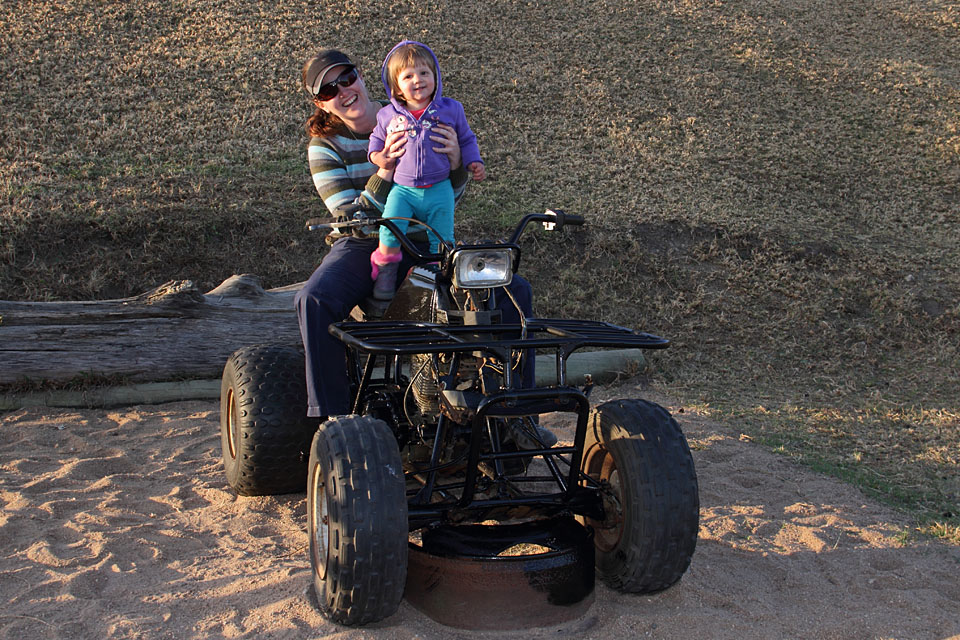 Back at camp we took a walk over to the kiddies play area for a little fun with Emma. She headed straight for the jungle gym as well as her usual favourites, the slides and swings. Sharon and I meanwhile found our inner children on a large adult type rotary swing. Played out we headed for the bar, hoping for an ice cold beer, only to find out that it closes at 4pm (perhaps Lake Eland's only downfall). We therefore headed back to camp and took Emma for a quick shower while it was still light and warm(ish).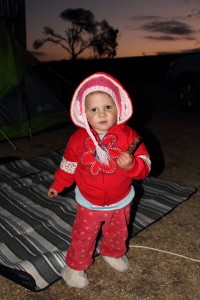 As the sun set the temperature quickly plummeted into single digits. We lit the fire and braaied a few hamburgers for ourselves and meatballs for Emma. We then put Emma to bed and relaxed with a few glasses of air cooled wine. Eventually it got chilly enough that we decided to climb into the comfort of our sleeping bags and go to bed. Sadly however this was not to be as a party could be heard in the distance (farm workers celebrating pay day I'm guessing) and a dog barked into the wee hours of the morning.
We probably dozed off close to midnight only to be woken at 2:30am by a screaming Emma. Both Sharon and I were freezing, despite being in our minus rated sleeping bags, so I could only guess that Emma was cold in her sleepy sack and blankets. We tried with some limited success to put Emma into our sleeping bags with us, but she seemed to be battling and cried on and off. She also kept saying, "hot daddy," which confused us somewhat. Was she hot? Or was she just confusing the burning cold as heat?
Eventually at 4am we climbed into the car and went for a short drive to get the heater working. Emma fell fast asleep in her car seat and so we dozed off in the car with her for the rest of the night.
The next morning started with a cup of strong coffee to get us going. This was followed by a trip to the restaurant for breakfast. The original plan was to have muffins, but Sharon gave me adequate death stares, insisting she needed a good cappuccino after the chilly night. I succumbed to the pressure but am glad to say that the food in the restaurant was great.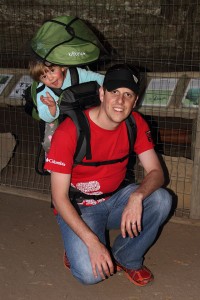 Sharon opted for an egg and bacon roll with chips, while I had a mushroom and cheese omelette. Emma of course had her standard scrambled eggs. Service was excellent and the food arrived quicker than expected; so I'd definitely recommend the restaurant to anyone visiting the area.
With food out of the way we climbed into the car and headed for the swing bridge. On route we passed the paint ball arena and the zip lines which we sadly couldn't go on without a baby sitter for Emma.
I wasn't comfortable carrying Emma across the swing bridge and so Sharon and I took turns to cross the void to the viewing area. The bridge is incredibly safe, but does have a slight rock that may give people with a fear of heights a quick scare. That said the views of Oribi Gorge from the other side, and from the bridge, were spectacular and worth the heights.
The swing bridge is also home to "the longest long drop in Africa," which from the looks of things could well be true. It's too is worth a quick stop by to enjoy the views while on the job.
Having tackled the bridge we decided to "hike" to the caves. It was sold as over 300 steps but in truth it felt far less and was an easy walk. The caves are well maintained and definitely worthy of a visit; and despite being on the cliff face you don't need to worry about heights as the walk is quite safe.
From the caves we headed back to camp via one of the many 4×4 routes located at Lake Eland. In my opinion it was far from a 4×4 route; that said there were many others that I didn't explore, and perhaps we ended up on an easier route by accident.
Finally, back at camp, we packed up the tent and readied ourselves for the drive home. We gave Emma a quick lunch, jumped into the car, and headed for Hillcrest. It was a fantastic trip and definitely a venue worth exploring more in the warmer months, when some bass fishing would certainly be on the cards.