Christmas At The Steele's
Christmas At The Steele's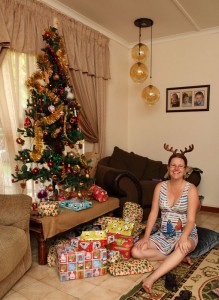 This year Christmas belonged to the Steele family, so after work on Monday Sharon picked me up and we headed for her parent's home in Richards Bay.
Our first evening was spent at a restaurant called Porky's overlooking the small craft harbour. The scenery was fantastic and the yachts, as always, looked magical lit up by the setting sun. The waiter however was less magical after he tried to take my only half empty beer away without asking. Even stranger was that he later did ask for permission to remove my now empty glass.
The food was good but was a little on a pricey side, so I guess that you pay for the scenery. All that said we had a fantastic evening out with Sharon's folks.
The next morning was Christmas and I woke up earlier and more eager than most kids. By 5am we were sitting on Sharon's bed opening our stockings to each other and a few gifts from my dad and Cassia which had been delivered by my sister. With that done we joined the rest of the family around the tree where Sarah's (Sharon's sister) kids were gleaming with excitement.
I was given the honour of dishing out the gifts but was soon told I was too methodical and Sharon came to my rescue, throwing gifts at kids who ripped eagerly. In between the piles of kids gifts us adults also received the odd gift and I'm happy to say that I was extremely spoiled by my wife who got me a Kindle (which later came in extremely useful at Lotheni).
The rest of the day was spent constructing kid's gifts and enjoying the 30+ degree African sun in the garden.
That evening Sharon's dad and I stood in the pouring rain of a Richards Bay storm braaiing our Christmas lupper (lunch and supper). It was only after a near deadly bolt of lightning that hit a nearby tree that I elected to take slightly better cover under the awnings (which I'm not sure offered much more protection, but it felt safe).
The following day, after a relaxing breakfast and some quiet time, we said our goodbyes and headed home to prepare for a week of camping at one of my favourite places, Lotheni.