Fly Fishing The Local Surf
Fly Fishing The Local Surf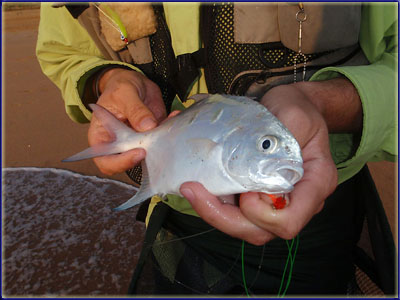 Nick picked me up at 4am and Saturday morning and we headed for Suncoast Casino where we were meeting a few of the guys from the Durban Fly Tyers club.
At 5am we were on Casino Beach but hadn't spotted any other fly fisherman. Undeterred we started flicking a fly while waiting for the others. Graeme arrived shortly after 5am and we had a chat to him about the club and how many people we could expect at the upcoming meetings. Since no one else seemed to be arriving we began fishing our way up the beach.
The sun was just rising over the horizon with a few scattered clouds in the air. The air was fresh and the water was warm and amazingly clean. Soon I'd had a small knock or two and was feeling rather optimistic.
After around half an hour I noticed Nick and Graeme chatting away on the beach. Eventually I succumbed to peer pressure headed over to see what was so interesting. While chatting to them I continued flicking a fly into the surf and then bam, I was on. Instantly both of them stopped chatting and began fishing once again. On the end of my line was a small Largespot Pompano.
At this point another DFT member joined us and the four of us continued fishing the surf. Within 15 minutes I was into my next fish, a Thornfish which, although normally annoying, was a new species for me so I thoroughly enjoyed it.
We fished for another 30 minutes or so and I landed one final pompano before heading over to the Suncoast Wimpy for a quick breakfast. It had been a great morning and I was especially pleased that all fish had been landed on a home tied fly.
From the Wimpy we headed to the Kingfisher to pick up a few supplies before stopping off at the harbour for a short scouting trip. Nick sadly hadn't picked up a fish in the morning session and was hoping the ever faithful Gurney would end his drought.
We fished the harbour for around an hour, wading the sandbanks, before deciding to call it a day. There did seem to be a lot of activity around us but sadly neither of us had any luck. None the less it had been a great morning's fishing and I headed home happily.