Giant's Castle Valentines
Giant's Castle Valentines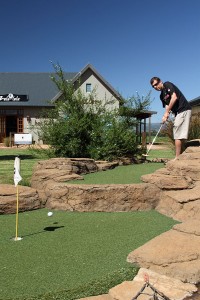 Being a lover of anything fly fishing related, and having a wife who understands that (hopefully), we booked a cottage in the Giant's Castle Nature Reserve for Valentines Day. Admittedly we've never really celebrated Valentines Day, but we are always looking for excuses to get outdoors and into the mountains.
We left early on Saturday morning after dropping off Emma at my mom's house. It was our first weekend away without Emma and I think Sharon was a little apprehensive. None the less we took a casual drive up opting to stop at the Piggly Wiggly for breakfast.
I ordered poached eggs and ham on homemade bread with a holendaise sauce and was less than impressed. The eggs were poached in those plastic cups like our parents did in the 60s, and the sauce tasted like an instant Royco sauce from a bag. Sharon's meal on the other hand – fried eggs, bacon, and toast – was decent.
After finishing our meal we wandered around the stores before having a quick game on miniature golf, which Sharon dominated, before heading on. From the Piggly Wiggly we continued along the meander, stopping at various shops, and purchasing the odd item of clothing for Emma (and beer for dad).
We eventually arrived at Giant's Castle at around 12pm and were quickly informed that we weren't allowed to check in early. It's worth noting that Giant's Castle are  lot stickier with check-in times than other Kzn Wildlife venues such as Lotheni, Injisuthi, etc. Not too perturbed we took a seat on the deck and enjoyed a few drinks and a snack lunch while waiting for the 2pm check-in time.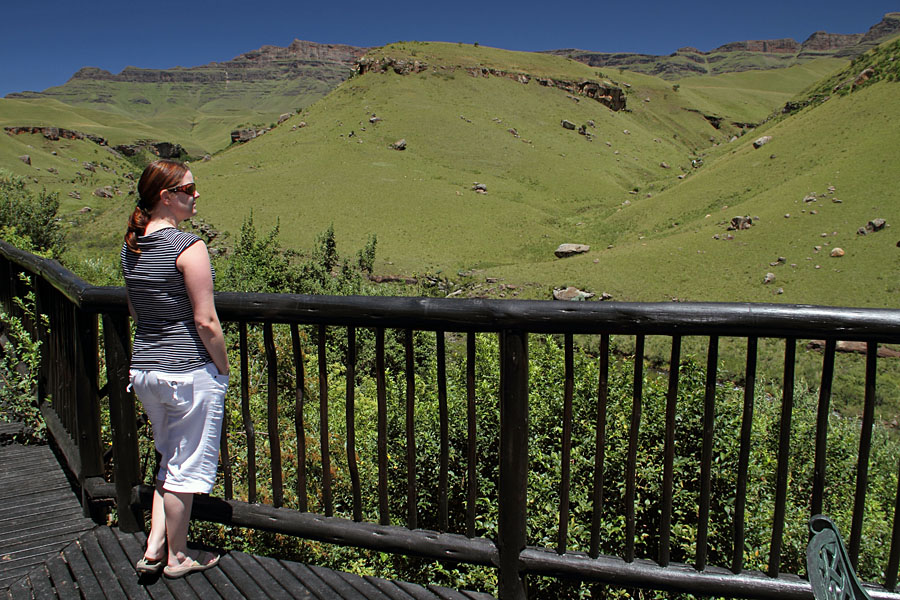 When we were finally allowed into our mountain view chalet we were annoyed to find that the DSTV was not working. Normally this would be a blessing and not a curse, but there was a 7pm Sharks vs Bulls game (as well as some winter Olympics) that I was determined not to miss. We were also paying more than our usual camping fee and therefore expected things to be in working order.
We headed back down to the office who thankfully had a spare chalet and promptly moved us. Happy that everything was in order I kitted up my fishing gear and walked down to the Bushman's River for my first session of the weekend.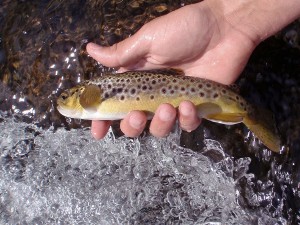 The Bushman's River was a tad on the high side but still fishable. It just meant I had to choose my water more carefully and skip some of the faster runs and riffles which were pretty much unfishable other than the odd pocket.
Fishing was tough and it took me close to an hour to get into my first fish, a small, newly spawned, brown in one of the bigger pools. Amazingly on the next cast I got another small fish in the exact same spot. It then took me another hour to pick up my next fish which was thankfully closer to 30cms and in good condition.
Mt final hour on the water yielded nothing and I eventually hiked back to camp at around 5:30pm, ready for an ice cold beer. But that's when disaster hit. Sharon opened the fridge and my craft beer was nowhere to be seen. We quickly realised it had been left in our previous chalet but the new occupants were nowhere to be seen.
Sharon obviously saw the anguish in my eyes and headed out to look for them. 30 minutes later she'd amazingly hunted them down and I had a cold beer in hand, ready for the rugby.
The next morning I headed out for an early morning session while Sharon enjoyed some relaxation time without Emma. The river was still high – it had only been 12 hours after all – and the fishing remained tough. I fished the same stretch and after 3 hours had landed just a single wild brown. That said I could hardly complain – perfect weather, crisp mountain air, and a crystal clear stream – I was in my element.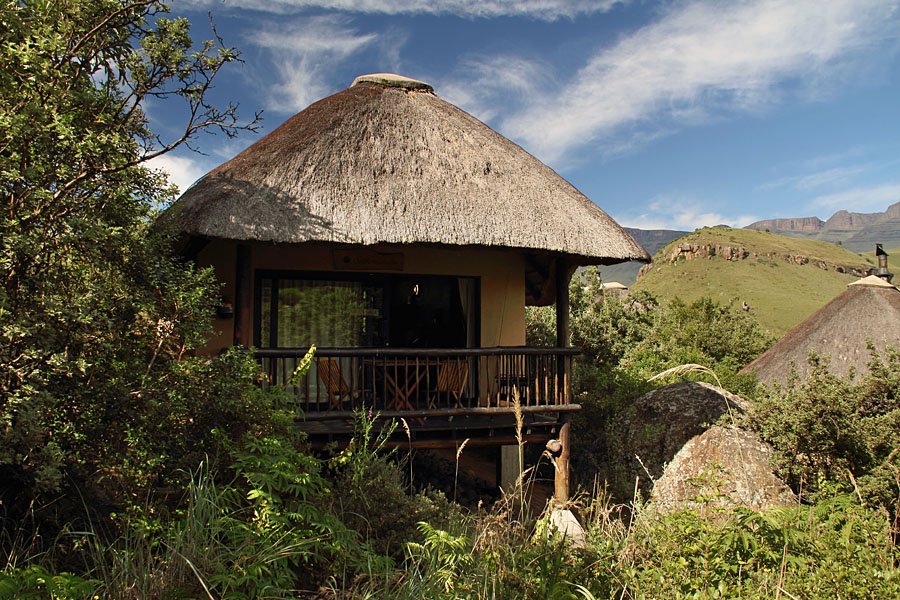 I got back to the chalet just before our 10am checkout time and we quickly packed up and headed out. The plan was to stop for waffles on the way home but amazingly both the Waffle Stop and the Lavender Trout were closed. We therefore ended up back at the Piggly Wiggly which, as it turns out, doesn't serve waffles. This meant I was forced to stop at the Milky Lane in Pietermaritzburg to feed my craving.
All in all a great weekend with some tough fishing. Giant's Castle really is a gem and is definitely worth a visit if you love the mountains and wild brown trout.