Half of my Advanced Open Water
Half of my Advanced Open Water
Despite being new to diving, I was itching to get back into the water to do my Advanced Open Water certification. Why? Well, predominantly to open up a wide variety of exciting new dive sites, especially for our Great Keppel Island holiday in July (fingers crossed it doesn't get cancelled due to Covid).
I spent the week preceding the course reading over the course material, and taking the required exam. This escalated the day before the course, when I made a last minute decision to tack on a nitrox certification, which required some additional reading and another exam.
I was surprised by just how little additional information there was in the Advanced Open Water training. The course consisted of 2 required modules, Deep Diving and Underwater Navigation, as well as 3 optional modules. In the case of Frog Dive, the 3 optional modules were Peak Performance Buoyancy, Underwater Naturalist, and Wreck Diving.
Although still recreational (no decompression diving), the Deep Diving module took me through some of the additional risks brought about by going deeper than the standard 18 meters (shorter dive times, colder temperatures, lack of light, etc). It also spoke about gas consumption, as well as how to improve it, and reiterated the treatment for DCS. And finally, it went into (some) detail on gas narcosis, as most divers begin to experience the effects at around 30m. Underwater Navigation didn't cover a lot more than was covered in the PADI Open Water Diver course, but did add on a few valuable tidbits such as how to use a compass to navigate patterns.
The course materials for Peak Performance Buoyancy, Underwater Naturalist, and Wreck Diving were interesting, but short, and didn't go into a lot of detail. That said, they were well worth the read. The Advanced Open Water course also gave me access to all other adventure dive training modules, so I'll be sure to go through those at a later stage.
The coursework for Enriched Air Diver was more complete, and interesting, and dived into why divers use nitrox (hint: longer dives, not deeper dives). It delved into oxygen exposure and the corresponding risks, as well as treatment for over exposure. It also covered how enriched air is mixed, what tanks are required, and how to test your tank and calculate your maximum operating depth (MOD) for that tank. And with that…the coursework was done.
So, after work on Friday, I headed over to Frog Dive where I spent an hour doing my Enriched Air training. This consisted of a knowledge review, as well as some spent time learning how they fill the tanks. And finally, I was taught how to test (and label) my own tank.
The rest of my Advanced Open Water group then arrived, and we sat down to a quick knowledge review of the training material. I was excited to have Graham Willis as our instructor, as he'd been my instructor for my Open Water training. It didn't take too long, and soon we were loading our tanks, BCDs, wetsuits, and so on into our vehicles, ready for an early start on Saturday.
The next morning I arrived at Clifton Gardens to a beautiful sunrise. The water was perfectly flat, and the air was a pleasant temperature. A fair number of fisherman (50+) had already gathered on the pier and, unbeknownst to me, I was about to experience the much talked about conflict between fisherman and divers at this venue.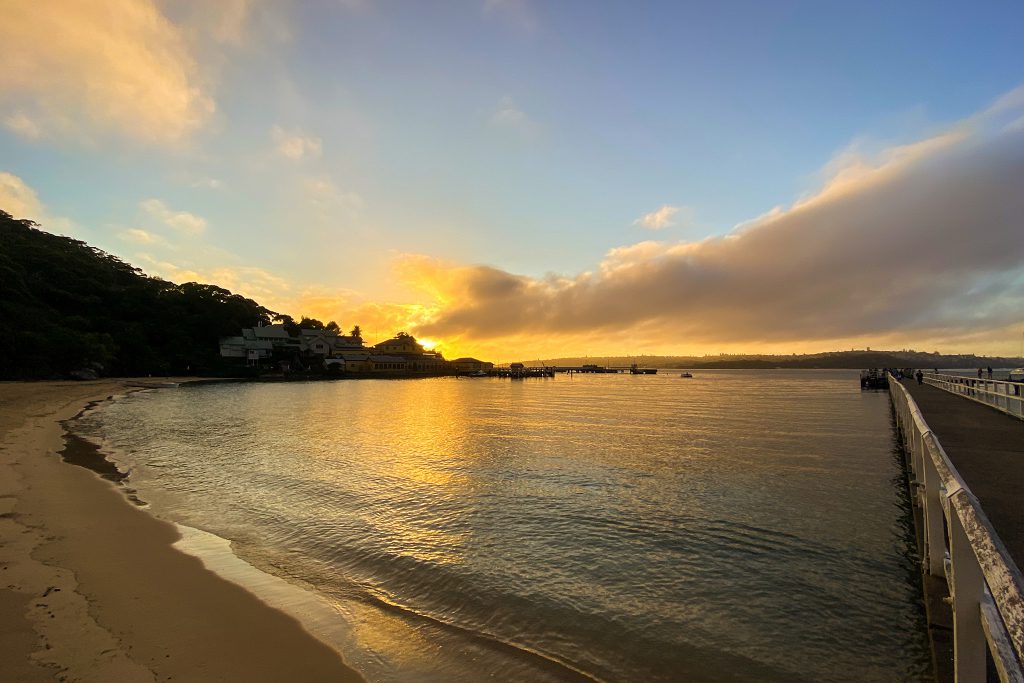 Graham was already there, and the rest of the group arrived shortly thereafter. Despite getting there before 7am, all undercover tables had already been taken. We setup our gear, had a quick briefing, and then waded into the water to do our Peak Performance Buoyancy.
The training started on the surface as Graham (and Dom, who was helping Graham out), went from person to person, adding and removing weight to get us floating at eye level with air in our lungs. With that sorted out on the surface, we dropped down to 8 meters where we worked on moving weights around to improve our trim. And finally we played a few games to practice some basic skills – we swam through hoops, and then passed weights around, maintaining our buoyancy using only breath control.
I had a little chuckle at one of the group who had inherited some technical diving gear, which was giving him some issues. As a result of the wing design, as well as the older, very heavy tank, he spent a large around of time swimming around on his back. At first I thought he was showing off, but later discovered it was largely outside of his control.
Back on the shore we had a quick nibble, and then headed out to practice our navigation. We were paired up, and began the training by measuring our kick distance. In essence, we swam a measured distance underwater, and counted our kick cycles over that distance. For me this equated to roughly 1 meter per kick cycle. With that done, we headed out to a nondescript bottom, and practiced our natural navigation, out and back, and a square pattern. What made this especially interesting was that there was a STRONG current. So you had to try and account for the current when measuring distance underwater (less kicks with the current, and more kicks against it…but just how many more/less?). Or swim on a different bearing when swimming across the current, to account for the drift.
After another, shorter break, we headed back out into the water for our final dive of the day. This time it was more of an exploratory dive, as we were doing our Underwater Naturalist training. Our goal was simple, to find and identify as many vertebrates, invertebrates, and plants as possible. Since we knew very little about these species, we took our dive slates with us, and wrote down any distinguishing features we noticed, to help with identification out of the water.
It's truly amazing how much is out there when you're moving slowly and actively looking. We saw octopuses, cuttlefish, numb rays, nudibranchs, pygmy leatherjackets, fan bellies, moray eels, pipefish, flute fish, MASSIVE pufferfish (the size of rugby balls), hermit crabs (also MASSIVE!), seahorses, bream, luderick, and so much more. Something that also amazed me was just how many octopuses I saw once I was told how to find them.
With our diving done for the day we packed up, and headed back to the shop. We cleaned our gear, and then gathered in the classroom to complete the necessary paperwork and discuss our findings on the naturalist dive.
We were also given the sad news that our Deep Dive and Wreck Dive had been cancelled due to poor weather the following day (the wind howled and it poured with rain, so this turned out to be a good call).
I took the opportunity to grab copies of Graham's books from the shop, and got him to sign them. They are both definitely worth having, so go grab a signed copy from Frog Dive store (The Dive Spots of New South Wales and Marine Species Guide).