Hand Lining Trout
Hand Lining Trout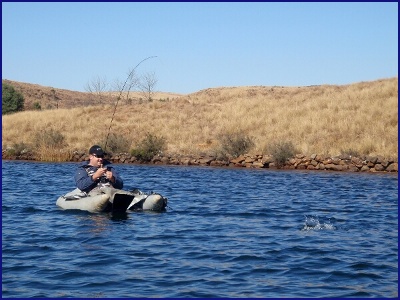 The plan for Sunday had been a fishing trip for Nick's birthday, but WeatherSA (those bastards) had predicted cold fronts and Armageddon so we'd called it off. Then an amazing thing happened, we woke up to the most beautiful day. WOW! They'd gotten it wrong…when has that ever happened before (where's the sarcasm font?).
Anyway, Nick gave me a call and we ended up heading for the dam at 9am. The girls joined us and picnicked on the side of the damn while Nick and I went about missing fish after fish. I suppose the good news is that there were fish around, and after missing 2 or 3 fish each, we eventually both landed one which ended Nick's dry spell with the club.
In fact, Nick's fish was one of the most amusing fishing experiences I've had in some time. We were both bobbing on the water in our tubes, a few meters apart, when Nick hooked into a fish directly under me. The fish headed straight for the surface, putting in a good jump just behind me. This resulted in Nick's line tangling with my fins and waders as the fish fought bravely. The fish then cunningly swam circles around me, while I fought it in the manliest way possible…with my bare hands. Nick meanwhile was eating a sandwich…I think…ok, I dunno, I was fighting the fish minus a rod so I didn't have time to look at what he was doing. Eventually I untangled myself, and was about to land the fish with my hands when I realised it was Nick's birthday, so I let him put away his sandwich and land the fish himself. What a catch! Bwahaaaa!
By this time the wind was picking up nicely, so after a picnic and another short fish we headed home.