Hiking to Barrenjoey Lighthouse, Palm Beach
Hiking to Barrenjoey Lighthouse, Palm Beach
Having lived in Sydney for over a year, and since aunty Kerry was visiting us from Perth, we decided that it was high time to hike up to Barrenjoey Lighthouse at Palm Beach.
After a leisurely 30 minute drive, I strapped Katie onto my back, and we began our slow walk on soft beach sand towards Barrenjoey Head. It was a hot day, and the sand was scolding our thong covered feet. This proved to be fun for Emma who ran from shadow to shadow.
It's worth noting that the walk from Governor Philip Park, to the base of the climb, is roughly 500 meters on beach sand, after which you either climb the rocky, natural stairs, or walk up a longer but more gradual tar road.
Surprisingly, when we were met with this choice, Sharon elected to take the road less travelled, and we begun the climb up the rocky path. I must admit, I was nervous that Emma would battle with the 400 meter climb, and I would be forced to carry 2 kids up the hill.
Amazingly this wasn't the case and she powered up the rocky stairs and along the small cliff lines like a champion. After a few small breaks to catch our breaths, we summited the head and got to enjoy the picturesque views.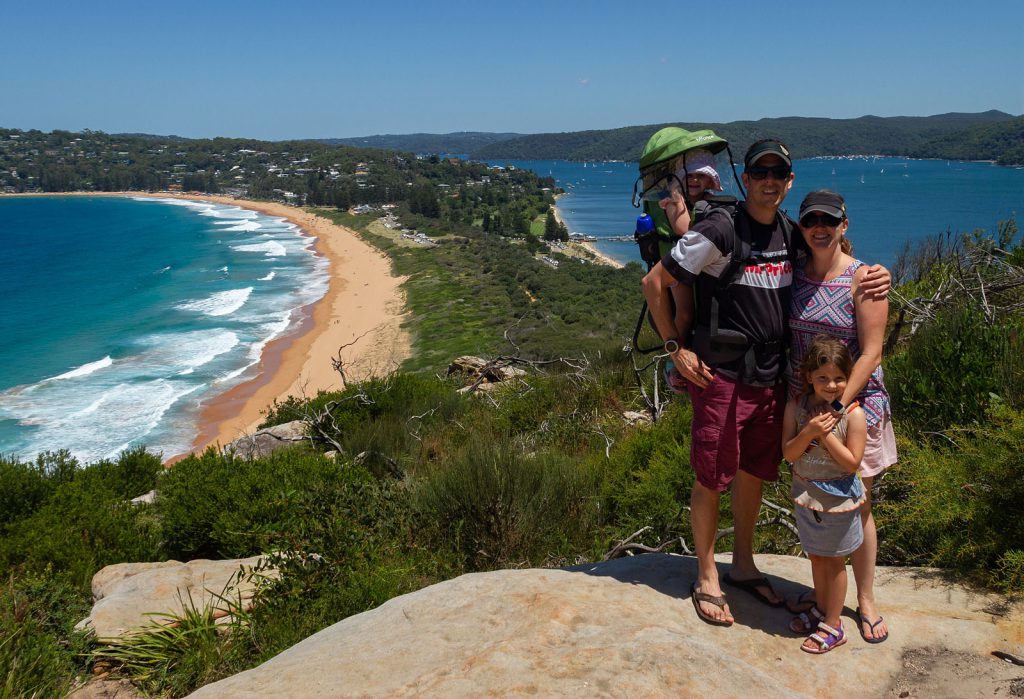 Having soaked in the famous vista, we decided to head back down via the tar track. Amazingly, I think this may have been the trickier route, and I was glad we'd chosen the adventurous path up. Despite being tarred, the Barrenjoey track was steep enough to be uncomfortable, was twice as long as the bush track, and didn't have nearly as good a views.
Back at the bottom, Kerry forced us to engage in a guilty pleasure of hers, and so we stopped off at a few of the "Home and Away" landmarks – Alf's Bait Shop, and the surf club for some incredible hot chips.
So if you're looking for a day trip, not far from Sydney, that gets the family outdoors and has exquisite views, this is not to be missed. Oh, and take the stairs!