Hluhluwe/Imfolozi
Hluhluwe/Imfolozi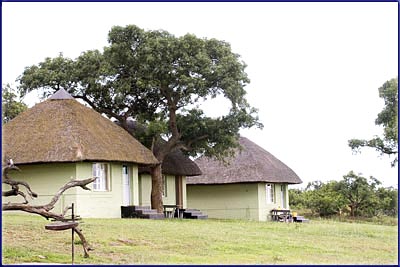 At 3:30am my alarm went off, Sharon I made a flask of coffee, packed the car, and were on the road by just after 4. On the drive to Umfolozi we had a good breakfast of egg mayonnaise sandwiches and filter coffee. We had decided to enter the park through the Hluhluwe gate and make our way through the corridor to Mpila camp in Umfolozi.
Just before getting to the gate we stopped at a roadside garage to grab a coke and fill up with fuel. To anyone travelling this way, the garage is fine, but the toilets leave a lot to be desired.
We met up with my mom and sister at the Hluhluwe memorial gate, which was fast and efficient. While signing in we also made our first sighting of warthog grazing casually on the freshly mowed lawns.
On the way down to Mpila we had a few good sightings to get us into things…zebra, white rhino, giraffe, buffalo lazing in a muddy pan, impala, nyala, wildebeest and kudu, to name a few. We had originally intended to stop in at Hilltop camp in Hluhluwe, but decided we'd been in the car for long enough, and decided to skip it.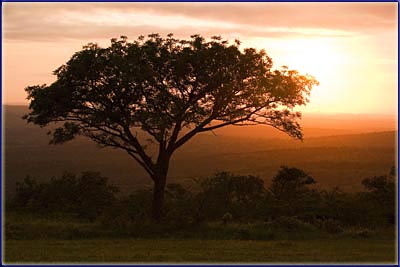 For those of you interested in Hilltop camp, it's a beautiful camp situated on the top of a hill with a spectacular view. There's a shop, pool and restaurant, not to mention the beautiful chalets. Although I consider this the most beautiful camp in the park, I do not enjoy this section of the reserve due to the limited game viewing opportunities.
When we arrived at Mpila we had been booked into the wrong hut. Luckily after a little chat with the friendly staff this was quickly resolved.
After settling into our hut we headed out on our usual afternoon drive. We chose the very popular Sontuli loop and had a very lucky first drive that included sightings of both lion and the very rare black rhino. On our way back to camp we got stuck behind a large herd of elephants with calves. As we waited for almost an hour the sun set and soon we were sitting in the dark, surrounded by elephants. This resulted in a very nervous Sharon and a giggling mother. Thankfully we made it through without problems.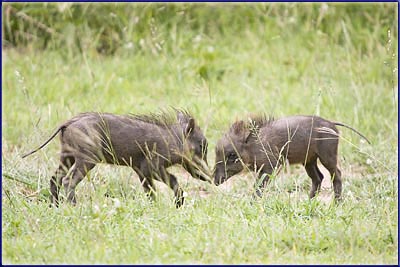 That night we enjoyed a braai overlooking the Umfolozi River, while we watched the eyes of hyena lurking in the bushes, hoping for an easy meal.
We got up at 5am on Christmas morning and, after a slow start, headed out on a game drive. Again we had a fantastic drive with some spectacular sightings including some male lion on a buffalo kill (once again on Sontuli), hyena, a Marshal Eagle, tortoises, liguvaan, a warthog in his hole, and a baby impala hiding in the grass all alone.
When we got back from the drive we opened our Christmas gifts. Although there were only the four of us, the pile of presents was huge, and we were all spoiled.
After our gifts we made a very impressive Christmas lunch of braaied turkey breast and gammon served with a potato bake, veg, baby sausages and stuffing balls. Yum! This was followed with Christmas crackers kindly sponsored by Irene, and fortune cookies.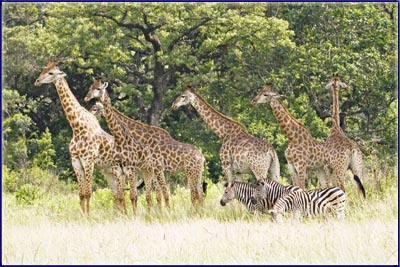 By the time all the festivities were over it was time to get back into the car and head out again. With keep to the theme of the trip we had a few more good sightings. Firstly after leaving camp we saw 13 rhinos together at a watering hole. Now I understand that Umfolozi is the place to see rhino, but 13 together? That's something special. After that the road was fairly quiet other than the usual game. We even past our kill from the morning, but the lions had moved on, and all that was left to mark the spot were scatterings of vultures in trees. I was hoping to spot another hyena but there were none around.
Seeing as things were quiet on Sontuli we opted for a new route, which we missed judged, and soon were running late for gate closing time. And therefore, as it is when you're rushing, we came across a lone lioness lying on the edge of the road. She looked a bit thin but was otherwise in good condition, and it was fantastic to see a lioness so close that you could put your hand out the window and touch her – especially since we'd had 2 sightings already, but not very close.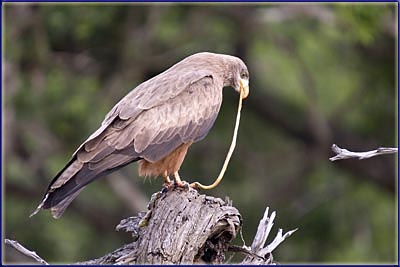 After spending a while with the lion we were getting VERY late. At this point Sharon kicked it up and a gear, and in true Colin McRae style, we were soon back in camp.
When we arose at our usual 5am on Saturday we were half way through our stay, and time was flying. We opted to head to a view point at the far end of Umfolozi where the wild dogs had been spotted, as well as a cheetah. The plan was to have breakfast at the viewpoint, which we did. What we hadn't planned for was sharing it with 4 other cars. None the less it was a fantastic place to eat, parked under cliffs overlooking the river.
And then, on our way back to camp, we had our most spectacular sighting yet, a young male lion in the top of a VERY high tree. It was certainly a first for me, and very spectacular. I'd heard that the lions in these parts climbed, but I'd never seen it myself. It certainly is a sight to behold. WOW! I shot off a few photos and even managed a lucky shot of him mid yawn.
Other than the lion we also had a good sighting of a Martial Eagle, and a Yellow Billed Kite snacking on what appeared to be an intestine.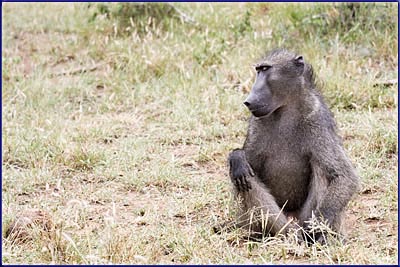 For lunch we munched on the previous day's left overs. And then we pretty much relaxed. I went for a walk while the ladies slept, and then had a game of Scrabble with Sharon.
Due to our longer morning drive we opted for a shorter afternoon drive, and basically did a quick Sontuli. Quick as it was, it didn't disappoint as we ran into another pair of black rhino, as well as a large male lion sunning himself in the river bed. The kill we had spotted the previous morning had now been fully stripped, and all that remained was a ribcage and a few bones.
That night we had another relaxed meal of leftovers, and Sharon and I tried out her new toy, a jaffel maker. It was fantastic. I look forward to future uses. We also had our first downer – no hot water. It was however fantastic to see wildebeest and nyala sleeping in the camp by the showers, along with the regular impala.
Sunday arrived far quicker than I had hoped, and since we had to be out of the camp by 10am, we got up a littler earlier, and were on the road by 5am. We decided to try the only road we hadn't explored, a route marked as 4×4 only. What rubbish! I'm sure some of the other roads are worse. And besides that, the road winds along the fence, which I never really enjoy. We didn't see much, and I wouldn't recommend this road to anyone. Having said that, we did see a nicely fluffed up Tawny Eagle.
After the "4×4′ route we headed back to camp via the "lion in a tree" road. That lion was long gone, but a few meters up the road we came across a pride on a kill. I was left wondering in the young male was part of this pride, since he was unlikely to be alone? Were all the others around the base of the tree and out of site?
After the correct amount of appreciation we headed back to camp and were soon packed and on our way out of the park. We didn't see anything worth reporting on the way out, but that didn't matter. It had been a spectacular trip with a lot of fantastic sightings. I look forward to returning.