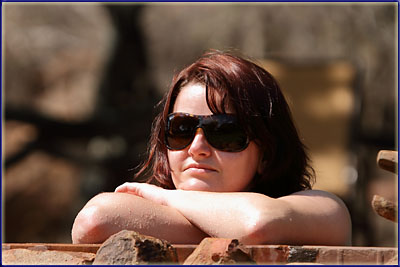 After months of waiting our weekend to Itaga finally arrived. The camera batteries were charged and the lenses packed…oh, and I think I took some clothes too. I shook Sharon awake at 4:45am after the normal poor night's sleep which seems to go hand in hand with travelling. Surprisingly there was no, "Why are you doing this to me Warren? Why?" I guess she was as excited about the trip as I was.
My mom took us to the airport and we were enjoying a Wimpy breakfast (and more importantly coffee) in no time at all. Thankfully our One Time flight was on time (WOW) and we landed in Joburg at 8am. From there we started the 2 hour drive to Warmbaths (Bela Bela) in what I can only describe as possibly the worst car I've ever driven. The i20 may look nice, but it has an accelerator from hell. I think the reason it gets such good fuel consumption is because its literally impossible to actually push the accelerator in.
Since Itaga doesn't serve lunch (it has a high tea at 4pm instead) we decided to have a quick stop in at Bela Bela to appease the worms. After browsing the town for options (read crossing the street) we elected to eat at O' Hagan's due to its outdoor tables and the fine, cooling mist being sprayed over them to shield you from the heat. Sharon headed to the bathroom and I sat down at one of the tables.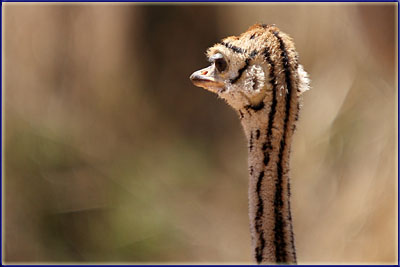 At this point I quickly realised that this was the Brackpan version of the mist cooling system. Although it appears similar, don't be fooled. The Brackpan version is not a mist at all, but rather standard garden sprinklers tied to the railing. By the time Sharon appeared from the bathroom a now drenched Warren had relocated to the sanctity of the air-conned pub. So much for sitting outside.
From there we carried on to Itaga which was just 30kms down the road. My dad and Cassia had gone to the local spa (really dad?), and we were still a little early, so we decided to kill some time be getting utterly lost in the relatively small reserve. It seems that Malabingwe is a reserve with several accommodation offerings (private homes, lodges and camps), all of which have separate owners. You drive down a central tar road and branch off to your appropriate accommodation. Itaga's directions stated turn left as you enter the reserve. Somehow we failed to read this and cruised up the road until we reached a relatively large camp who didn't seem to know what or where Itaga was. FAIL!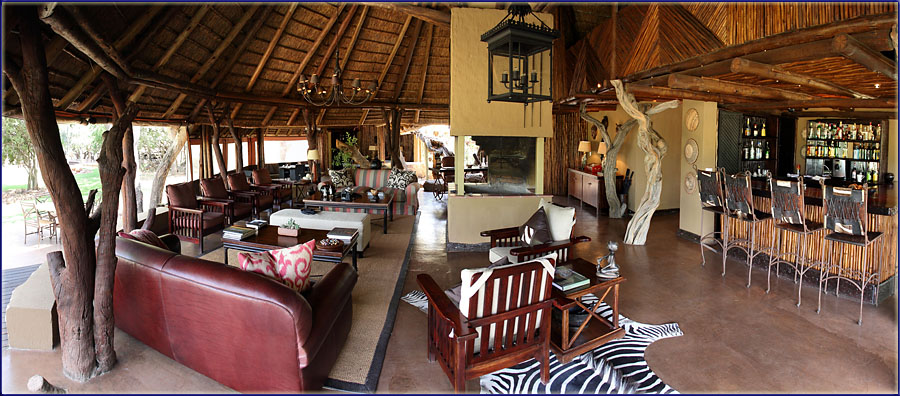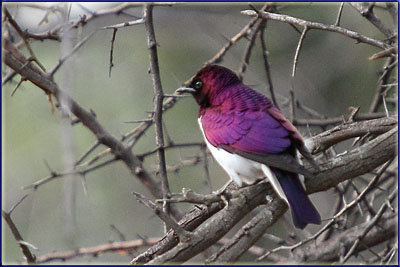 We made several more attempts by turning down random private roads, and ending up at some beautiful houses, before reading the directions properly and finding Itaga (which had a semi separate entrance at the gate).
Arrival at Itaga itself was a surreal experience. The staff were all waiting for us at the parking area, smartly dressed, and lined up like school kids. We were escorted to the lounge area while one staff member took our bags to our chalet and another parked our car. This situation left me a little nervous. Firstly I was getting shivers at the thought of somebody else carrying my camera, and secondly the driver looked to have very small legs and I was unsure he would be able to get the accelerator in.
In amongst my nervous thoughts we were given a glass of iced tea, handed a warm moist face cloth, and offered some sherry. After wiping her face, Sharon was left holding a facecloth in the middle of the lounge, not quite sure of what to do next. All the while I was staring around the corner with one eye on the guy carrying my camera and the other on the car being parked. Now I know what chameleons feel like.
After the initial shock of being treated like royalty we relaxed a little and got into the swing of things. We were shown our room, settled in, and then headed to the pool which overlooked a little watering hole. We swam, relaxed and enjoyed the birdlife while waiting for my dad and Cassia to get back from the spa (really dad?).
By the time they arrived (and had mocked my pasty white software developer's skin) it was 4pm and time for high tea. This consisted of some light snacks and served more as a gathering point before the afternoons drive than a meal. We placed our drinks order for sundowners and snacked on sausage rolls, chicken drumsticks, cocktail sticks and carrots cake before being escorted to the game viewing vehicle.
I can only assume that this place has some savage animals since the staff never leaves your side…
Two minutes into the first drive and we had the very unusual sighting of a 2 – 3 meter Black Mamba sunning itself in the road. Sadly I had not yet gotten my camera up and running and missed the shot. After that we saw the usual antelope and some very nice rhino right next to the car. At that point the black lady behind me asked the ranger nervously, "will they charge?", to which the guy behind her replied, "No, this is for free." How could you not find that funny?
We stopped next to a watering hole for sundowners and enjoyed a cold beer with some biltong, nuts and chips while watching the sun setting through some cunningly placed power lines.
After a short drive to camp in the dark, and a quick shower, we all met at the bar for a quick drink before dinner. It had been Cassia's birthday the week before so we took the opportunity to give her her gift – a sling bag for her bird book and a notepad to jot down her lists on each trip.
Dinner consisted of 2 choices for starters, mains, and desert. The first night's offerings were filo pockets filled with feta and tomato or a spinach and mushroom stack, followed by either kingklip or lamb chops served with veg and chips, and finally a poached pear with cream or a pancake with berry's and ice cream. Mmmmm…
During dinner we had a massive highveld storm and I was itching to get some shots of lighting over the bushveld. Sadly the storm lasted exactly the same length as dinner, leaving me with nothing but some drizzle to photograph. Grrr!
We had a few more drinks at the bar but eventually allowed the staff to head to bed as they were looking rather tired.
We woke up on Sunday morning and gathered around the boma for coffee and rusks before the drive. I got off to a really solid start by forgetting to wish my dad a happy 60th birthday. Why were we at Itaga again? FAIL!
The morning drive turned into a somewhat exciting affair as we headed off in search of the only herd of elephants in the park. After finding their spoor we tracked them for a short while and eventually spotted a single elephant 200 meters into the bush. At this point the ranger, who had strapped on his big balls that day, decided we were going to walk into the bush to get a better sighting. Sharon had in turn strapped on her "WTF?!" face.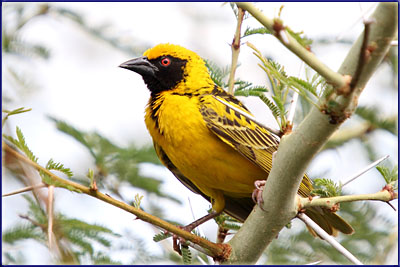 We climbed down from the Landy and began a very slow, very careful walk into the bush. At this point I had 3 very distinct realisations. Firstly, the ranger did not have a rifle. Gulp! Secondly, in order to stir with my dad on his 60th I had opted to wear my very RED taxi drivers hat. FAIL! And thirdly, I was suddenly very glad of the older, and therefore slower, couple who had joined us on the drive. Phew!
The closer we got to the single elephant that we could see, the more aware I got of the fact that there were 14 others that we couldn't see. Eventually we were 50 meters from the elephant, and although I could hear the others all around us, I still couldn't see them. The sound of breaking branches could be heard to our left and right, and at this point even the ranger looked a little nervous. At this point he decided things were getting a little dodgy and we headed, somewhat speedily, back to the Land Rover.
In amongst all of this Sharon had become aware that she too was wearing a brightly coloured shirt, and informed me that if anything had gone down she would quickly have whipped it off. Hmmm…this gives me an idea…how much would I have to pay the staff to stand outside our window and break a few braches?
After that close encounter we stopped in a plain for some more coffee and biscuits before heading back to camp.
Breakfast was a buffet of yogurt, muesli, muffins, crackers and various cheeses, followed by a full cooked English breakfast.
At this point it was around 10am and we now had a few hours to kill until high tea. We opted to spend this time by the pool where we gave my dad his gift. Kerry, Sharon and I had all pooled together to get him an Olympus waterproof camera. Cunning! He can no longer lie to me about the size of the fish he catches.
While Sharon and I were relaxing by the pool Lisa (the manageress) came over and asked us if we were afraid of monkeys. When we replied no she headed back to her house and returned with Martiens, a young vervet monkey she had saved after its mother died in a bush fire. He was the most amazing little creature and we spent the next hour playing with him.
Martiens decided Sharon needed a good de-fleeing, and the scary thing is that he found something in her hair…GASP! He then came over to me and gave me my turn. This saw him yanking at the small mole on my neck which he'd clearly decided was a tick. Its official…I want a monkey.
After that we wondered around the gardens taking pictures of some of the birds which had made their homes there. They included Paradise Fly Catchers, Black Fly Catchers, Red Chested Cuckoo, Pigmy Kingfishers and more. We were also great by 3 Klipspringer who wandered through camp, after climbing through the fence, to the watering hole where they occupied themselves with the salt lick which had been put out.
Just before high tea another storm graced us. And once again I couldn't take photos of the lightning, this time because it was in the middle of the day. Thankfully it passed over before the afternoon drive so we still got to go out.
Day 2's high tea consisted of samoosas, cheesie pooffs, calamari and pancakes with syrup and cream. And then we were off…We saw the usual as well as more rhino, still free, but this time without the nervous black lady who had decided it was safer to remain in camp.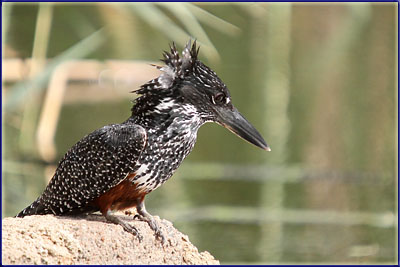 We stopped for our sundowners at a lake with a few hippos in it. There was a small enclosure called Hippo Hide, which was not really a hide at all, but rather a small roofed area surrounded by some hippo proof planks and a little hippo proof chain for a door. Our ranger told us not to leave the enclosure and we were left to our Hansa and snacks.
After the sun had set we started the drive back to camp. This involved going over a rather large hill and down a definite 4×4 trail…in the dark…by spotlight. *manly grunt* We were lucky enough to see a White Faced Owl in the road, and then shortly after than have a Brown Hyena run in front of the vehicle. Sadly Sharon and I both missed it as we were chatting to the ranger.
Back at camp we repeated the previous night's routine of a shower, followed by drinks, and then dinner. The night's meal consisted of either a prawn and avo starter or snails, followed by fillet with pepper sauce or chicken, and finally apple strudel or bread and butter pudding. And thanks to Sharon's disliking of both snails and prawns, I got a double starter. Let the good times roll…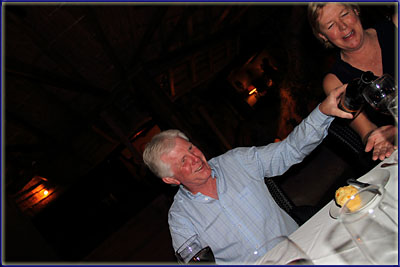 We had a few drinks in the bar to celebrate the start of my old man's reign as a pensioner, and then headed to bed (you really shouldn't keep pensioners up too late).
Monday morning arrived far too quickly and before I knew it we were on our last game drive. This drive's unique sighting (and yes, there's always one) was a massive monitor lizard in the road and some beautiful Eland. The coffee stop was spent at a small dam with a flock of Bee-Eaters overhead and an African Jacana making its way back and forth in front of us.
Back at camp we sadly started packing up and said our good-byes. Cassia and dad were on an earlier flight than us so they headed for the airport while we stopped off at Rietvlei Nature Reserve to kill some time and take a few more photos. Amazingly they claim to have 2 cheetah in this small park located just 20kms from Joburg International. Sadly we weren't lucky enough to see them, but we did get a few more lifers for Sharon's birding list.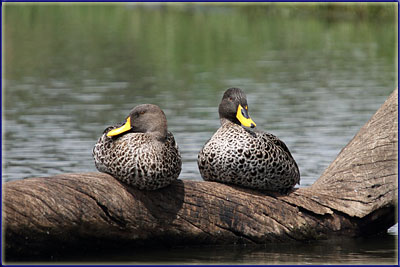 Although we were just 30kms from the airport, we were highly paranoid about Joburg traffic. We needed to be at the airport by 5:30 which meant we would be stuck in the middle of it. Being perhaps a little too cautious we left Rietvlei at 3:30 and were at the airport 10 minutes later. FAIL! This meant we had 3 hours to kill until our flight. Thankfully I had some course material to go over before work the next day, so I busied myself with that. Sharon on the other hand wondered the airport looking rather bored.
And then, to make matters worse, our flight was delayed by over an hour. Aaaagh! Damn you One Time! In fact, just to warn you all, every single One Time flight was delayed, while all other airlines were on time. Coincidence? Just remember that next time you book…
We eventually flew out of Joburg at 7:30pm and were in Durban and hour later where my mom picked us up.
What a fantastic weekend…pity about the crap ending! Damn you One Time!