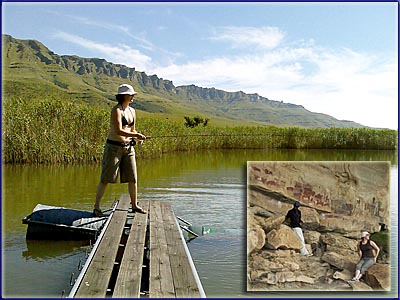 After a few weeks of no exercise due to malaria, I decided I needed to take up another pastime to see me through the lull. So I picked up my old fly fishing rod and Sharon and I headed to Kamberg for the weekend.
Much to Sharon's disgust we were on the road by 5am with a flask of coffee and some egg mayonnaise sandwiches. This is probably a good point to mention that egg mayonnaise sandwiches should never be eaten when stuck in a car…rather stick to bacon and sausages. Anyway, many smells, I mean kilometres, later we pulled into Kamberg and I got a fly into the water.
The fishing was a bit slow but I did manage to pull out a 900g Rainbow Trout at around 10am. This was to be my one and only fish for the morning. The good news was that the pressure was off…I'd landed a fish, and I didn't have any additional body piercings…So far, so good.
After the mornings fishing we had planned a small guided hike to the bushman paintings. Due to an approaching berg storm we had to leave early to miss the weather. Unfortunately this also meant missing lunch and led to a very hungry hike, but it was fantastic none the less.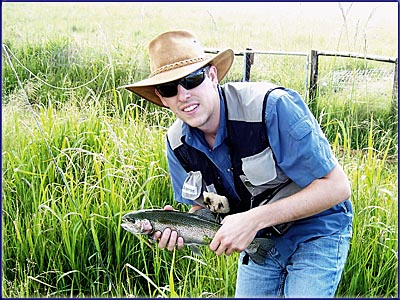 The hike to the paintings is an easy 1 and a half hour walk along mostly contour paths. Only the last 500 meters are up some steep terrain. On the walk you pass two real points of interest. Firstly a beautiful waterfall which you actually walk behind, and secondly the Shelter Cave where the bushman paintings are located. These are the youngest bushman paintings in the berg and are only 100 – 150 years old. As a result they are still very bright and visible. These bushman paintings are referred to as the Rosseta stone of Kamberg. You received a 30 minute talk on the paintings are then begin the hour walk back, making the round trip about 3 hours.
Upon returning from the hike we had a quick lunch and then I headed back down to the water for the evenings fishing. Sadly this didn't last long as the rain started to bucket down within half an hour of arriving at the water. So it was back to the challet for a few beers while we waited for the storm to pass.
By 7pm the rain had stopped so we built ourselves a fire and went about making dinner. A quick word of warning to anyone staying at Kamberg. Take your own charcoal or wood; We bought the wood available at the camp shop, which burnt beautifully but made absolutely no coals. Within 5 minutes of it burning down it was as cold as a polar bears ass. Luckily a kind neighbour lent us their braai and we managed to finish cooking on that.
The next morning I was up at 5:30 and back on the water. Fiver other fisherman arrived and we flogged the water for a few hours. All of this effort produced only one fish between us, which lucky came out the water on the end of my rod. This time it was a 700g Rainbow Trout caught on on olive green bead headed nymph. My Kamberg knowledge was finally paying off.
After the mornings fishing we had a quick walk along the river, which is in good condition, before heading back to Hillcrest for a relaxing afternoon. All in all a nice relaxing weekend which produced 2 fish in 2 sessions.
Kamberg's fishing is not what is was, but at least there are fish around. I did see a fair amount of activity on the surface, but the fish didn't seem to be rising to a dry fly. Speaking to a guide they told me they stock once a month, but judging from the size of the fish I'm not sure this is completely accurate.