Kamberg, Catch, Repeat
Kamberg, Catch, Repeat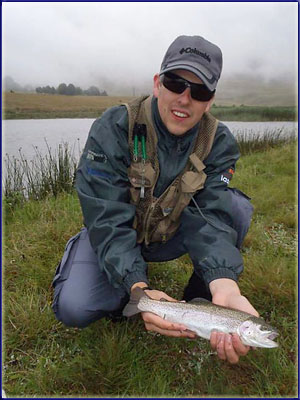 On Sunday morning I woke up at around 5:30am to far more light than I expected. By 6am I was at Nick's place where Clinton picked us up and we headed for Kamberg, stopping of course for a cup of coffee and a doughnut.
We arrived at Kamberg at around 7:30am in thick mist and a little drizzle. From afar conditions were looking good and we quickly spotted two other fishermen on the water. A brief chat to them revealed they were staying there, had been fishing for a while, and had caught no fish. Not a good sign but nothing to worry about.
Since the other fishermen were fishing Eland Dam we headed down to Erskine and got to it. Both Nick and I were fishing floating lines while Clinton, the beginner, was using an intermediate. After fishing for a short while I decided to switch to an intermediate due to the floating being blown around on the surface. It was at this point that Nick cheekily got into his first fish.
It wasn't much later that Nick got into his second fish and I began ruing my decision to switch to an intermediate. The pressure was on.
Measuring the water temperature revealed a WARM 21 degrees which is certainly a little high for trout. Thankfully this put my mind at ease regarding my line choice as I opted to fish a little deeper (well as deep as you can at Kamberg).
Thankfully I then got into a fish and was finally on the board. It was just Clinton who needed to catch and we were all routing for him since he was yet to catch on fly.
Nick and I fished our way around the dam and, just as we were walking up to the top dam, Clinton hooked up. Those early day cries of Bahaahaaaa could be heard from afar as I made my way over to photograph his first rainbow trout. Not only was it his first fish, but it also turned out to be the biggest fish of the day.
I fished Eland for another half an hour, while Clinton and Nick relaxed, and managed to pick up two more small rainbows. Sadly these were to be the last fish of the day for us.
We did try to fish Eland for a short while but with the sun now shining, the heat building, and the warm water it all seemed a little pointless. As such we took a vote and headed for the Bierfassl for a little Austrian beer.
The original plan was to also eat lunch there but, after seeing their prices, we decided a pizza and beer lunch at the Notties hotel was a better option. As it turns out the Notties pub microwaves their pizza and so we ended up eating burgers instead.
From there we made our way slowly home through the mist which had descended upon us once again. All in all a great day bar the fact that Nick forgot his jacket in the pub. I guess that just gives us an excuse to head back there next weekend.