Kamberg Saves The Day
Kamberg Saves The Day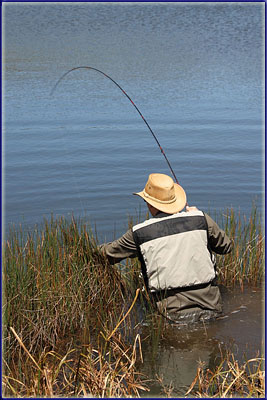 On Sunday our 5am alarm was followed by the normal cries of "Why Warren, Why?" Thankfully we were soon on the road and had quickly filled up with the normal cup of Wild Bean coffee.
We arrived at the Bushman's River at around 7:30am and even though I'd been looking down at the river and had seen how fast it was flowing, I was still optimistic. After quickly kitting up we headed down the path to get the fishing under way.
When we arrived at the swing bridge where I usually start fishing it became quite clear that the river was flowing far too fast. However despite the heavy flow it was still crystal clear and this gave me a small glimmer of hope. I elected to make my way upstream in hope of finding pockets of slower moving water.
Just a few hundred meters upstream I found a small section of river which broke away from the main flow. It was incredibly narrow and ran through thick vegetation. I slowly made my way up it fishing only a meter or so in front of me. Sadly I picked up nothing for my troubles but it felt good. Hoping for more water like this I continued upstream for close to a kilometer. Other than being stuck on the wrong side and not finding a place to cross I had no luck.
Eventually I realised this was a bit of a lost cause and so we headed back to the car and off to my backup water, Kamberg.
When we eventually got to Kamberg it was well after 10am. I headed down to Erskine dam where I instantly spotted 5 or 6 small Rainbows cruising in the shallows. I cast to the fish and immediately had a follow but no take. Next cast and it was fish on! I picked up 5 fish in this manner but sadly lost 2 in the thick reeds in front of me. At this point the fish seemed to be getting a bit fly shy and so I made my way around the dam fishing some of my other favourite spots. This resulted in one more small fish.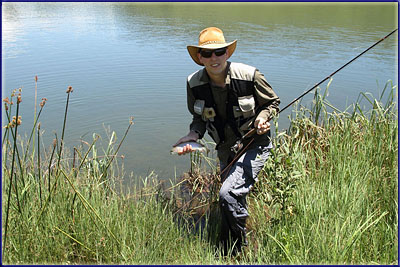 Sharon and I then decided to head back up to Eland dam where we picnicked under one of the thatch umbrellas. It was a fantastic snack lunch including pizza, cheese poofs, sausages, chicken nuggets, salads and more. Brilliant!
An honorary officer was wondering around cleaning up some of the fence lines and he ended up joining us for a cold coke.
An hour later and I was getting fidgety – it was 1pm and stinking hot. Not put off by this I fished the inlet at Eland while Sharon chatted to the ranger. I picked up one small Rainbow here which I somehow managed to lose against the bank.
I then headed back down to my sight fishing spot at Erskine. Due to the 2 lost fish earlier I decided to wade to what looked like an island. FAIL! Turns out it was just thick weeds and reeds which I almost got stuck in. So I ended up fishing over the reeds once again. I picked up 2 more fish sight casting before we decided to call it a day and head home.