Lesotho Fail, Underberg Domination
Lesotho Fail, Underberg Domination
After days of planning (ok, a cold beer and an idea) we left at 4am for the Mountain Kingdom of Lesotho. Tents and sleeping bags were packed, firewood was at the ready, and the Captain Morgan was prepped for an adventure worthy of Kingsley Holgate.
We stamped through the SA border at 7am and were proudly the first car up Sani Pass for the day. It was at this point that the adventure was downgraded by a level or two. Since our last trip up Sani a lot of work has been done. The road has been widened, retaining walls have been erected, drainage has been installed under the road, and ice corner has been defeated. The pass as we knew it is no more. In fact I'm pretty certain I could've driven a Golf up there despite the rain and misty conditions.
Thankfully, despite the emancipation of the road, the view was as spectacular as even so we stopped to take a few photos of the misty African mountain pass.
Once in Lesotho we headed straight for the Sani River, ready to begin a weekend of fly fishing and camping. Sadly however our adventure ended there. The river was lower than I'd even seen it. In fact there were stretches of dry riverbed 100 meters long without so much as a damp patch.
We weighed up our options and decided that heading further into Lesotho in search of water would be frivolous. Instead we chose to turn around, head back down the pass, and camp at Cobham while fishing the hopefully fuller Pholela River.
Thankfully when we parked at Cobham things looked up. The river was higher, flowing steadily and definitely fishable. We kitted up our trust two weights, pulled on our hiking boots, and got down to it. With the campsite being empty and the weather a little damp the river was free of humans. As such we started fishing from the swing bridge and immediately missed a fish or two in the first pool.
Excited by fish rising to the dry fly we continued upstream and missed a few more fish. I then switched to a smaller dry and cast to a fish I could see rising in the head of a pool. Fish on! It was a recently spawned rainbow of no more than 2 inches, but it was a fish none the less.
Nick meanwhile had headed back to the car in search of cellphone reception. Sadly his dog was in pain and had been taken to the vet, and he was desperately trying to find out what was going on.
He rejoined me half an hour later and we continued fishing upstream. I picked up two more small fish but the river was quickly thinning. We therefore decided to head into Underberg and to fish a still water in the afternoon.
From Cobham we headed for Alan's house, hoping he was in, so that we could get a good club water. Thankfully he greeted us with his usual cheery smile and insisted we stay with him for the weekend. We enjoyed a quick lunch of chicken rolls while catching up and deciding on an afternoon water. The wind was quickly picking up so we eventually decided on Turner's Cottage in the hope that the trees would offer a little shelter.
By 2pm we were at the waters edge and kitting up our trusty 5 weights. We could see the wind on the water but thankfully the low water conditions meant that the wall provided some shelter. Since the trip had been planned around fishing the Lesotho rivers neither of us had a float tube. We therefore climbed into one of the club's handy boats and rowed up to the wall.
Fishing was slow but it was midday so we were hoping that things would pick up. Nick got into one fish of around 800g, otherwise it was far too quiet. Eventually, when the wind dropped, we opted to head over to our first choice of water, Lake Ringstead.
After a quick drive down the road we rowed out onto the water. We'd been in 2 countries, had visited 2 rivers, and were now at our second still water. What a day!
Nick and I both missed fish on our first casts, and both landed fish on our second. I use the word landed in the loosest possible sense since neither of us had packed a net. Trying to lift a feisty rainbow trout out of the water without snapping a light tippet is somewhat trickier than expected. That said we did eventually master it after a fair amount of pointing and laughing as we lost the odd fish.
Our afternoon at Ringstead was hugely productive and we produced 14 fish in the couple of hours we were there, all in the region of 1 – 2kgs. We got to fish under a rainbow and then, as the sun set, under a beautiful full moon. You really can't complain about the places our fly fishing takes us to.
We arrived back at Alan's house to a roaring fire and lamb riblets at the ready. Cold beers were cracked and we got down to some serious braaiing. Eventually Alan headed off to bed when he saw the Captain Morgan getting opened…a wise move I think. We finally made it to bed well after midnight.
The next morning we dragged our corpses from bed for some hot coffee and another still water session. Alan wanted us to fish his private dam so that's where we headed.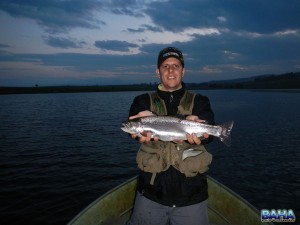 Sadly we'd only just made it out onto the water when a hurricane arrived and started with it's nonsense. Our anchor proved somewhat useless and we were washed into the bank time after time. We did eventually manage to lodge it in some weeds and fished for around 30 minutes before breaking loose. In that time I hooked into one nice fish but sadly it spat the hook on an energetic jump.
The gale continued to strengthen and eventually we washed up on the wall and were unable to paddle against the wind and waves. And that, as they say, was the end of that. We walked the boat back to the car, packed up our kit, said our goodbyes, and headed back to Durban earlier than planned (much to the delight of our wives).
It wasn't the adventurous weekend we'd planned but the fishing at the UHTFC was spectacular and we had a great time catching up with Alan. Lesotho will have to be tried again in a few months after some rain.