Mkhuze (And A Little Hluhluwe/Imfolozi)
Mkhuze (And A Little Hluhluwe/Imfolozi)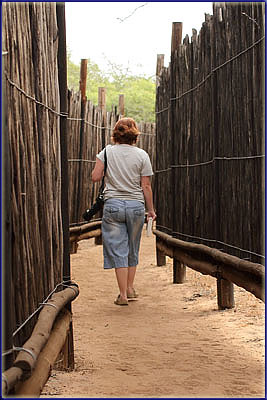 A very successful Charleston trip left us wanting more time in the bush, so in September Sharon and I decided to head to Mkhuze for the long weekend.
Mkhuze is located just over 300kms north of Durban, slightly further than Hluhluwe/Imfolozi, and is known more for its birdlife than its wildlife. That said it's still home to 4 of the Big 5 (there are no lions in the park and cats on a whole are rare) and does offer a very different bush experience to the more popular parks. It's certainly well worth a visit.
We were well aware that we were visiting the park at a strange time of year, just before the summer rainfalls, and it was therefore going to be very dry. It was also still very early in spring and therefore a lot of the migratory birdlife which they are famous for had not yet arrived. None the less, time spent in the bush is always fantastic whether you see everything or nothing.
So on Friday morning at 4am the alarms went off. This was met with the usual comment of, "Warren, why are you doing this to me? Why?" After a little verbal prodding I got Sharon out of bed, packed the car, and we were on the road by 4:30am.
The 330km drive took us 4 hours including a garage stop and a very dodgy last 30kms on dirt. Thankfully this time was passed with some fantastic egg mayo sandwiches and cheesy poofs. As for the last 30kms, it consisted mostly of a very badly corrugated dirt road. It's doable in any vehicle but did require some annoyingly slow driving.
When we reached the gate it was completely un-manned. Although somewhat confused we pulled over, set up the cameras and got out the binoculars. We were ready! Eyes peeled we crept along slowly but saw nothing. Two other cars flew past us and left me swearing at how recklessly some people drive in the parks. Ten minutes and a few corners later we arrived at what was in fact the real gate. Grrr! Damn you quasi-gate!
The park was immensely dry with large areas of burnt land. No wonder the camp site had been closed due to lack of water.
We stopped at the first hide which was located at a small pan. There wasn't even a hint of water and from the looks of things it had been dry for quite some time. We moved on stopping at a picnic site for another egg mayo sandwich.
One of the things which is really nice about Mkhuze is that they're very relaxed about you being out of the car. We chilled under the trees taking in the sounds of the bush before carrying on to the camp.
We passed through camp at around 10am which was still far too early to check in. This combined with the fact that the air con felt fantastic aided our decision to go for a game drive, even though it was nearing mid-day. Since it wasn't high on our to-do list it also seemed like a good time to stop at the cultural village for a quick look see.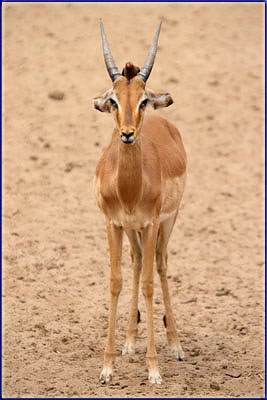 The title of "cultural village" is a slight exaggeration. In fact, it makes the "Prior exaggeration" seem like an understatement of note. All that we found was a single, slightly run down hut with a few curios on sale. None the less we supported local business and bought a wooden platter before moving on.
From the "cultural village" we headed past the airstrip hoping to catch a glimpse of a cheetah making use of the man made plain. We didn't.
We then headed back towards Matuma Camp stopping at one of the hides in the sand forest (I say one of, but in truth there is only one, since the other one has been closed). Amazingly this hide was in relatively good condition and was abuzz with wildlife.
Matuma hide has a water pump to keep the pan full and, as a result, was the only water for quite some distance. In the hour or so that we sat there we saw Impala, Nyala, Warthog, Rhino, Zebra and a lot of birdlife. And all of this was in the midday heat. Clearly this was the place to be.
By now it was after 1pm so we decided to see if we could check in. Walking to reception we passed a board showing who was in which tent/chalet – our name was not on the list.
None the less we joined the queue with our confirmation of booking and waited. The person in front of us was fighting furiously with the lady behind the counter. He too had proof of his booking and yet they were telling him his name was not in their book. He asked for other accommodation and they told him they were fully booked. Suddenly things weren't looking too good for us. After a lot of swearing they amazingly found him somewhere to sleep, but what did this all mean to us? We stepped up to the desk, handed in our form, and were given our zip. I say zip since we were staying in one of their safari tents and therefore didn't get a key.
The tent itself was awesome. It contained 2 single beds, a cupboard and fan, and an en suite bathroom consisting of a toilet, sink and shower. You then got a separate, open stand which consisted of a kitchen and dining room table. And the best thing yet, the tents were positioned in such a way that you couldn't see anyone else and were surrounded by bush. In fact our sight was constantly occupied by Imala, Nyala and some rather cheeky Baboons. And yes, that does mean that the camp is not fenced.
The camp also has a fantastic fenced off pool area which was a life saver in the mid day heat.
After settling into camp, wading in the pool thanks to a forgotten costume, and a quick ice-cream we headed out on another drive. Our chosen route saw us heading down to Insumo Pan hoping to see some good water birds. Sadly the first hide was closed and the second was rather dodgy. This combined with the howling wind that had come up from nowhere saw us moving on. It's also worth noting that the fig tree forest was closed. Clearly maintenance in Mkhuze is optional.
We drove a few of the other roads on route back to the Sand Forest. It really is difficult to explain just how dry the park is. Driving down the road to the hide we were lucky enough to have a herd of Elephants cross the road just in front of us. This is an amazingly rare sight for Mkhuze and we've got to consider ourselves lucky. It never ceases to amaze me how these huge creatures can vanish into the bush just meters off the road. A second later and we would never have seen them.
The hide itself was packed with both people and animals. Only the bird life had diminished from when we had stopped there earlier. We relaxed in the hide, cursing that we'd forgotten to pack beer, until 6pm when we headed back to camp.
We braaied ourselves a great dinner consisting of wors, rashers, mealies and potato salad (no, we didn't braai the potato salad) before heading straight for the slightly stained beds *shudder*. Although ridiculously tired I battled to sleep. As fantastic as the tents are they are not very pleasant in the wind. The canvas is surprisingly loud and kept me awake for quite some time. This combined with the budgie size mosquitoes saw me lying awake until frustration kicked in and I got up to put the mosquito nets over the beds. At last some relief. I slowly dozed off listening to a very nearby Hyena.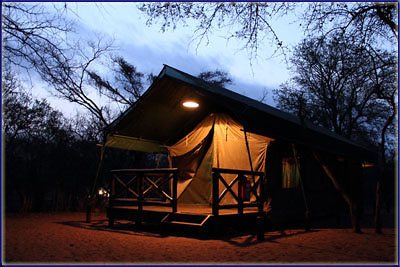 Sharon and I were up by 6am feeling surprising fresh considering the rough night's sleep. Tracks in the sand confirmed that Mr. Hyena had visited our sight during the night. After a quick breakfast of coffee, rusks and yogurt we were back in the car and out on another drive. We had a quick stop at the Sand Forest hide which was surprisingly empty, probably since it was relatively cool, before heading back down to Insumo Pan.
Sadly it was still very windy on the water's edge. It's really amazing how the rest of the park is so sheltered when compared to this open expanse of water. There were very few birds around but we did manage a nice sighting of an Open-Billed Stork. Again we drove a few of the less travelled roads in the park before heading back to camp at around 12.
One of the things that amaze me about this park is the number of Nyala it has. I'm serious when I say that we probably saw more Nyala than Impala, which was a very nice change and not what we've come to expect from parks.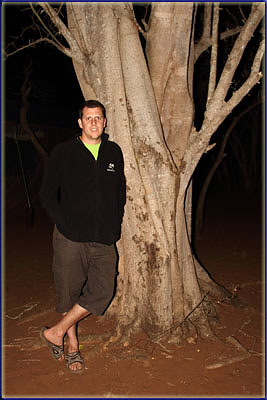 Back in camp Sharon took me on at a game of Scrabble. This proved to be a rather futile exercise as Sharon whipped out not one, but two seven letter words. Realising that taking her on again would just be silly we took a walk to the shop for an ice-cream. A quick stop at the viewing board showed that somebody had spotted Wild Dog just down the road.
We rushed back to our tent, packed a quick lunch, and headed out in search of the elusive Dogs. Sadly they were not to be found. What we did find was a bunch of rangers out with their antennas trying to track the Dogs' radio collars.
We cruised around the park stopping at the Sand Forest hide twice where we were lucky enough to see a Bush Pig come down to drink. A heard of Giraffe also came and drank which is always a sight to behold. This combined with a few lifers for Sharon made it a very worthwhile outing.
Dinner consisted of another braai, this time steak, and we were once again in bed early thanks to the previous night's bad sleep. Having learned the hard way we were prepared and had the mosquito nets down early. We were also lucky in that the wind had died down. Under these conditions the tents were fantastic and we both got a good night's rest. Did Mr. Hyena pop around? Who knows?
On Sunday we were once again up before 6am. We decided to head home via Hluhluwe/Imfolozi in the hopes of seeing a cat of some sort or another. It also meant a shorter drive from the gate of the park home.
After packing up and having another rusk and coffee breakfast we were quickly on our way. Somehow the dirt road out of the park seemed far better than when we had driven in, but I guess that's just because we knew what to expect.
We reached the Hluhluwe gate at around 9am. There was a lot of game around the gate area including beautiful sightings of Buffalo, sitting Giraffe and a Rhino with a massive horn and tiny calf. However a short distance from the gate you enter a more mountainous area. From here we saw very little, all the way through the corridor, until we got into Umfolozi. By this stage it was around 11am and was starting to get VERY hot.
We stopped off at a picnic site for a quick lunch and were lucky enough to be surrounded by some beautiful bird life. Sadly we couldn't hang around for too long since the sun was stripping fluid from my body faster than I could replace it. A short while later we reached Mpila, the main camp at Umfolozi, where we stopped quickly to look at the sightings board and the new accommodation.
The camp had decided to do away with the chalets which have a separate communal bathroom and kitchen (not together) and instead replace them with chalets with en-suite bathrooms and small kitchenettes. As nice as they are (and they are nice) you now have to pay twice the old price. Worth it? Yes, but there is now no cheap option since they don't offer camping. This in itself is rather sad. Soon they'll only be charging dollars.
Anyway, moving on…
After checking out the new accommodation we headed for the sightings board where we noticed there were a few Cheetah sightings at the end of Sontuli look.
With the park being so dry this seemed like the obvious place to go anyway (Sontuli loop runs along the river and there was very little water in the park), so we piled back into the car and headed for Sontuli. By this stage it was mid day and the thermometer in the car read 39 degrees. Ouch! So from this point onwards all game viewing was done through glass from an air-conditioned car.

We stopped off at the picnic site on the loop for a short while (just slightly less time than it would've taken us to turn to biltong) and watched the amazing number of animals gathered in the riverbed.
I've never in my life seen Umfolozi so dry. Areas which used to be grassy plains have become deserts. There wasn't even a tuft of dry grass…all that remained was dust and sand. WOW!
None the less we carried on and reached the end of Sontuli at around 1:30pm. There people had gotten out of their cars at one of the view points and were staring into the river. Clearly something was down there. We parked and joined the sweaty masses staring into the vast space but could see nothing. Eventually, after some lengthy explanations from a few of the other people, we managed to spot a Cheetah with 2 cubs hidden in the reeds on the other side of the riverbed. It wasn't the best sighting, but it was a sighting none the less. Mission complete!
We hung around for a while hoping they would come down to the river to drink, but eventually realised this was a futile exercise, climbed back into the air conned vehicle, and carried on through the park.
Rather than go out through the usual middle gate (which leads straight onto the N2), we opted to try the bottom gate which requires you to make your way along 100kms of windy roads back to the N2. This route is shorter in distance so we thought it was worth giving it a try to see how long it took time wise.
We wound our way through the park to the bottom gate, stopping at one more hide where we found some Warthogs digging for water in the dry ground. We also spotted on a White Backed Vulture on its nest with a young chick.
Finally we arrived at the bottom gate which is in good condition although it's far less commercial than the other gates. In fact, it's literally just a gate with a single guard on duty.
The drive back on the other hand was kak. The windy roads are in good condition but are only single lane. This saw us getting stuck behind numerous trucks and resulted in us travelling most of the way at around 60km/h. And then, when we finally managed to overtake, Mr. Pig stepped out into the road and gave me a fine for doing 100 in an 80 zone. This was made even more annoying by the fact that I hadn't seen the sign and ended up behind all the trucks I'd just fought to overtake.
The "highlight" of the drive home came after our petrol stop. Sharon decided she would drive the remainder of the way since I was still fuming from the fine. As she was pulling on to the freeway she changed the coke bottle from 3rd to 4th. FAIL! From now on I drive…
In the end this route only took us 30 minutes longer, including the stop for the fine, but it really isn't worth it. Stick to the middle gate and all will be well.
All in all a fantastic trip through some very arid parks.