After much deliberation (due to a lack of leave) I decided at the last minute to take off Monday and have a long weekend. This seemed like a great idea until we started trying to book accommodation and found out everything was full. WTF?! I though kids were back at school? Anyway, Sharon eventually managed to book us into Monks Cowl, which meant no fishing, but did have other benefits like good walks and a few nice activities nearby.
We drove up early on Saturday morning, stopping at Thokozisa for breakfast. After a great meal we drove the remaining 20kms to Monks Cowl where we arrived in the rain. After sticking up the tent in record time we made the fantastic discovery that our extension cord was too short. Since it was raining we hoped back into the car and drove to Winterton, where I quickly grabbed a 10 meter cord off the shelf. FAIL! When they rung it up it cost R250. WTF?! Anyway, we didn't really have an option, so took it anyway.
The good news is that while picking up the extension cord we discovered that the Waffle Hut had a new 9 hole putt-putt course. What made it so awesome was that it was more like exaggerated greens rather than a traditional putt-putt course. We of course had to stop off and play a quick 18 holes. Brilliant!
When we got back to camp the rain had finally stopped, so we finished setting up camp, and then spent the rest of the day relaxing, playing Scrabble, drinking red wine, and braaiing.
Thankfully the weather on Saturday was fantastic so we headed out on an easy 10km hike. We started with a walk down to Sterkspruit falls, and then continued upstream, stopping at the various pools along the way to take some photos and eat a picnic breakfast. From there we headed into the Gorge which we continued up until we hit Nandi falls. Sadly we had to share this spot with several other groups, so we didn't spend long there before heading home via the contour paths.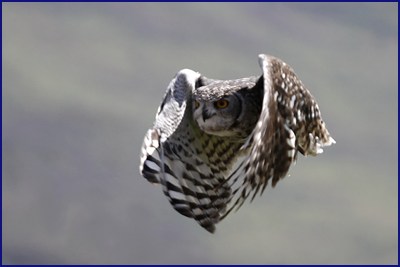 Once back at camp we realised we were far too lazy to cook, especially since we had the temptation of a coffee shop just 50 meters from our tent. We headed over and shared a toasted sandwich and snack basket, while enjoying the abundance of Cape Robins prancing between the tables.
From there it was off to shower, mostly due to bad camp design (go KZN Wildlife). Although there were in excess of 40 million people camping, the ladies only offered 1 shower, while the gents offered 2. This meant that the queues were ridiculous in the mornings and evenings, and thus we opted for midday showers.
The rest of the day was once again spent relaxing with a good bottle of wine, a book, and a Scrabble board.
Monday treated us with more good weather, so we opted to head out to some of the local attractions for the morning. Our first stop was Falcon Ridge which got off to a bad start. Just after entering there are a handful of cages with an assortment of birds of prey. We stopped at the first cage and were casually admiring the birds when one of them flew squawking at Sharon, smacked into the netting, and returned to its perch. Hmmm? Is it true? Can animals sense evil? Kidding…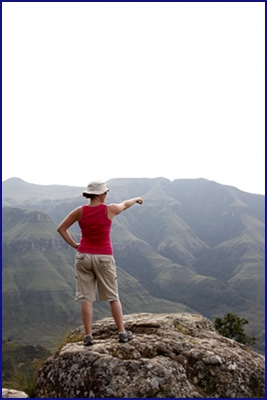 Anyway, after looking through the cages the falconry show started, and we had the honour of watching them fly a Lanner Falcon, Black Eagle, Spotted Eagle Owl, Gymnogene, and more. We were fed a vast amount of interesting information on all the birds, ranging from their size and speed, to the fact that the Gymnogene is able to dislocate its elbows to dig in holes. WOW!
The Falconry also gave me a chance to fiddle with my new Canon 7D. I'm very impressed with the camera, and even managed a few good shots, but I'll give a full review of it sometime soon. Watch this space…
From Falcon Ridge we headed over to the Drakensberg Sun Hotel, where we had a game of mashie golf. We confused the guy running the course when we explained we were day visitors, and he ended up allowing us to play for free. Result! The greens were terrible, but the course certainly was a challenge in an exquisite location. Sharon managed to make it even more challenging by hitting her only 2 balls into a deep, water filled, overgrown, furrow. This of course saw me "abseiling" in to retrieve them and left me both itchy and covered in more blackjacks than I knew existed – but boy was it fun pretending to be Rambo.
The golf was followed by a trip to the Waffle Hut where I got brave and ventured from my usual plain waffle. Instead I opted for the Chocoholic…FAIL! Although the description was, "a chocolate chip waffle", what they failed to mention was that it came with chocolate ice-cream and chocolate sauce. This combined with the fact that I had ordered a double thick chocolate milkshake left me both shaking and feeling rather ill.
We headed back to camp, put on the hiking boots, and started the process of making me human again. It was already 3pm and we couldn't go far, so we opted for the hike up to the Sphinx. It was a 5km round trip, with the initial 2 and a half being straight up. It passed under Chrystal Falls and ended up on top of a rock which boasted spectacular views, and believe it or not, looked just like the Sphinx.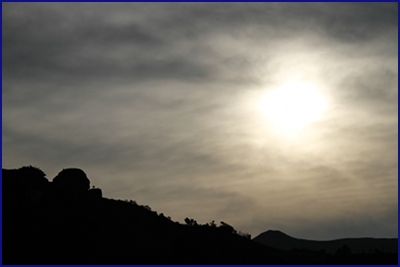 The only thing ruining this great walk was passing a soccer team who were on their way down, and proceeded to whip out a permanent marker and write their names on all the rocks they passed. Good one guys! You're so tough!
When we woke up on Monday it was drizzling, which left us with the tough option of either packing up in the rain (and having to dry everything at home), or to wait the rain out, hoping it would dry out the tent. Things weren't looking too good so we opted for the former, packed up camp, and headed home. In retrospect this was the right decision as the rain seemed to get harder and harder as we packed, and drove off.
We arrived home just before lunch, having given the Waffle Hut a wide birth, and got to unpacking. Luckily this took us less than half an hour (excluding drying the tent), and we were relaxing with a bowl of popcorn, watching Scrubs, before we knew it. Ahhhhh…