Mozambique – From Maputo to Xai-Xai and Inhasorro
Mozambique – From Maputo to Xai-Xai and Inhasorro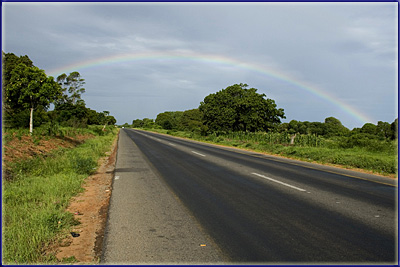 After a long and exciting year the holidays finally arrived, and for Sharon and I this meant a trip through Swaziland and into Mozambique for 10 days.
This would be the first time out of the country for Sharon and she was looking forward to getting a few stamps in her passport. However the excitement was not without a little apprihention…
The trip began on Christmas day with a casual drive to Richardsbay where we spent our last night in the luxury of a house with real beds and a shower that was above room temperature. Being Christmas we enjoyed a delectable lunch of cold meats and salads, followed by a relaxing afternoon and a few beers. Then it was off to bed early, ready for the long journey to Xai-Xai the following day.
We rose at 4:30am to be on the road by 5am, hoping to make the Swaziland border when it opened at 7am. The drive to the border was scenic with good views of Jozini dam which Sharon hadn't seen before. We arrived at almost exactly 7am and made it through the border with no difficulties.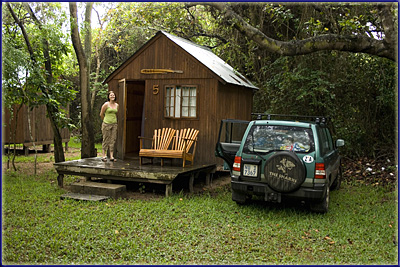 The roads through Swaziland were in good condition bar a short stretch after the turn off at Big Bend. However even this stretch was in fantastic condition compared to what we would experience later in Mozambique. After a cheap refuelling at Big Bend (yes, you pay less for fuel in Swaziland than you do in South Africa) we made our way to the Swaziland/Mozambican border.
Sharons first African shock came when we had to stop in the middle of nowhere at a foot and mouth checkpoint. After passing through here her confidence in meat was shattered and it took some convincing to get her to touch meat again.
This time the queues were a bit bigger, but we still made it through with no problems in under 30 minutes. Finally, we were in Mozambique. Driving more cautiously now we slowly made our way to Maputo which lay roughly 80km from the border. We didn't need to go into Maputo, but I decided that this would be a good place to stop for lunch on the beach, and to show Sharon the capital. This turned out to be a costly mistake as we ran into a few policeman hoping to make a quick buck, which they succeeding in doing…GRRR…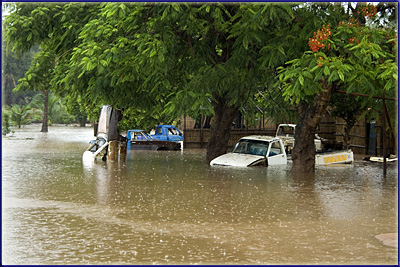 This put a bit of a downer on lunch, but life goes on. We stopped at a small cafe looking out over the bay and onto Inhacca island. I ordered a prego roll, and Sharon, who was still steering clear of meat, order a toasted cheese and tomato sandwich. Unfortunately for her, our waiters english was not too good, and she ended up with a ham and cheese toasted sandwich, much to her dismay. This was probably lucky for me since it forced her to eat some local meat and helped her forget the foot and mouth stop.
It was then back into the car for another 200kms to Xai-Xai where we would be spending our first night. After a long day we arrived at our accomodation in Xai-Xai; A little place called the Honeypot hidden away in the trees. The rooms were basically a garden shed with 2 beds and mosquito nets, a fan, and a light. Ablutions were sharred but were clean and in good working order. It was actually a lovely little place with an outside bar/restaurant were we enjoyed a few cheap beers and dinner.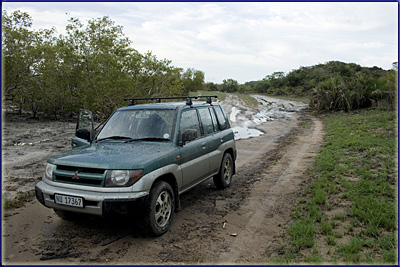 After a good nights sleep we were on the road by 7am heading for Inhassoro, which is about 50km north of Vilanculos. There was only 500km to go but we knew that the roads were going to deteriorate from this point onwards. We'd only been on the road for about 10 minutes when we made our first stop on the side of the road for Cashews. Mozambique (and Xai-Xai in particular) is famous for its cashews which the locals roast in fires and sell on the side of the road. They are also the 8th biggest exporter of cashews in the world.
With padkos now in hand we continued our journey. Slowly the landscape changed into the palm tree paradise that Mozambique is. Our next stop was in the lake district at XXXXXX where we bought a few curious, some Pau for lunch and a few cokes. The secenery here is stunning; You sit on the top of a hill overlooking the bright blue water of the inland lakes. WOW.
Back into the car and on we went…Just before reaching Maxixe, where we filled up with fuel for about 33Mtn/l we encountered the first of the rain. Apparently it had been raining for weeks and they were experiencing floods. Not what we wanted to hear but we continued our journey on to Masinga.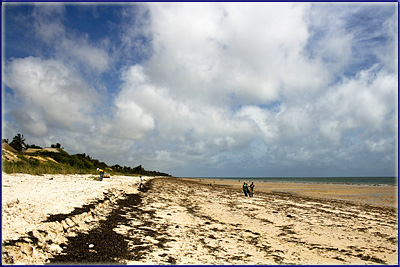 Up until this point the roads had been in great condition. However after Masinga you are graced with 70kms of terrible roads. In fact, there is more pothole than road. Those 70kms takes about 2 hours, sometimes creeping along at 10-20km/hour. Your drive on the opposite side of the road, and in fact, in some places its better to drive completely off the road.
Once we were through the bad section there was only a short distance to go to Inhasorro. We arrived in Inhassoro at about 4pm and took the sand road north to Bartholomew Diaz point. It started as a hard sand track which got slowly softer as we continued. After about 10kms we stopped to look at the famous red sand dune before continuing our trip. 20kms later we encountered something I wasn't expecting…a mangrove swamp which we needed to drive through. I walked the first 300 meters and it felt solid underfoot so I decided (much to Sharon's dismay) to drive it. It was now 5pm and the sun was nearing the horizon. The sound of mosquitoes filled the air, and Sharon was not impressed. We made it few the first section with no troubles, although Sharon had become rather quiet. However as we continued the wet sand got softer and softer, and I could feel the car sinking. Eventually, after realising the chance of getting bogged down was high, and that Karen and Western wouldn't be able to get through on bikes anyway, we turned back.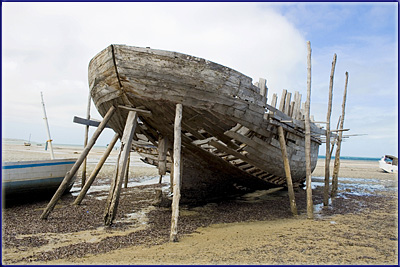 After another hour of driving we arrived back at the camp-site in Inhassoro and proceeded to set up camp in the dark. After a few beers by the fire Sharon finally relaxed a bit and we enjoyed beef espedtadas, bought in South Africa, and free of foot and mouth.
We woke up the next morning for what was to be our first day of no travelling, and pure relaxation. After raining for most of the night the weather had cleared up nicely and we enjoyed a day on the beach and relaxing in camp.
The beach at Inhassoro is stunning, bar the fact that there is a lot of seaweed in the water. It does however wash onto the shore so if you swim a few meters out the water is clear. Back in South Africa we had bought a Waboba ball (the most expensive ball I've ever purchased) which proved to be the hit of the holiday. It bounces on water and we had hours of fun with the local kids skimming it to each other in the sea.
We had also brought Scrabble with which saved us on the few days that it did decide to rain, as well as during that midday heat, when spending time on the beach was impossible.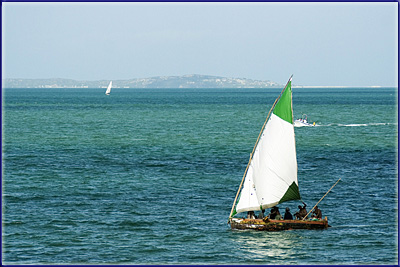 The camp-site at Inhassoro is great. The ablutions are clean and well maintained, bar the fact that we ran out of hot water most nights. They also have outdoor showers which are great when you get out of the sea or just to cool off. The camp-site also had a beautiful deck over the beach were we spent a few hours most evening drinking the local beers, 2M, Laurentina and Manica. There is also a restaurant which serves good food but has terrible service (we'll get to this later). There is also a good bar and a few chalets which I didn't have the pleasure of looking inside. In fact, the only downside to the camp-site is the Disco that runs in the bar every night from about 6pm through to 12pm. Grrrr!! Does nobody realise that we're in Mozambique for some peace and quite?
That night we ate the last of the red meat we had brought in with us…hamburgers on the local rolls. Fantastic!! Then again, most food tastes fantastic after a day on the beach and with a Laurentina in hand.
After having spent all of the previous day in camp, we decided to do a day trip to Villanculos for lunch and to get some fuel. It was a short 80km drive to get there and it was well worth it. We took a brief drive around town and looked at all of the eating establishments before deciding on a place called New York Pizza; And believe it or not, they even deliver. Although Inhassoro may have been a bit far. Its hard to tell if its the surroundings, but it was one of the best pizzas I've ever eaten. The restaurant was a beautiful thatched building overlooking the bay and small harbour. There was even a guy there with 2 camels which you could ride down the beach.
After a good lunch we went to the bank to draw some money (there are no banks at Inhassoro) and filled up with fuel. Then we stopped of at the beach bar and swam for about half an hour before deciding it was time to head back to camp. While we were drying off one of the locals walked over and tried to sell us a tortoise. He'd made a small hole in the back of its shell and had a piece of string you could use for walking it…you've got to love Africa.
On the drive home we decided that we would buy some seafood for dinner from the local market, so after a short stop at camp we headed out to get some food. As we drove out of the gate we spotted a single bike on the road. After commenting that it couldn't be since they were on 2 bikes, we were frantically waved down. Turns out Western's bike had seized 200km up the road, and they had ridden to Inhassoro on Karen's bike, followed by a taxi with Western's bike in it. This little 200km taxi lift cost them a large R1000. I had to laugh when I noticed that 2 goats had been tied to the roof, and the seats removed to fit Western's bike in. This is certainly Africa. Sadly their arrival foiled my seafood plans as we worried more about how we would get the bike home.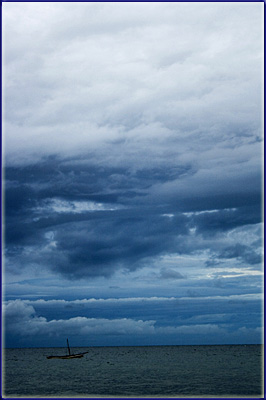 The following day was spent finding a local mechanic, who unfortunately didn't speak a word of english. Luckily there were several portugeuse people staying in the camp-site who spoke english. After much discussion we decided to get him to strip the bike and establish the problem. However upon arriving at his "workshop" we decided it would be safer to get this done in South Africa. Stripping a bike on beach sand while propped up on a log seems like a bad idea.
However with the bad comes the funny. While driving to find a local mechanic Western decided to stand on the back of the vehicle since there was no space inside. This came with the danger that we would run into a cop and get yet another fine. Low and behold, while driving slowly down the road, Western spotted a cop, which we didn't noticed. After a quick bang on the roof to tell me to stop he jumped off the back. Sadly I hadn't started the stopping process yet which meant Western tried his hand at running 30km/h in a pair of slops. Least to say this didn't work and all I saw in my rear-view mirror was a fantastic tuck and roll maneuver. Nice!
After weighing up all the possible plans, Western had to ride Karen's bike to the Swaziland/RSA border to meet his parents who were in his car with a bike trailer. He then drove his car back and took his bike home with the trailer. This little adventure took him two days to complete so we didn't see him for the rest of the trip.
Karen opted to stay in camp with us rather than doing a 800km trip on the back of a bike. Good call! So we relaxed around camp, swam, played a lot of scrabble and had a few glasses of wine. All in all good fun was had.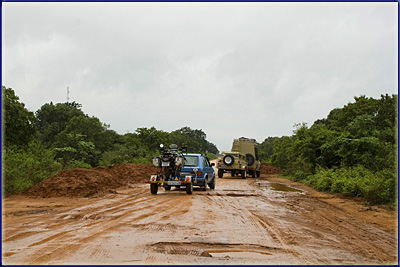 New Years was very relaxed (sadly, but I blame the company who decided it wasn't a big thing) so after a good dinner and a few glasses of wine we were all in bed. We did however see the new year in, since at about ten to twelve, all hell broke loose when every firework in Mozambique started going off above the tent.
The next couple of days were very relaxed, with a bit of rain and a bit of sunshine. We continued with the relaxed beach life and even played a few games of Waboba ball with some of the locals. Its absolutely amazing how much those kids can enjoy a ball; But I suppose when you don't have something you take full advantage of every opportunity.
On our last night the three of us decided to have dinner at the restaurant in the camp-site  If I had though Blue Peter had bad service I was in for a big shock now. Long story short, it took us 30 minutes to get a waitress, followed by an hours wait for our drinks (which we eventually re-ordered). It was then another hour of waiting before we found someone who spoke portuguese as well as the manager. After he kaked on our waitress it was still another half an hours wait before food arrived. And after all of that, Karen got the wrong order so it was more waiting for her. Aaarghhh!! But at the end of it all the food was good, and this is Africa after all.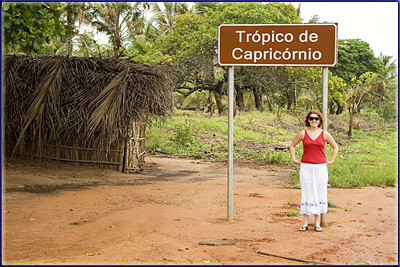 The next morning we packed up camp (Western arrived back at around midnight the night before) in the pouring rain. So after getting everything into the car, soaking wet, we had a quick shower and began the journey back to the Honeypot in Xai-Xai. By now Sharon was far more relaxed and was actually talking about coming back (WOW). On route we spotted some locals selling Grunter on the side of the road and bought our first seafood of the trip. That evening I cleaned the fish and we enjoyed a fish braai and the comfort of a real bed. Mmmm.
Then it was back into the car, back through the border posts, and back through Swaziland. We arrive in Richardsbay in the early afternoon and spent the rest of the day and night with Sharon's parents before heading back to Hillcrest where we began the fun task of unpacking all the wet tents, etc, and erecting them so they could dry. That took us most of the day which is always a bit depressing, especially when you know all you have to look forward to is work the next day.
All in all it was a fantastic trip with a few minor hitches on the way. Time now to plan the next one…