My Bulls (Part 2)
My Bulls (Part 2)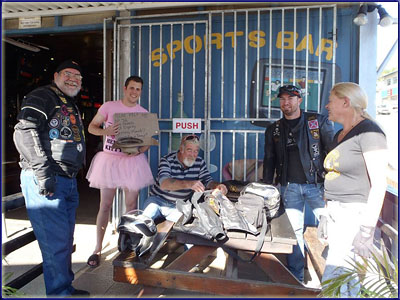 The weekend started early for me when Nick appeared at my office at 3pm to collect me for my bulls party (weekend). I'd known (guessed) that it was on that weekend but didn't know where, when or what. So after being dragged kicking and screaming from my cake, I sneakily grabbed a banana, was piled into a car, and my journey to an unknown destination began.
We headed south, down the coast, but I was still unsure of the final destination. On route we stopped off at the Pistol Saloon, just outside of Ramsgate, where Nick and I enjoyed a cold beer and he tried to ruffle my feathers a little.
Outside the pub was a deer shooting game and before we knew it we were pouring R2 coins into the slot. Due to some dodgy on screen instructions we pumped in far too many and suddenly we had several games owed to us. Half an hour later we were still shooting deer, with very sore arms, but loving every minute of it.
From the saloon we headed to our weekend's destination, which I'd finally discovered was Port Edward. Briggsy was waiting for us at the gate and the other Graham had already checked in. We relaxed outside with a few more beers as Graham described to us his disastrous trip down including a blown engine in his bakkie.
Wayne, Grant and Lyall then arrived and we lit the fire and tanned some meat. It was at this point that the "claiming rule" was introduced. Since my nick-name is Claimer, every time somebody told a story that sounded a little farfetched I was forced to take a shot. It soon became clear that this was a dangerous rule.
After enjoying our dinner we headed out to the only pub in walking distance, Mother's Pub. Let's just say that many beverages were consumed as we partied well into the night in a rather empty pub filled with rather young girls (or are we just getting old?). Thankfully we managed to control ourselves rather well (knowing a whole weekend lay ahead) and headed back home at around midnight.
The following morning we woke up feeling far better than expected. We sauntered around slowly, eating breakfast and showering, and generally getting ready for the day ahead. When I climbed out of the shower I was greeted by my "outfit" on the bed…a pink tutu and a pink Hello Kitty top, several sizes too small of course.
I tried my luck in getting on a pair of shorts under my tutu (as I had no underwear with me) but Nick was having none of this. As such we stopped off at a local Chinese store on our way out for the day, where Nick purchased me a very suspect, second hand looking, pair of skin tight boxers. I pulled them on in the store and proudly made my exit to a cheering taxi rank.
Things quickly turned a little sour when a guy walked over to me and said, "Can I have my way with you?" He sounded far too serious and I wasn't sticking around to find out. We climbed into the cars and made a hasty exit.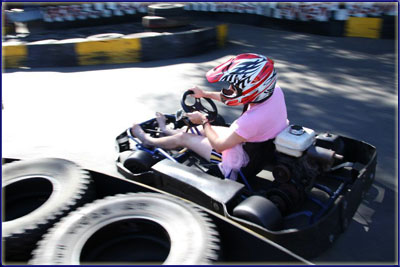 This was however only the start. I was promptly dropped off at a robot in Margate to earn my spending money. The rest of the boys vanished into town for a little breakfast while I sweated out the previous night's rum in the sun begging from cars. Amazingly I earned a lot of money, right up until a cop came and tried to arrest me. Thankfully Nick had returned by this point and managed to smooth things over with a little slap on the cops back and a few kind words.
I was promptly pulled from the robot and sent, in my pink tutu, to beg in a local biker bar. Personally I think I would've rather taken my chances with the cops. None the less I tentatively made my way into the bar, where they were all well into their beers, and began to beg. Thankfully they saw the funny side of things and soon my hat had over R500 in it.
At this point we decided I had enough money and headed for the day's activities.
The first stop was at the local Go Carting track where we got down to some serious racing. After being given the "safety briefing" we split into groups and set about racing. Being the bull I was first into a car and took an early lead. Nick was right behind me and as we went into the first corner I was given a heavy bump. We looked at the officials who seemed not to notice and from there the racing turned into absolute carnage.
Mid way through the event Bernard joined us and quickly donned his racing gear and joined the racing. Let's just says that by the time the racing was over we all had very sore arms and slightly dented karts. We finally left the carting to the sight of staff bending fenders straight.
From the Go Carting we headed directly for the paint ball arena. A few of the boys pulled on overalls while I was forced to play in my hard to conceal, and not very protective, clothing. We grabbed our weapons and began walking out to one of the various courses. Thankfully I'd managed to swap my slops for a spare pair of shoes Wayne had in his bakkie.
On the way through the bush we ran into another bulls party. Their bull was luckily dressed in orange overalls…oh how I envied him. While walking past their best man said to Nick, "You can shoot our bull if we can shoot yours." Without blinking Nick lifted his marker and shot their bull in the stomach. Knowing this would only end badly I continued walking bravely. As I passed their best man I felt a pain in the back of my leg. Apparently I yelled, "You hit my fleshy parts!" As I looked around I was greeted with the sight of blood pouring down my leg.
A vote was then taken as to whether we would play in teams or everyone against me. Thankfully a few of my friends actually do like me and we ended up in two teams. With the initial pain out of the way I decided it was time for revenge. We ran out into the bush.
I found a good spot in some thick bush and hid as best I could in my bright pink attire. Amazingly, and thankfully, the first person I saw was Nick. And even more amazingly, he didn't see me. Carefully I took aim and let of a shot.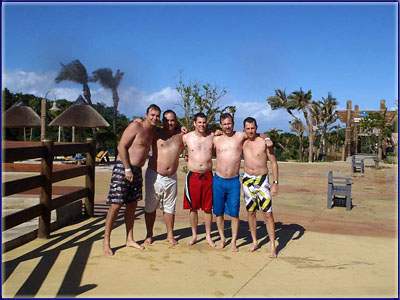 "#%&, you hit me in my trachea!" was all I heard yelled out from in front me. His screams were met by my own war cry, "Suck it bitches!" Amazingly he returned to the same spot, I fired just one more bullet, with exactly the same result. Game on!
We played several more games and much carnage was inflicted…especially from Wayne who I shall now call Spider Man for his brave and nimble movement through the bush. Mid way through the paint ball Brian arrived and we managed to coax him into our last game. Amazingly he somehow survived being shot.
With the physical activity well behind us we headed for the local Keg where Nick chatted to the managers and managed to put together a burger and beer special for us. We relaxed on the deck telling tails (claiming?) of our various cuts and bruises and threw back a few beers.
With the Sharks rugby (and evening) fast approaching Nick headed back to Westville hospital to check on his wife (Yes, that is the level of commitment my best man showed). In the meantime the rest of us headed back to our chalets in Port Edward to watch the game.
This turned out to be a bad decision as the table bottoming Lions absolutely thrashed the Sharks in an experience more painful than the paintball.
Thankfully this was soon forgotten as Nick returned and we all headed out to a local pizza joint for pizza and beer. From there it was back to Mothers Pub, which was amazingly even quieter than the night before. This didn't stop us from consuming many more rums and getting down to some serious pool playing. Despite all the pool we somehow left with more R2 coins that we had when we arrived. Strange?
On Sunday morning a few of the boys headed home after a skottled breakfast, while Nick, Wayne, Lyall, Grant and I headed for the new water park at the Wild Coast Sun. That place is absolutely epic. From capsules where the floor falls out below you to vertical walls you slide up, and tea cups, the fun never ends.
Despite it being the middle of winter and somewhat chilly we all had a fantastic time. At around lunch time we decided enough was enough, enjoyed a second breakfast at the Wimpy, and then headed for home. What an incredible bulls weekend, and certainly not one I see being topped anytime soon.
Full marks to Nick!