Nselweni Bush Lodge
Nselweni Bush Lodge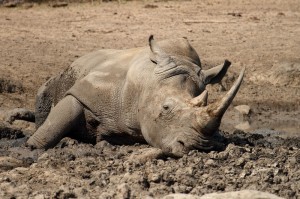 For my mom's 60th birthday we put together a long weekend at Nselweni Bush Lodge with 13 of her closest friends and family. With the bush being her favourite place it made absolute sense that this was where she should celebrate this special event.
At 4am on Friday morning Sharon and I picked up my mom and her friend and we headed for the reserve. By 7:30am we had reached the gate and our weekend in the bush began. We discovered at the gate that we needed to book in at Mpila Camp which was a little strange. None the less we entered the reserve, turned left, and began scanning the bush for all that Africa has to offer.
The weather wasn't fully playing its part and by 9am it was already over 30 degrees. This meant that the animals were all lethargic and generally lying in the shade, making them far more diffult to spot. Undetered by this we ventured forth – after all – you can't see animals if you don't look.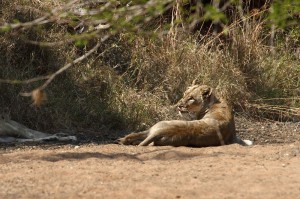 Sontunli loop was relatively quite although we did spot the usual rhino. We also came across not one, but two large herds of buffalo which was great. It had been years since I'd seen large herd.
Towards the end of the loop we'd been in the car for several hours and the heat was getting to my passengers. I granted them the reprieve of winding up their windows and turning on the air-con, but headed further into the park.
This strategy payed off and we eventually found a pair of lionesses sleeping in the sandy riverbed. Suddenly my torture was forgiven. From the lion we headed to a local hide where we relaced and enjoyed a cold drink. Despite being the middle of the day the waterhole was alive with rhino, buffalo, impala, warthog and more.
Eventually, with 2pm fast approaching, we headed for Nselweni Bush Lodge where we were meeting the remainder of the group.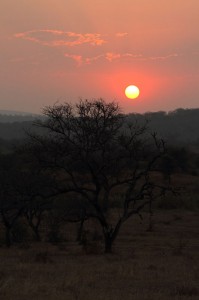 Nselweni Bush Camp, as you probably guessed, is located in the Imfolozi game reserve and is beautifully located overlooking the Black Mfolozi river. The accommodation consists of safari tents built over brick structures with each unit consisting of a bedroom with panoramic doors overlooking the bush (or river), a bathroom with a shower, basin and toilet, and a kitchen. The units are also disabled friendly.
There are eight 2 sleeper units, a conference center and a boma making it ideally suited to large groups. That said, the units are available to be booked out individually. This may be a little awkward since the conference center deck does have the best view, but each unit does have its own patio and braai so its not really an issue.
Back in camp we enjoyed a quick lunch with those who had arrived before heading back out for an afternoon drive. It was still an incredible 36 degrees and we knew game viewing would be tough. Again we were treated to good rhino and buffalo sightings before returning to camp just after 6pm.
By this stage the rest of my mom's friends had arrived and, after a quick shower, we gather on a noisy conference center deck where we caught up and enjoyed a few drinks. Amidst the merriment Rod took the time to do a short speech and I read a speech from my sister in the UK. My mom of course followed up with an excellent speech of her own.
After the "formalities" we all sat down to a fantastic dinner of lasagne followed by a delectable cheesecake. The festivities then ran well into the night with the 60 year olds showing us youth how things are done.
The next morning most of us were out of bed by 6am. We enjoyed coffee and rusks on the deck and then all headed out in our different directions. Sharon and I took my mom out once again and we did a quick Sontuli Loop before we were forced to return for a group brunch.
Having rushed back to make the 10:30am breakfast deadline it was a little annoying when everyone else was still out. None the less Sharon and I got down to preparing the breakfast while we waited for the rest. When everyone eventually arrived we all sat down to egg, bacon and all the normal bits and pieces.
Everyone then headed off for an afternoon (morning) nap so I took the opportunity to sit on the deck and watch the game. This payed off in the end as Wendy, watching from her chalet, spotted a herd of elephants coming down to drink which in turn brought a little life to camp.
As the afternoon neared (and the 40 degree heat complete with berg winds started getting to me) Sharon, Andy, Jess and I headed out on an early game drive. The bust was eerily quiet due to the incredible heat but we had a great time taking in a little birding and relaxing in both of the hides on offer with a few cold beers.
Eventually the sun dipped towards the horizon and we headed back to camp to beat the lose 6pm gate closing time. On route we saw a few good birds as well as a nightjar (and a rabbit) as darkness fell.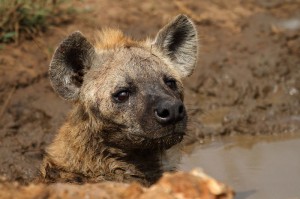 Back in camp we once again gathered on the deck for sun-downers and eventually a good meal of fillet steak followed by a sticky chocolate malva pudding.
Although Nselweni offered DSTV I opted not to watch the Shark's or Springbok's games which turned out to be a blessing in disguise as the Sharks lost and the Boks drew with Argentina.
The following morning everyone was slow to rise. Sharon and I on the other hand were up and rearing to go. We tried to hang around to say goodbye to everyone, but eventually our eagerness got the better of us and we packed the car, grabbed a muffin, and headed out into the bush.
Our drive got off to a relatively quiet start despite the weather being a lot cooler than the previous two days. Thankfully we had a great sighting of a long hyena lazing in some mud next to the road. After spending some time photographing him he eventually got up and wandered off, and so did we.
At this point we made our way slowly out of the park with the added benefit of passing right through the middle of a herd of elephant.
It was a fantastic trip despite and heat and the perfect venue for my mom's 60th. Lets hope I get to spend my 60th in a place just as beautiful in 30 years time.