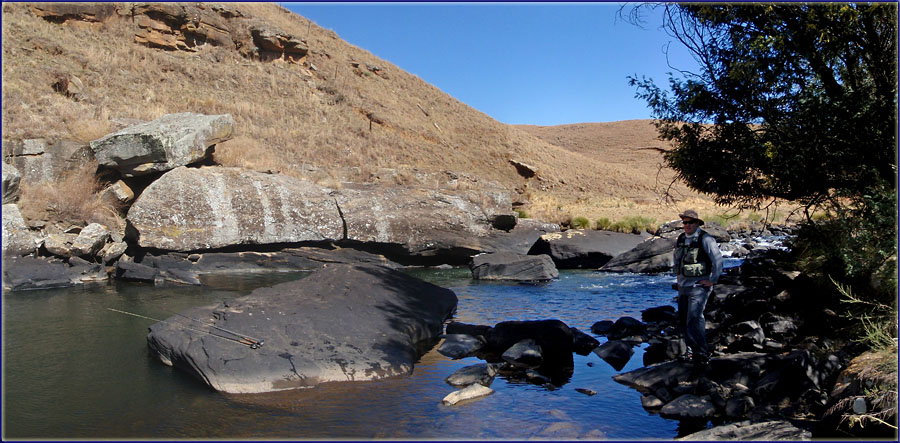 Sunday saw Nick and I head out fishing once again. The rivers opened on the 1st September and we thought we'd go and look at a section of the Mooi River I'd fished two or so years ago. After the usual 5:30 start and mandatory cup of Wild Bean coffee we hit our first glitch…road closure in Pietermartizburg.
A "quick" divert through town saw us arriving somewhat later than planned. We kitted up quickly and began the 5km walk downstream to the start of the beat.
The water was surprising clear for Reekie Lyn and was low as expected. That said the higher than usual winter rainfall (and snow) meant the river was at least flowing. As an added bonus the farmer had done a fair amount of burning and so there was very little grass to contend with on the cast.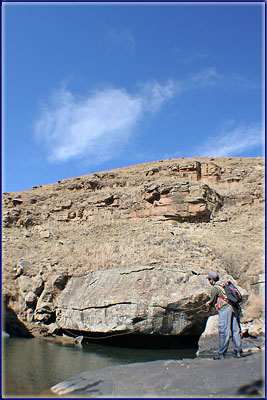 We fished the first session (working our way up the river) hard but with no luck. In one pool we did spot a fish feeding off the surface but neither of us could entice it to our delicious flies.
The water in the pools was a little too deep to wade but shallow and clear enough that we could see the bottom. Sadly I think that this made us extremely visible to the fish while standing on the bank (with nothing to hide us due to the newly burnt grass). Is this why we struggled?
Eventually we decided that it was time for a snack and to reassess our strategy. Nick chilled on a rock munching his roll and changed to a dry fly hoping for some surface action. I elected to stay with a nymph in the hope that my luck would change. We now had all avenues covered…well, almost.
The next session was sadly just as frivolous as the first and once again we produced no fish. Nick spent a lot more time in the runs and riffles while I continued to focus on the deeper pools. I even took it to the next level and spent a lot of this time waist deep in water trying to get to very inaccessible sections of river where I was hoping the fish were hiding.
By the time we finished this session it was lunch time and we were back at the car. We relaxed on the rocks for a while eating and even had a quick swim in the hot conditions. The question now was, "should we give the river another try? Or should we head home early?"
The answer to the question was simple…we headed to Notties Pub for a quick beer or two.
Feeling somewhat more relaxed we decided to stop off at a friend's water on the way home. The plan was more to have a look at the conditions but when we arrived we decided to have a quick cast (or two) in the hopes of at least landing one fish each.
Thankfully the water did not disappoint and we managed to land one small Rainbow each. The funny thing however was that we both lost a fish in a strange manner.
Nick was the first to lose a fish when his braided loop pulled off his fly line and he lost fish, tippet and leader. I followed shortly afterwards with my own unique loss. I was wading just above knee deep in the shallows when I got into a fish. During the fight I suddenly realised my cell phone was in my pocket (from Notties). While feverishly checking that it was still dry and trying to get it into my jacket the fish came off.
By now the sun was getting low and we decided to call it a day and to head home. Sadly our late departure home was made even later thanks to both the closed road through Pietermaritzburg and a small accident.
It was not the world's most successful outing but at least the rivers are looking good, albeit a little low, and we didn't go home empty handed.