Having purchased a weekend at Rocky Bay in an auction, Sharon and I decided to put it to use over my birthday weekend. So we grabbed a few friends and headed down early on Friday afternoon. Nick and Tazz were only able to join us a little later so we picked up their daughter and headed for the beach. It was our first time looking after 2 kids and provided good training for what it would be like to have a second.
We arrived just after 4pm and I looked after the kids while Sharon bashed out her last little bit of work. With that out of the way we put on the girl's costumes and headed for the beach. This was when we learned our first lesson about having two kids – they don't run at the same temperature. After a brief stint of sand castle building we went swimming in a small rock pool. Little Emma splashed her way around happily; Mila however, although also splashing happily, did so while turning a deep purple and shaking like Elvis mid concert.
So back to the cottage we headed where we put warmer clothes on the girls, and then headed out to the bar. Sharon and I enjoyed a crisp draught while the girls played on the trampoline and conquered the death slide. We also took the easy route and bought the girls a plate of chips for dinner, rather than cooking while on holiday.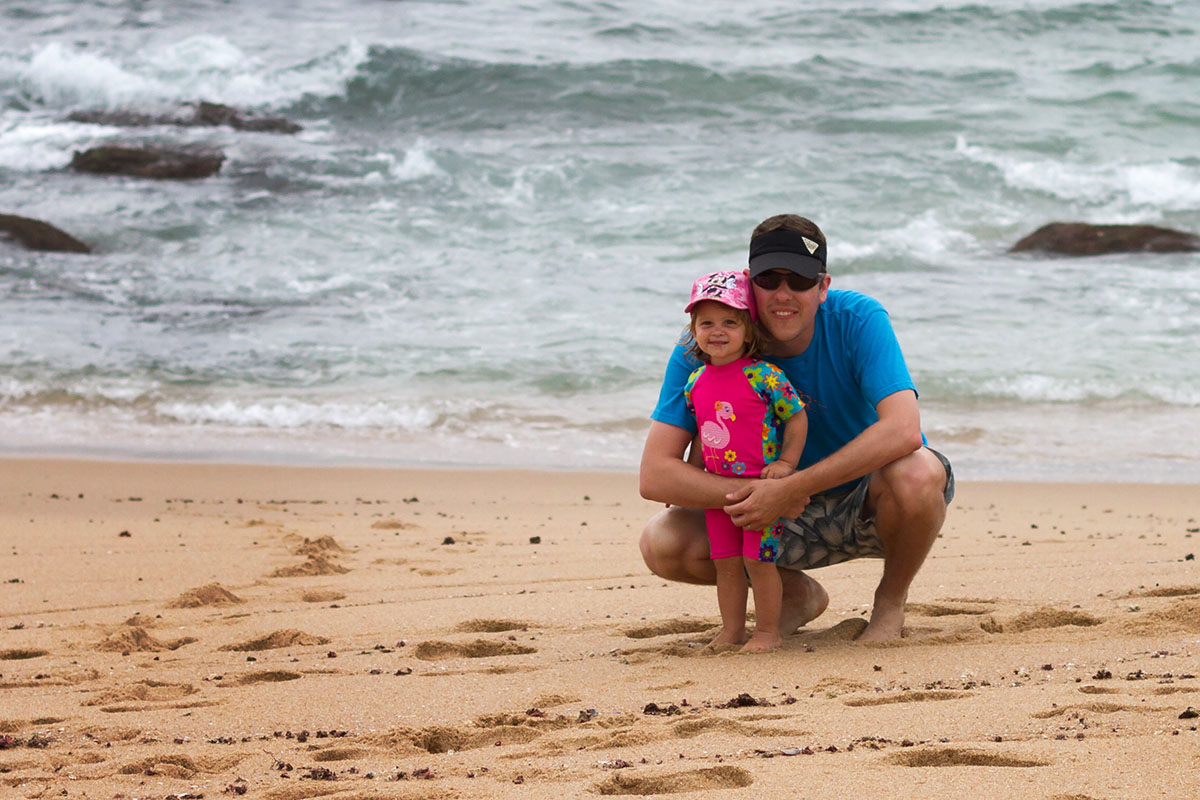 By this stage Nick and Tazz were fast approaching the cottage, so we headed back to great them and help them unpack. This was followed by the mandatory catch up, a quick braai, and a few beers. A great start to a weekend at the beach, well, other than the load shedding which ensured drinks were poured far too heavily due to the lack of lighting.
The next morning we were all up by 6am – one of the joys of having kids. Since the plan was to shop for the trip on the Saturday morning, all we had available to us was a packet of bacon which we quickly devoured for breakfast. We then headed down to the beach for a hopefully shiver free morning. It was overcast but humid, with not a breath of wind, so conditions were better than expected.
It was amazing to see how the girls had grown. We spent hours building sand castles, digging holes, swimming in the sea, playing with balls, and chasing each other around. A big change from a year ago where Emma spent the majority of her time eating sand.
At around 11 we headed back to the cottages as we needed to shop for the weekend. Nick managed to sneakily get out shopping trip by heading out for a ride; I meanwhile headed off to Pick n Pay with the girls. Thankfully it didn't take long and before we knew it we were back at the chalet braaiing hamburgers for lunch. This took somewhat longer than expected due to the braai's "fantastic" design. As good as it looked the coals were so far from the grid that the burgers aged more than they cooked. None the less they were delicious!
At this point it may be worth describing the cottages, which really are fantastic. All the cottages are wooden, built on stilts, with parking underneath. While this means that they are incredibly aesthetically pleasing, it also means that they can be a tad noisy in the middle of the night (if you go for a midnight snack or make an old mans trip to the toilet). We stayed in a 4 sleeper which meant it consisted of 2 bedrooms (one with a double bed, and one with two single beds), a bathroom, a lounge, and a small kitchenette. It may be worth noting that the bathroom only had a shower, and no bath, but this didn't matter at all to us. Finally, and most importantly, there is a small deck and braai per cottage.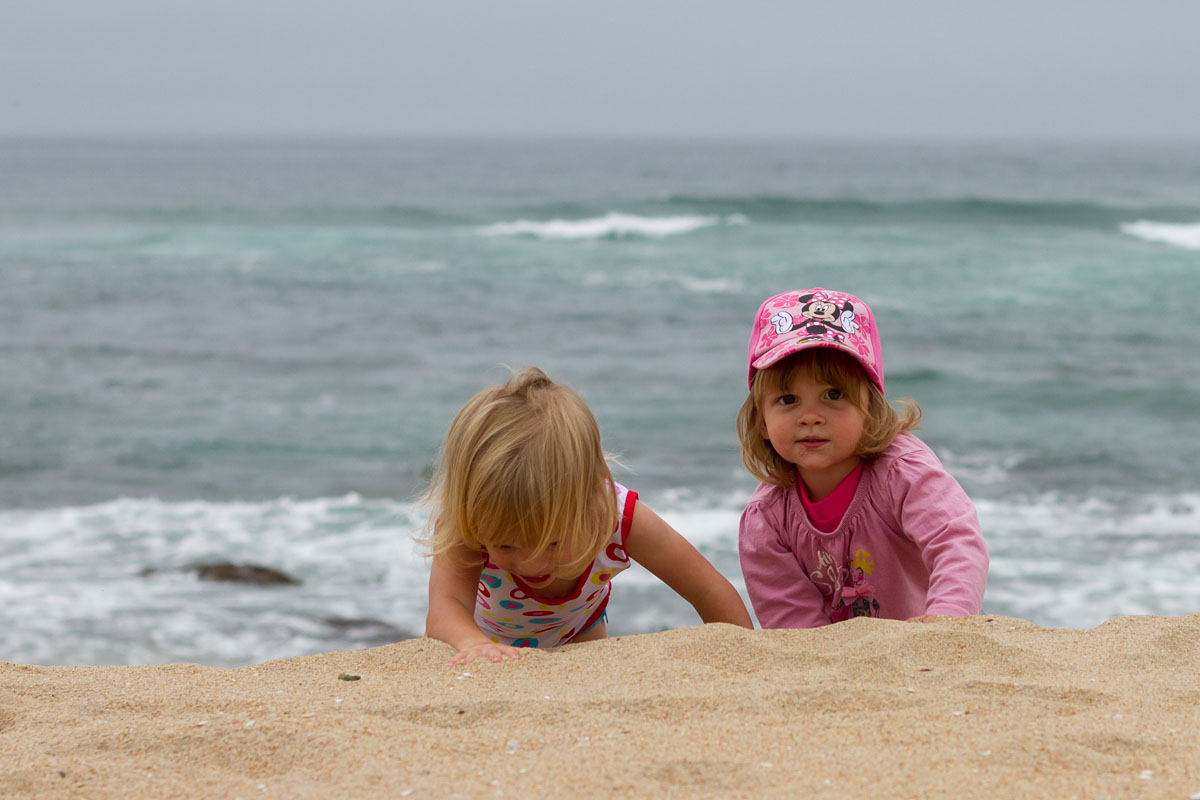 The only real downside to the cottages is their proximity to the road, which can be a little noisy, and perhaps their proximity to each other.
In terms of the venue itself. It had a pub, a restaurant, swimming pool, jungle gym, trampoline, kiddies play room, and more. It's also located within walking distance of the beach along a walkway which runs against and over the lagoon. So all in all a fantastic venue for families wanting a beach holiday down the south coast. That said, it is a little pricey, or perhaps I'm a little cheap.
Back to our weekend. After a relaxing lunch the sun made a spectacular appearance. We therefore decided to head over to the swimming pool, conveniently located next to the pub. Beer in hand we swam with the girls and even gave Emma her first taste of arm-bands, which she seemed to love. "Floating daddy!"
Swimming was followed by the mandatory trampoline and jungle gym session for the girls, and extremely dangerous cocktails for the wives. And then it was back to the house for the evening. This meant a few repairs to the braai by Nick and I to ensure optimum cooking of our steak and ribs. Thankfully it was a great success and all meat was cooked to perfection. The rum was also poured a little more sensibly since Eskom somehow managed to keep the lights on for once.
The next morning we cooked up a few bacon and egg rolls before heading down to the beach. It was a little cloudy but still warm and we once again dug holes, made pools, and swam with the girls. It was however a short trip as we needed to be out of the chalet by 10am.
However rather than head home we packed up and went back to the swimming pool where we swam until it started to rain. A great weekend away and a good venue well worthy of a visit for a family weekend.