Tala Day Trip
Tala Day Trip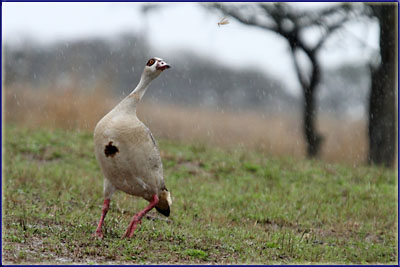 Although it had rained for most of Saturday, and was still overcast on Sunday morning, I decided I needed an outing; So Sharon and I picked up my mom and we headed for Tala Game Reserve. All was looking good until we were nearing the gate when, suddenly, the heavens opened up and the rain came down in buckets. Not to be outdone we ventured forth…
Once in Tala we headed for the 2 hides located next to the small dam. Since we couldn't have the windows open in the car they seemed like the logical place to be. There was an abundance of bird-life on the water and the rain was driving out more fly ants than I've seen in my life. This combination led to some amazing bird behavior as a feeding frenzy kicking into gear.
After we'd spent a couple of hours shooting off far too many photos in the hides (and the rain had subsided) we got back into the car and headed into the park. Animal sightings were few and far between but we did manage to see an abundance of bird life (including a good 10 or so lifers for Sharon).
At this point I must thank Tala for producing the world's most useless map. Not only is it not to scale, but it also doesn't contain all the roads or camps. This we discovered when we turned down a random side road to see a bird and ended up traipsing along a questionable track for far further than I thought the park extended. Eventually we popped out onto another road which had a lone broken down sign indicating a camp which did not appear on the map. FAIL! Anyway, eventually we found our way back out after discovering the mountain bike route Sharon and I had ridden a few months earlier. Cunning!
All in all it was a fantastic outing that took far longer than expected. We left the park just after 2pm, dropped my mom off at home, did our weekly shop, and then spent the rest of the day relaxing at home enjoying the sound of thunder in the distance.