Teach The Teacher With Peter Hayes
Teach The Teacher With Peter Hayes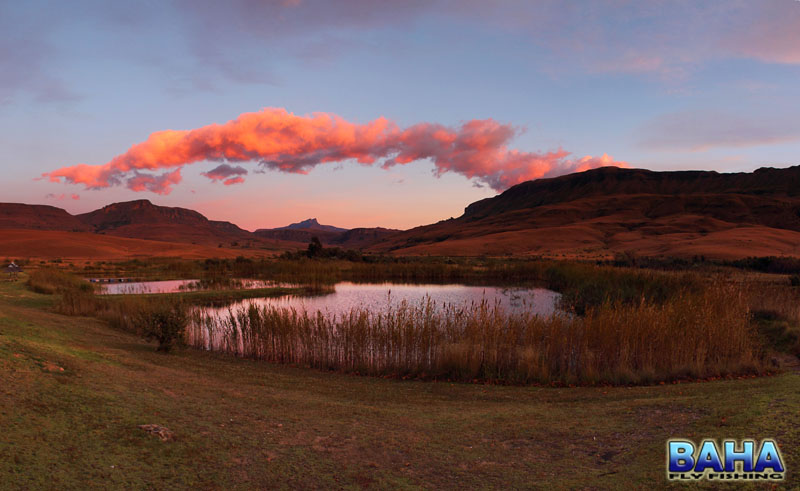 Thanks to the KZNFFA Peter Hayes spent several weeks in South Africa offering fly casting courses, and in his free time fishing the local waters. As part of his trip he was kind enough to get involved in several upliftment projects involving some of South Africa's local communities.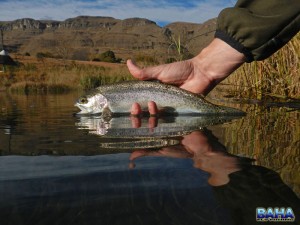 One such project revolved around the Thendela community which is located directly outside the Kamberg Nature Reserve on a stunning stretch of the Mooi River. The long term plan here is to divide their river frontage into beats and to then get the locals to guide tourists on these stretches of river.
For the fishermen involved it would provide access to some great water as well as a view of tribal life and a little adventure. For the locals it would provide a sustainable source of income and would hopefully teach them to earn money off of the resources readily available to them.
Obviously part of putting this plan into action involved training some of the locals as fly fishing guides. To get this rolling the Durban Fly Tyers were kind enough to spend the weekend with the guides training them in the art of fly tying. Jay from Jvice was also kind enough to hand build them their own training vices which he also kindly donated for future use.
As for their ability to cast a fly, well this is where Peter Hayes got involved. He ran a course for them entitled, "Teach the Teacher," which is aimed at instructing fly fishermen on how to teach fly casting.
Nick and I were lucky enough to be invited to attend this course. We grasped the opportunity with both hands and, since the course was only scheduled to start at 9:30am, we decided to head to Kamberg a little early to allow us to get in a couple of hours of fishing before Peter arrived.
As such we climbed into the car just after 4am, grabbed a cup of coffee on the road, and headed excitedly for the Kamberg Nature Reserve. We arrived at around 6:30am and, after taking a few photos of a stunning sunrise, we kitted up our rods. It was at this point that Nick informed me he was short of flies and borrowed a Kamberg favourite from me. Shortly after this he opened his fly boxes which were amazingly rife with flies. This lead me to comment, "You bastard! I hope that fly breaks." All in good spirits of course.
Knowing that Eland dam had been recently drained we headed down to Erskine and set about prospecting the water. Nick quickly got into the first fish of the day and, amazingly, as if I possessed some form of magic powers, the hook shank snapped and the fish was lost. And then, to make matters worse, I immediately got into a fish which I promptly landed.
We picked up a few more fish in Erskine before deciding to give Eland a bash to see if it had indeed been restocked. Thankfully it also produced a few fish although they were, as expected, a little on the small side. The good news however is that Eland has seem some maintenance and now has a few new jetties, an improved bridge to the island, and some of the reed beds have been trimmed back.
At this point a few cars arrived for the Teach the Teacher course and so we headed back to the car, packed away our kit, and caught up with the guys from Fishtube.tv, the KZNFFA, and anyone else brave enough to meet our gaze.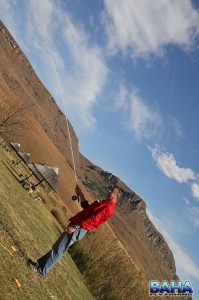 During our conversations Peter wondered around looking for the best place to present his workshop. Once he'd chosen it we all gathered around, took a seat on the lawn, and waited to be wowed. He began by explaining what he took into consideration when choosing the best sport for teaching. For example your students should always have the sun behind them, making their lives more comfortable since they won't have to squint into the sun for hours and can also see the fly line clearly in the air. Other considerations included the wind, nearby trees and reeds, and a few other factors you'll need to learn by attending my new fly casting course.
With that out of the way he began explaining what being a good teacher entailed. In his opinion it boiled down to having multiple ways of getting the message across (for learners of different types) and of course being as entertaining as possible. After all, casting on grass without a hook can be a little boring. Making it entertaining means a lot more buy in from the students.
We then moved onto a few basic cast types and how to teach them. This focused primarily on the roll cast since it forms the basis of so many other casts. I think this was also due to the type of fishing they do in Australia and at his lodge, which can often be rather tight and/or in faster moving rivers. He also explained the pick-up and lay down cast, as well as false casting, which is far more common in our country and on local still waters.
As he progressed through the day, keeping us entertained with his unique style of teaching and humour, we learned about casting aids and were shown "hundreds" of tips and tricks to help remove bad casting habits. And although a lot of his teachings were aimed at teaching beginners (for the guides from Thendela) I think we all learned a lot from him, and went home with a few tricks up our sleeves to improve our own casting.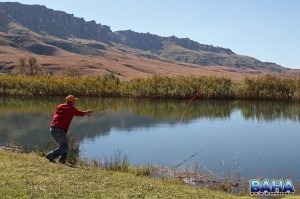 At around 12:30pm we took a short break for lunch which gave most of us the opportunity to chat to Peter and to ask any questions we hadn't managed to sneak in during the course. And then we got right back into it.
The post lunch segment of the course took place more on the water than on the grass. This allowed us to see Peter putting into action what he'd been teaching us on the lawns. Watching him throw full lines using only a roll cast and the snap of his wrist was nothing short of spectacular. He also took this opportunity to show how the stickiness of the honey (which is what he calls water for emphasis) both aids and effects casting.
After the water segment we ended off the course by being taught how to tie a few new knots, as well as how to tie our favourite knots more quickly and easily. The sheer number of tricks up of Peter's sleeves was incredible.
With all the theory out of the way we finally got to pick up our rods and to spend some time with some of Peter's teaching aids. He wondered around helping each and everyone individually as well as passing on further pearls of wisdom.
Sadly however the day eventually came to an end and we said our goodbyes, climbed into the Jeep, and headed home slightly older but far wiser…well, in casting tuition anyway.