The New Baha Vessel
The New Baha Vessel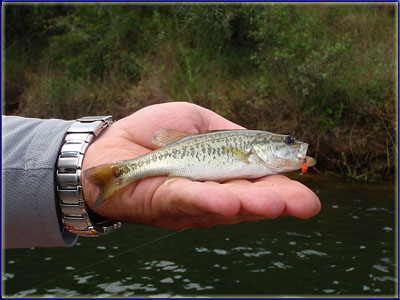 Sunday started off with a little admin as I helped Nick patch up a few holes on his newly acquired boat. This was of course all worth it as we hooked it up to the Jeep and headed down to Inanda Dam to make sure it didn't sink. This did of course mean that we packed the fly rods and planned to nail a few bass in the process.
When we arrived at the gate at around 11:30 we could hardly believe the queue. Yes, it was a beautiful day, but the queue was ridiculous. It must've taken us around half an hour to just get through the gate and then we had to worry about finding a free slipway.
With the boat finally in the water and seemingly floating, we climbed aboard and headed out across the water at a huge 33km/hr. Although we're certainly not going to be winning any speed contests it all comes down to how many fish we produce, and things were looking good.
Our first issue turned out to be the wind which had suddenly picked up. Without a sneaker motor we were forced to anchor which was far from ideal. So after finding a semi protected bay we dropped the anchor and started flicking a fly. Sadly an hour passed and neither of us picked up a fish.
Satisfied now that the boat wasn't going to end up on the bottom of the dam we headed further from the launch site looking for another protected bay with more structure. We chose one close to the top of the dam and fished a few spots with no luck on the surface or sub surface.
It was now around 2 in the afternoon and the wind seemed to be switching. We headed over to the opposite bank and found a small, good looking bay. Nick kept the boat still while I casted out a small, orange woolly bugger. Immediately a handful of small fish attacked the fly aggressively with water splashing everywhere.
The fish didn't look like bass and I felt they may be small tilapea. As such I put on a #14 orange hotspot hoping to land my first ever tilapia on fly. I threw the hotspot in the direction of the fish and was immediately on. Amazingly it was a small largemouth bass.
We parked the boat, I gave Nick a hotspot, and we sat there bashing the small bass just for a little fun. I landed 13 fish and Nick, who had a 9 weight rod with him, struggled for his 3 due to the lack of feel of the bigger stick.
After we were satisfied we'd landed a few fish we carried on in search of larger quarry. In another bay Nick got into a decent largmouth fishing an epoxy minnow while I picked up another small fish or two on a bass bug.
Satisfied his boat had produced we called it a day and headed back to the slipway where we pulled out the boat and headed home. It had been a successful day on the water and we'd learned a few important lessons.