The Umzimkulu River Lodge
The Umzimkulu River Lodge
Being Valentine's weekend granny was kind enough to offer to look after Emma so that Sharon and I could get away for a weekend of solitude. Since this opportunity presents itself so rarely we decided to kill several birds with one stone by organising a relaxing, hiking, romantic, fishing weekend away. As nonsensical as that sounds we found the perfect venue in the Umzimkulu River Lodge, located 22kms outside of Underberg.
We had a little hiccup getting there as we made use of Google Maps rather than following the sign I'd seen on so many occasions. This saw us taking the second Coleford road rather than the first and then left us guessing when we crossed the Umzimkulu with no lodge in sight. After driving backwards and forwards for ten minutes with no cellphone signal to be rescue us, we headed back to the main road and called the lodge for help. They apologised profusely, explaining that someone had incorrectly marked their location on Google Maps and that they'd been unable to change it. After giving us the correct directions we swiftly found the lodge and were greeted warmly upon arrival.
As the name suggests the lodge is located on the Umzimkulu River (which is what I was most excited about) with enough luxury for the ladies and adventure for the men. There are 8 cottages on site (named after the various Kingfisher species) ranging in size from the small Pied and Pigmy cottages, to the large Giant Cabin overlooking Thrombosis Gorge.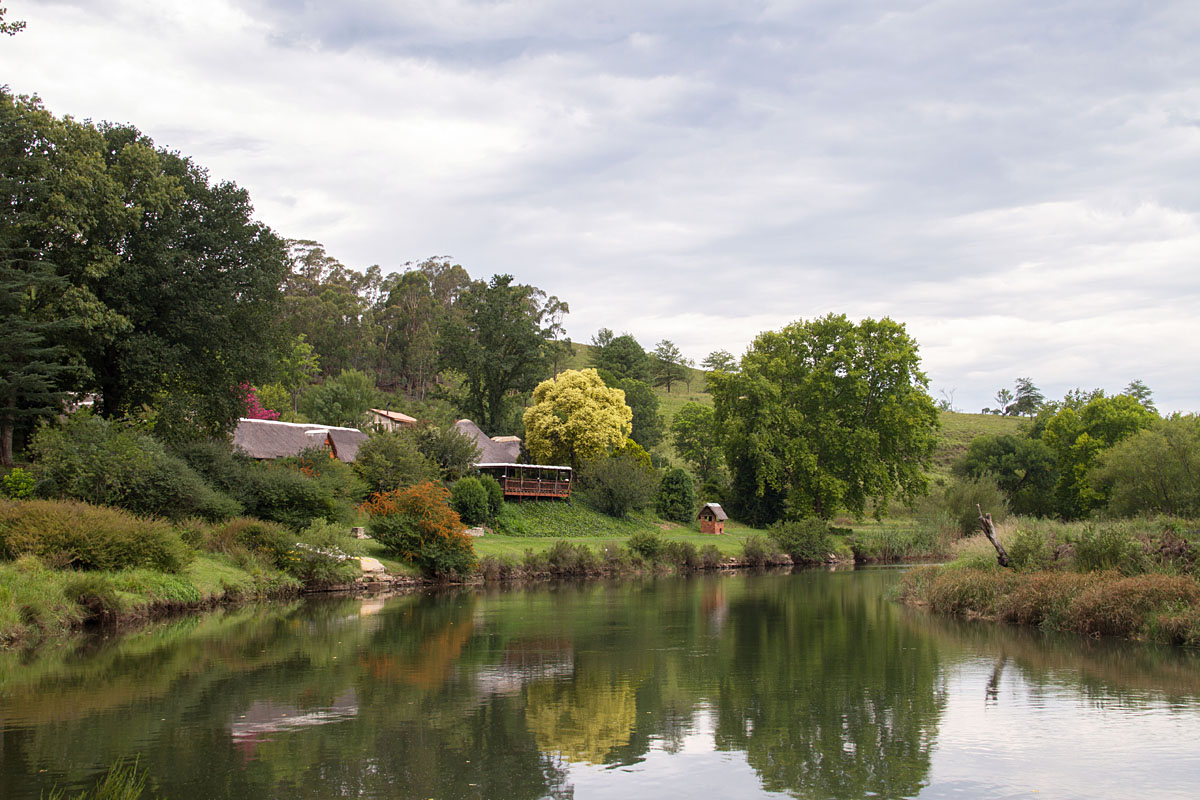 When we saw the activities which were on offer we were sad to have left Emma at home. There was a petting zoo for the kids, along with a good selection on jungle gyms, and a games room. There was also a small plunge pool complete with a tame duck enjoying the cool water in the midday heat. For the bigger kids there was a small putt-putt course and tubing down the river. And finally for the even bigger kids there was a driving range, hiking to the gorge, fly fishing, a restaurant overlooking the river, and a bar complete large screen TVs. We were truly spoiled for choice.
Our unit, Pied A, was a beautiful little cottage which consisted of two floors. The ground floor consisted of a small kitchenette, an open plan dinning room and a couch in front of a small fireplace. While upstairs there was a bedroom with a large double bed, a shower, and a large bath that overlooked the river. There was of course also a small garden, filled with sunbirds, and a braai place to suite all South African's needs.
There were only 2 downsides to our cottage. Firstly the stairs were so steep that I'd consider them a ladder (it certainly wouldn't have been suitable for Emma or granny). And secondly the walls were paper thin and our neighbours for the weekend were anything but quiet.
We spent the midday heat sharing the pool with a duck and chatting to the manager and owner who were extremely down to earth and welcoming. I then headed out with my fly rod for what I was hoping to be my first session in the river. I walked downstream to the start of Thrombosis Gorge and then climbed into the river and started fishing back towards the lodge. The water level was good which was surprising amidst the ongoing drought. That said there had been some recent rains which had raised the level, but which had also left the water murky and off colour.
Fishing was tough and I hadn't so much as seen a fish as I approached the lodge an hour later. What I had however managed to do was to dunk myself neck deep in water when I stepped off a ledge into a hole without noticing it. Thankfully my phone, which was in the upper pock of my fly vest, seemed to survive the ordeal and so I continued on happily. I bypassed the section in front of the lodge and finally called it a day at the bridge as darkness fell. Sadly I hadn't had so much as a touch, but the section looked magnificent and is certainly worth another fish.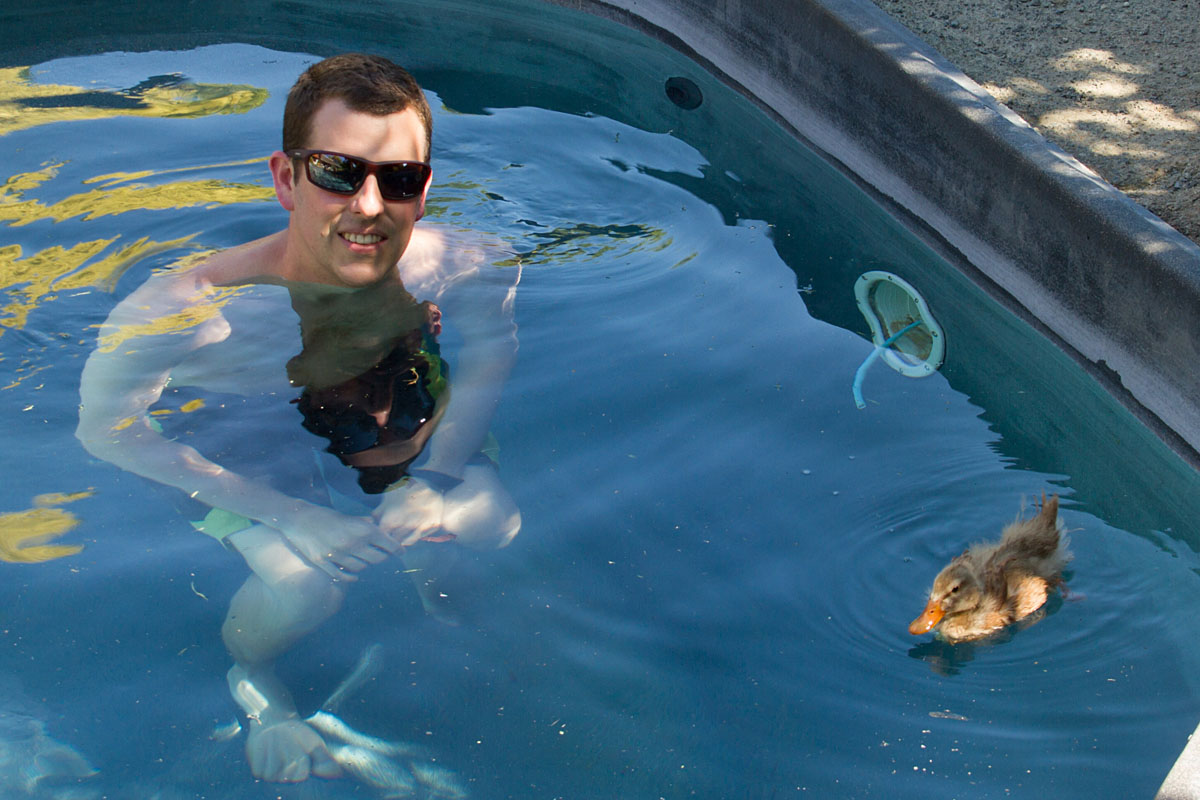 That evening, while braaiing, I heard a scream from our bedroom. Sharon had gone to fetch something from upstairs only to discover a bat circling the room. I may not have been able to catch a trout, but my trusty net came to my aid and soon I'd landed my first ever bat which as safely released on the lawn. My phone meanwhile decided that the water was too much for it and gave up the ghost, thus ruining an otherwise great day.
The next morning I tried to change my luck by heading for Lake Ringstead with Sharon. She relaxed on the bank reading while I took out my new Xplorer Journey Deluxe. It was a hot day, and the water was low, warm and off colour. That said I felt confident I'd manage to produce at least one trout to end my weekend's dry spell. I fished hard for two hours, circling the dam and trying everything from the deep, cooler water to the weedy shallows. Sadly neither of these strategies produced fish and I eventually called it a day as the sun rose high into the sky.
With neither the river nor the dam producing trout, Sharon and I headed into Himeville and had a much needed lunch at a small coffee shop. The tough fishing, as well as the onset of flu, had clearly gotten the better of me and I gave up on my healthy eating plan for long enough to enjoy a fantastic scone. We then headed back to the lodge where we decided to try a few of the other activities on offer.
The plan was to "hike" into Thrombosis Gorge. Having done a fair stretch of this walk the previous day while fishing, and knowing there was a concrete path, neither Sharon nor I decided to put on shoes. Big mistake! Firstly an afternoon storm meant that every ant in the world had left it's nest and had gathered on the path. So what started as a relaxing walk fast became an agonising jog as we were eaten from the ankles up. We then reached the gorge, which meant climbing over a stile before starting a tough rocky section sans path. The slops once again came into play as I slipped off the top and cut my arm open as I tumbled to the ground. The swearing that followed was made somewhat more awkward when a crowd of fellow hikers popped up from behind a rock.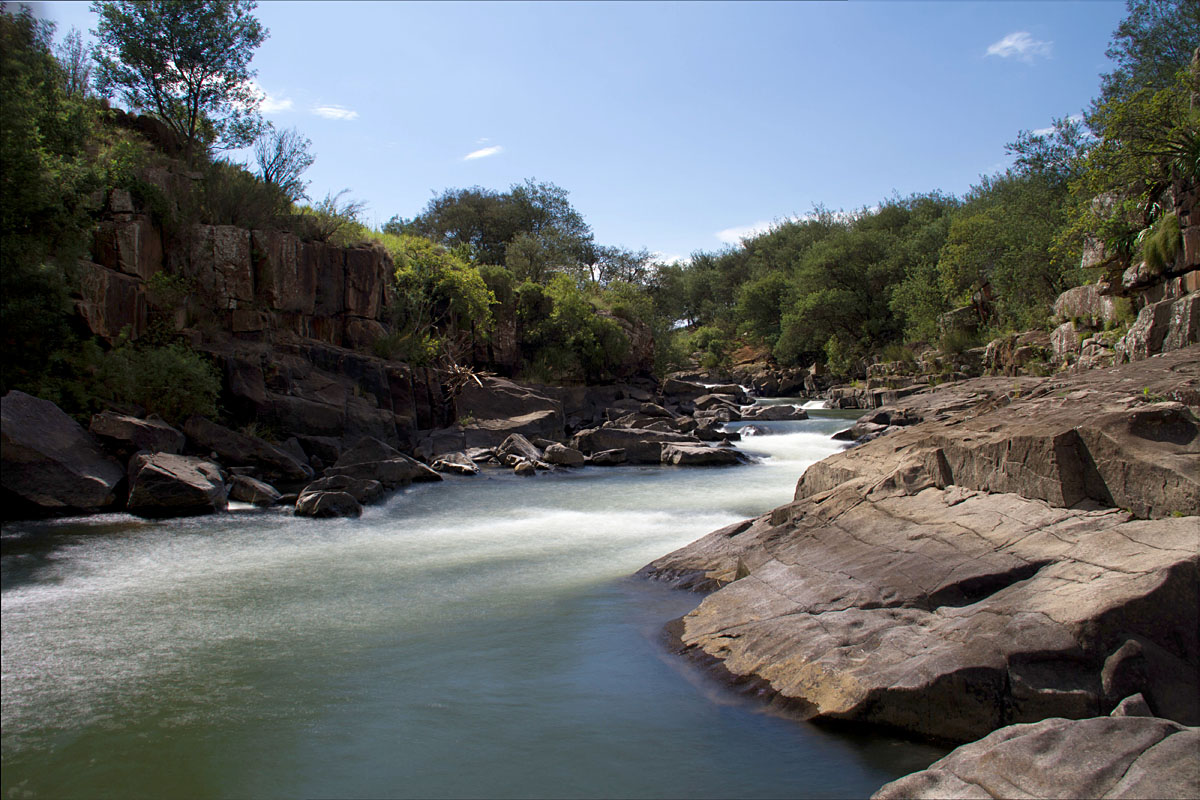 Now in the gorge we made use of the well laid out ladders and ropes to navigate to a large flat rock where we relaxed amidst waterfalls and took photos. Despite my bleeding arm and itching ankles it was well worth the walk.
The next day, as we drove back to Durban, I was left thinking that perhaps the fisherman's honeymoon curse also applies Valentine's Day. I'd caught no fish, broken a phone, been attacked by bats, and had gashed open my arm. On the flip side I'd had eat fun doing it, and would do it again.
Considering everything on offer, both at the lodge and nearby, I'd certainly recommend this venue to everyone from fisherman to photographer, and even those just looking for a place to relax. Take the kids, or leave them at home; either way you're going to love your stay.