Yet More Inanda Bassing
Yet More Inanda Bassing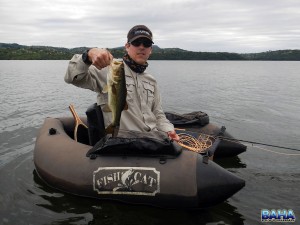 After a slow weekend of fishing at Midmar we decided to head down to Inanda Dam to get back into some decent largemouth bass. With Nick driving it meant a lazy 6am start which resulted in us arriving at the gate at roughly 6:30am. I whipped out my Wild Card, it was swiped, and we were let in. While driving to our fishing spot I took a look at my slip and noticed that my card had expired several months before. Clearly they don't check the slips. Free entry for the win!
After inflating the tubes we kicked out onto the water which was as smooth as glass. The sun was already bright and I was unsure as to how the fishing would be. I missed a fish on my first cast and picked up a small one on my third. Almost immediately Nick also got into a small bass. Could it be another killer day?
Sadly after that things went quiet. We fished up and down the usual bank targeting the normal holes which hold fish, but nothing. The wind then picked up which I was hoping would change things. Sadly however it was possibly the wrong wind and the fishing remained quiet.
Things then came alive for a short period and we picked up a few largies. None were huge but they were average sized bass for Inanda.
Unfortunately for Nick, during this short period of activity he seemed to be spending most of the time untangling a line he'd borrowed from a friend to test. I'd write the key words I heard coming out of his mouth but then this site would be blocked certain governments.
At around 10am we called it a day since there were Christmas lunches to be had. Not a bad morning with 6 fish coming out, but not our best either.