28 Weeks And A Model
28 Weeks And A Model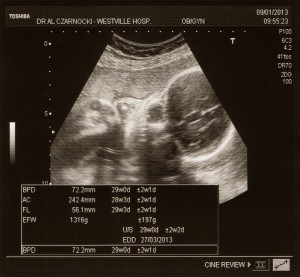 With Baby Girl Prior getting more and more active with each passing day it was with much excitement and anticipation that we headed for the doctors offices for our 28 weeks scan. Our previous scan had been a little disappointing from a game viewing point of view since our little girl wasn't playing ball and had insisted on lying with her hands in front of her face. This time thankfully she was lying in a far better positions (albeit with her hands still a little in front of her face) and we managed to see her face clearly, her legs kicking away furiously and her petite little feet.
Besides just watching our little girl the doctor did of check various things such as her kidneys, stomach, and for a cleft palate, etc. He also took some measurements and proudly announced to us that we'll be having a model since she's a skinny girl with long legs. I guess it's time to ready my shotgun…or am I perhaps getting a little ahead of myself.
Our good doctor Czarnocki also found it rather amusing when Sharon announced, "I hope she has Warren's brains." To which he immediately replied, in his best Polish accent, "Zats de sign of a good marriage. Woman who compliment dere husbands." And then chuckled away with his scruffy looking hair yet to be cut after the December holidays.
Our next scan, in 4 weeks time, will be preceded by our 4D scan, so we're really looking forward to that. We'll keep you all posted.