My First Fish Of 2013
My First Fish Of 2013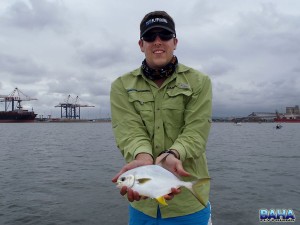 If one is to judge a years fishing by the first fish of the season, I'd say I'm in for a pretty good year.
After Nick's severe mocking of me, post his springer smashing session, it was time for some serious payback. As such I was both excited and nervous as we headed down to the Durban harbour after squash on Saturday afternoon. The plan was too find the springer and to fish into dusk, and even the dark if fishing was good.
We arrived at the harbour at around 2pm and were kitted up and on the water by 3pm. This meant we had at least 4 hours of (hopefully good) fishing ahead of us. The only concern, food was limited.
After chugging out of the yacht mole we fired up the engine and headed for our favourite springer spot. Sadly a few boats and paddle ski fisherman had beaten us to it and we were forced to fish on the fringes.
One of the boats was picking up small grunter on the bottom while the paddle skis got into grunter, a skate, and what looked like a springer before the line went slack (all on bait).
We threw our flies with little success until we decided that it was time to move on. Nick was busy starting the motor while I was stripping in my final cast and getting ready to move. Then bang! Fish on!
Although we were in our springer location it was immediately obvious that it wasn't a springer. It didn't jump and fought deep and hard. A few minutes later I got the fish to the surface to reveal a nice sized southern pompano. I was on the board.
We fished the spot for a few more casts (after untangling one of the biggest knots I've seen in my life) and then moved on to one of our kingie spots.
Drifting the drop off revealed a lot of jumping mullet and a few bait fish being chased in the shallows. With the water being further off colour we both switched to surface flies and began prospecting the area. It took just 2 short drifts for my fly to be smashed on the surface by an aggressive fish.
A few minutes later I'd landed a nice size kingie (a small GT). Nick was now beginning to display signs of jealousy I'd shown on the previous trip, and was casting furiously at any movement on the water. Justice, I thought!
Of course Nick's now panicked state of fishing did have it's victims. While I was mid-cast there was some activity on the surface nearby and Nick immediately began a cast at the fish. This of course resulted in him hooking my line on my back cast, which in turn resulted in a hook in my cheek. What a mate!
Amazingly dusk didn't produce any fish and we eventually pulled the boat out of the water at around 7:30pm. The harbour has been producing some good fish of late and it's definitely worth another trip or two.