A Family Snow Adventure
A Family Snow Adventure
I recently decided to take the family on a mini adventure to a very cold Underberg. Snow was predicted and it's not often that it falls over the weekend in easily accessible locations. I was therefore going to do everything in my power to make sure my little girl got to see snow for the first time, and that she got to build her very own version of Olaf (yes, as a parent I now get to make cliche Frozen references).
So, shortly after breakfast on Saturday morning, we headed for an icy and hopefully snow covered Drakensberg. There were no real plans other than to find the snow, and enjoy the snow. Sadly however we were greeted by pouring rain, load shedding, cold weather, and NO snow. On the up side I had been keeping an eye on the forecast and was well aware that the snow was only likely to fall that evening (and most probably overnight), so all was not lost. To kill some time we stopped in at the local PEP and stocked up on some warm winter clothes for Emma's adventure.
Since it was still a little too early to check into the hotel we headed for a local cafe where we enjoyed a hot cappuccino as well as a light lunch. When we finished the rain was still coming down in buckets so we decided to try and check into the Himeville Arms Hotel a little early. Thankfully the staff were warm and welcoming and soon we'd been given a room and had off-loaded our bags.
By the time we'd finished unpacking the rain had subsided and we therefore headed to Sani Pass in the hope of finding some light snow higher on the mountains. After passing the Sani Pass Hotel the road turned to dirt and the true adventure began. The rain had muddied the road leaving the card sliding left and right in a manly fashion. A short while later we came across 10 to 20 cars stopped on the side of the road. I think we all had our fingers crossed that they'd found snow, but this was strangely not the case. Confused we ventured on.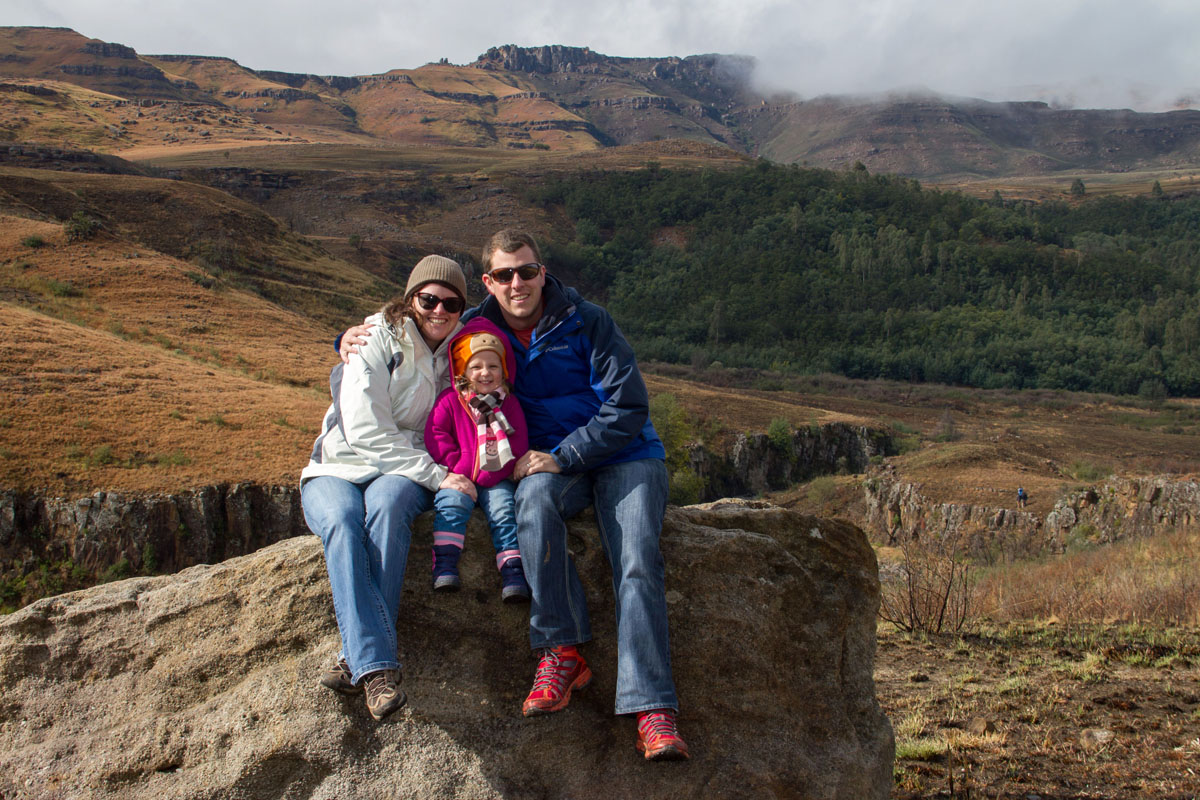 It was only when we turned the next corner and began the climb to a hairpin bend that we realised why the cars had stopped. The traction on the road was near zero and we slid perilously left and right as we climbed the mountain. When we reached the top and looked down, nerves slightly shattered, I noticed that a lot of the cars were soft-roaders and perhaps couldn't make the climb.
Sadly there was still no snow and we couldn't go much further due to Emma not having a passport. We therefore pulled over on the side of the road and let Emma out of the car. She loved the mountains and couldn't stop talking about climbing the highest ones. To appease her I trudged off up the nearest little koppie which had her smiling with glee. Emma the mountaineer.
Back at the car we were happy to see dark clouds forming overhead. There were rumours it was snowing at the top of the pass but, looking at the car's thermometer which read 7 degrees, it was unlikely to snow where we were before nightfall. But whether there was snow or not, we weer going to have fun, and so we had a small picnic next to the car before heading back to town.
Since it was only 2:30pm (and the rugby was only scheduled for 5pm) I decided to shoot off to one of the UHTFC's dams for a quick fish. I dropped Sharon and Emma off at the hotel and promptly headed for Lake Isabella (at Alan's recommendation). Amazingly, as I passed through Underberg, the sunny skies darkened and the rain began to bucket down.
When I arrived at the water I was greeted by another angler taking shelter under the lapa. We chatted as the rain fell, hoping it would clear up giving us an opportunity to hit the water. He'd been fishing for a few hours but hadn't picked up a fish. Not a good sign but time was running out and this was going to be my only opportunity to flick a fly over the weekend. So I pulled the hood of my Columbia jacket over my head and trudged out into the rain.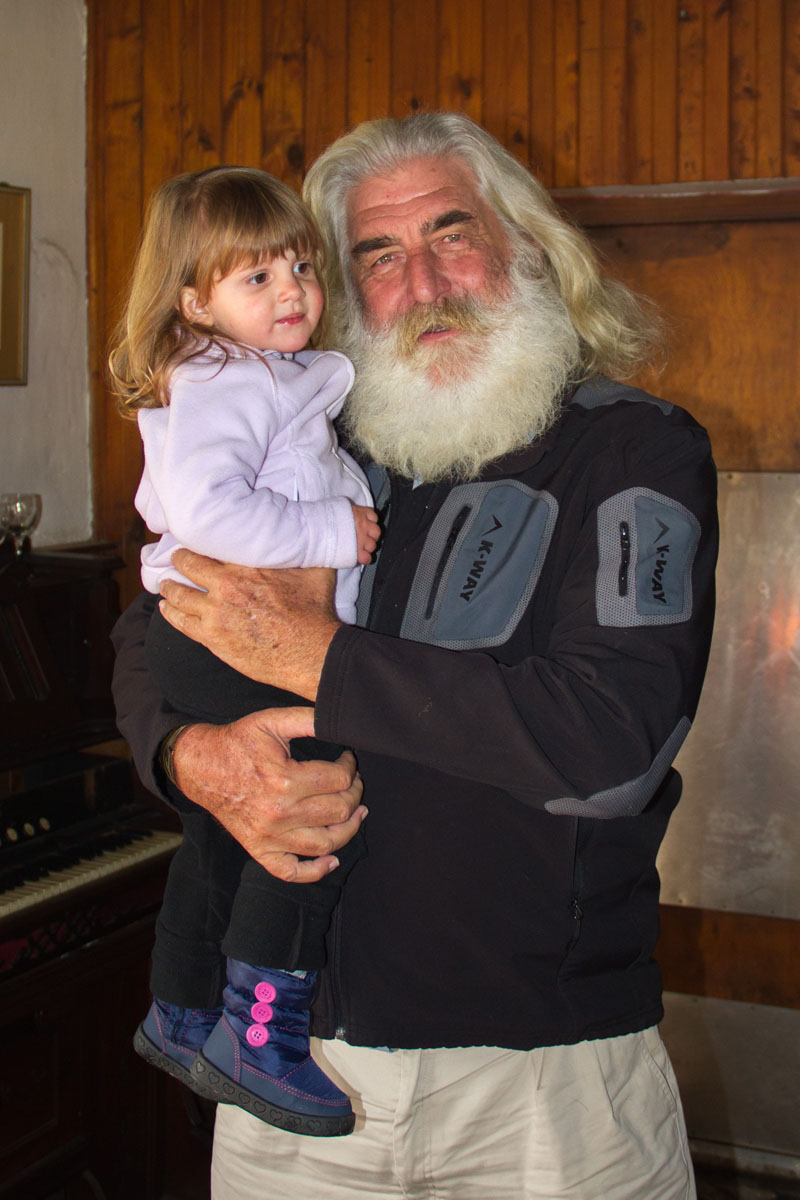 For the first 45 minutes I fished from the bank, sadly without any luck. I couldn't help but think that if I was only out on the water my chances would be better. I therefore manned up, headed back to the boat shed, and launched one of the rowboats. I hadn't made it far from the bank when I noticed some white fly on my pants. Odd, I thought, brushing it off, only to realise that it was ice. I looked up to pleasant sight of sleet falling in the place of the rain. It wasn't snow, but we were certainly one step closer. and my fingers were frozen.
I positioned my boat between the two small islands and began prospecting the weed beds. I had at best another 30 minutes before I needed to rush back to the hotel to make the kick off. Fishing remained tough and it was amazingly on my last cast that I connected with my first and only fish of a day. It may only have been a 30cm stockie, but it felt like a massive victory to my frozen hands. I promptly released it and called it a day, rowing back to the boathouse. I quickly shed my wet clothing and jumped into my car, surprisingly dry.
Back at the hotel I dried off, warmed up, and then headed into the Himeville Arms pub for the rugby. It was packed to the brim but we managed to find a half table nestled in the far corner where I could (barely) see the screen from. We ordered food and drinks, and then Sharon entertained Emma while I watched the Boks take on the All Blacks. The pub food was great (especially Sharon's chicken schnitzel), the beers were cold (and delicious), and the rugby was promising (until the last 10 minutes).
After the rugby we headed back to our room where we sat around a roaring fire enjoying a few glasses of sherry, while Emma dozed off to sleep. It was at this point that the reports of snow started flooding in – Castleburn, Drak Gardens, Sani Top, Swartberg. Snow was falling, and it was falling fast, just not in Underberg. Outside our window the rain continued to fall leaving us wondering if we'd find any in the morning. Sad yet excited, we headed off to bed.
The next morning we arose to a backdrop of white mountains and many more photos of snow. The rain had stopped and the skies were a deep blue. All in all it was looking promising to find some good snow for Emma to play in. Being cold, we decided to take it slow to allow the sun some time to warm the air; the snow definitely looked thick enough that it wasn't melting anytime soon.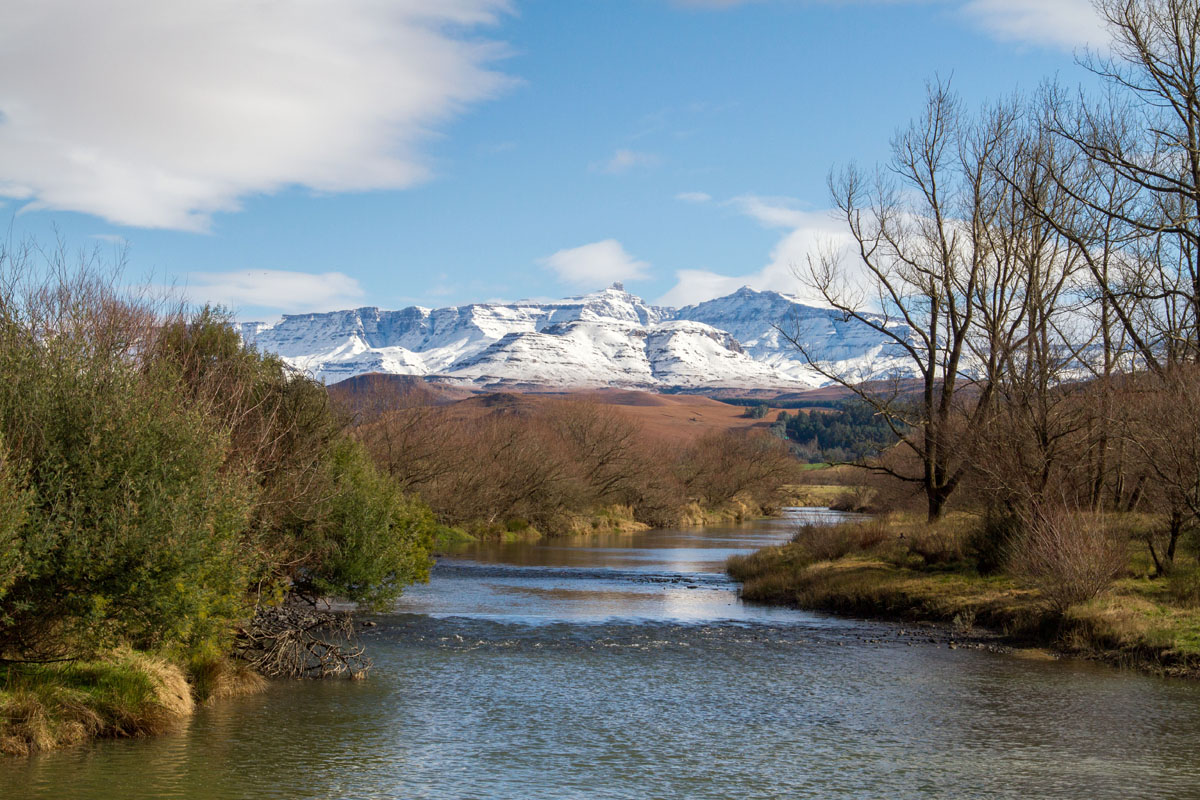 We packed up our chalet and headed to the dinning hall for breakfast. Again the hotel food was surprisingly good and we enjoyed some fruit and salad before our full English breakfasts arrived. Emma ate well but soon got bored and therefore started wondering the room introducing herself to guests.
Just as we were finishing up, and getting ready to leave, a bearded man entered the dinning hall and started playing jovially with Emma. She seemed in her element, perhaps thinking he was father Christmas? I meanwhile headed to reception to pay the bill so that we could dash out to find some snow. While I was waiting for the credit card machine to process Sharon wondered over with Emma. "Do you know who that was?" she asked. "I wasn't paying too much attention," I replied. "Kingsley Holgate!" she beamed back.
My jaw dropped. My daughter had been playing with my hero and I hadn't even noticed. By this stage he was eating breakfast which left me in an awkward position; do I or don't I bother him? Not wanted to be rude I chose the later, and I sulked my way to our room to pack up our last few odds and ends.
Ready to go we then headed back to reception to hand in our key. As luck would have it the hotel manager was not in reception, but was talking to Kingsley. This was my opportunity, and I wasn't going to fail twice. I handed Emma the room key and asked her to go and give it to the manager. She wondered over with a big smile on her face and proudly handed it over. When Kingsley spoke to her I pounced on the opportunity and joined the conversation, making sure I got a photo of Africa's legend (and Mr Captain Morgan) with my daughter.
At this point I no longer cared if we found snow, the weekend was officially complete. None the less we headed out in search of the magical white powder.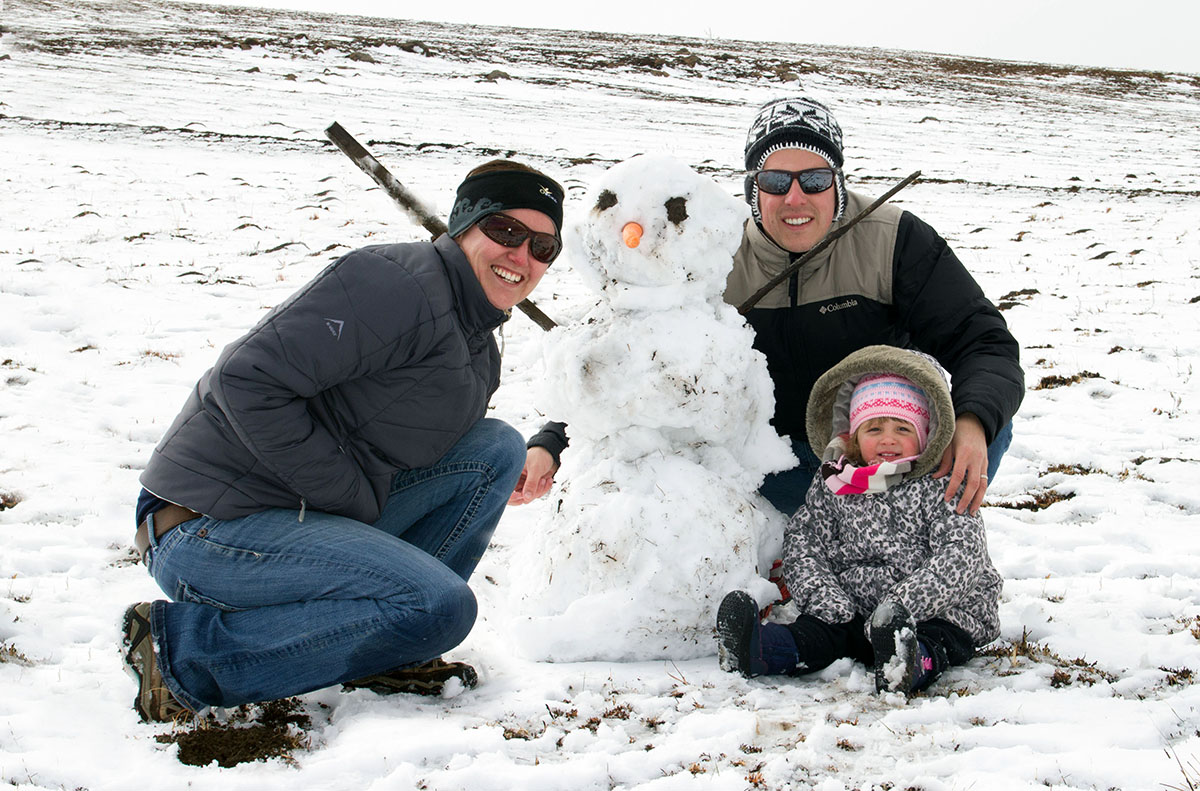 In my mind we had two options, back to Sani, or head off towards Swartberg where I'd seen several other reports. Knowing that every man and had dog would be headed for Sani I opted for the road less traveled and took the Swartberg road.
We didn't have to travel far and within 15 minutes were driving up Kingscote Pass, surrounded by thick snow. Emma had fallen asleep and screamed with joy when she opened her eyes to the sight of snow as far as the eye could see. She'd been dying to see it all week, and the joy was obvious.
The next hour was spent building snowmen, throwing snow balls, sliding down the nearby hills on whatever we could find, and throwing more snowballs. Emma was in her element and watching the smiles on her face made the entire trip worth it. She loved her version of Olaf, and couldn't stop talking about his carrot nose. The cold didn't seem to bother her at all and there was a continuous battled between Emma and her mom to keep her mittens on. It was a magical parenting moment, filled with nothing but joy.
Sadly some dark clouds then replaced the blue sky and, when the sleet started to fall and the wind picked up, we decided to call it a day and headed for home. It was one of those amazing weekends that couldn't have gone any better; well, perhaps the rugby could have.