A Family Trip To Underberg
A Family Trip To Underberg
Since the birth of my daughter fly fishing has taken a bit of a back seat but, being who I am, that was of course definitely not sustainable. So when I was told that Peter Hayes was offering a clinic to the Aids orphans in Underberg I immediately took Friday off, packed up the family, and headed for Underberg. Neill was meeting us there but sadly Nick was unable to make it. Strange that we fish together almost weekly and yet have never done an Undies trip together.
Anyway, moving on. Sharon and I were woken at 4am by a sick daughter. This was not the start I was hoping for as we trolled the internet in the dark working out whether, at 6 weeks old, we needed to worry and perhaps visit a doctor. In truth I wasn't worried about the cold, but was concerned as to whether the cold Underberg weather would worsen the situation.
Eventually we decided to head up knowing that we could always return if need be. As such we made a casual start to the day and eventually got on the road at around 8am. Our first stop was at the Pickle Pot, which was a little chilly to say the least. The plan was to feed Emma, change her nappy, enjoy a hot breakfast and then to move on.
We walked in to a crackling fire in the corner and quickly picked a warm table next to it. Bad idea! The fireplace was clearly poorly designed and, after the manager threw on a log, we watched the room fill with smoke. I cracked a window which was clearly frowned upon as he came running over and promptly closed it again.
So our options were either to freeze outside or die of smoke inhalation inside. We opted for warm and smoky, fed Emma as fast as possible, ordered the quickest item on the menu, and were back on the road in record time.
When we arrived in Underberg Alan's house was deserted and, since he wasn't answering his phone, we therefore headed to the shops and stocked up on food for the weekend. I must say that the meat in the local Spar was impressive and we were soon stocked up on beer and man sized steaks.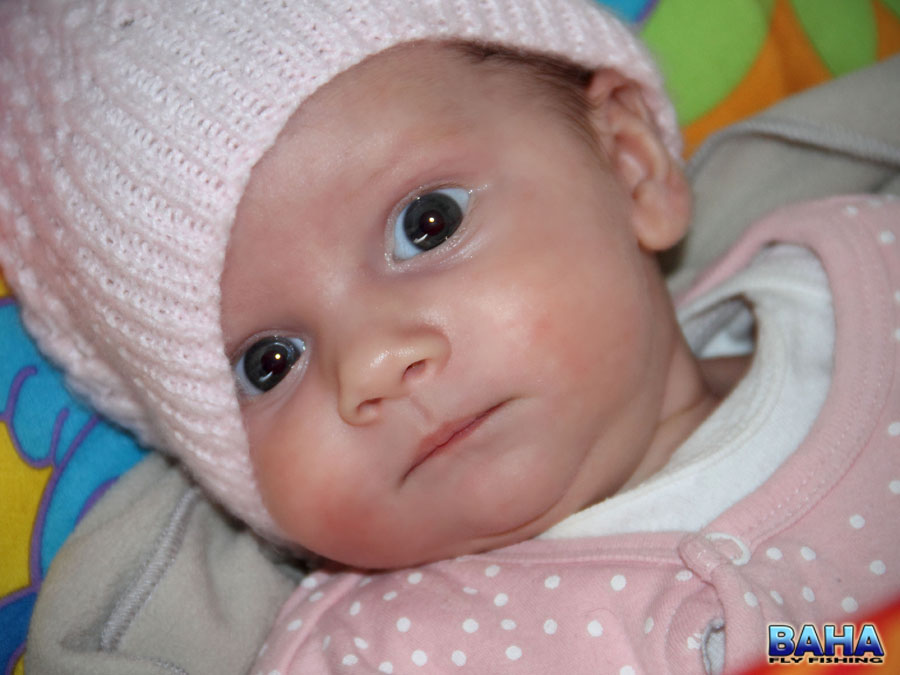 Thankfully when we got back to Alan's house he'd returned home and we set about unpacking and enjoying a hot cup of coffee. This is when things got a little awkward. We'd borrowed Nick's camp cot which he'd been unable to collapse and had had to download instructions for from the internet. I was therefore adamant I would not suffer a similar fate. Alan and I promptly began setting up the cot and, ten frustrating minutes later, Sharon phoned Nick (let the mocking commence). Amazingly we'd been doing it correctly but just weren't pulling hard enough to lock the sides in place. I didn't want to break the cot after all.
With the cot set up Neill arrived and we all sat down for a fantastic lunch of steak and avo before heading to the Country Club for the Peter Hayes clinic.
Sadly the weather wasn't playing ball and it was both cold and misty. We promptly setup the rods for the kids and then snuck into the bar for a warming sherry and to watch the Shark's game. Thankfully the rain seemed to be holding off as Peter and the kids arrived. Sadly however this bit of luck was short lived and soon the skies opened up and the rain came down.
Peter was kind enough to stand in the rain while the rest of us huddled under the clubs balcony and watched in awe. He taught everything from roll casts to distance casting and introduced some amazingly clever aids and techniques to teach them all. I was truly impressed.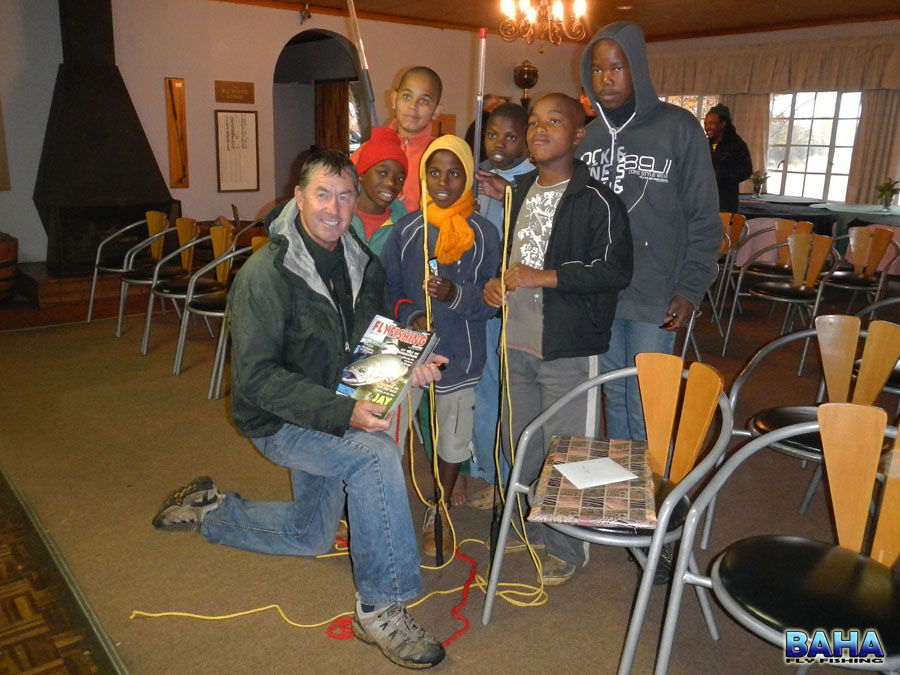 Eventually the rain started to lift but sadly the kids were forced to say their goodbyes. Peter was kind enough to offer to rerun the clinic the following morning in the hope of better weather. This would allow  him some much needed hands on time with the kids rather than just demonstrating the various techniques.
At this point Neill and I decided to head to a nearby water to put a quick fly in the water. Sadly we had left it a little late and by the time we arrived, kitted up the rods, launched the boat, and stripped out our lines, it was dark. We fished for 15 minutes but soon realised that heading home for a much needed braai was a better option.
Sharon and Emma had settled in nicely and thankfully the cold didn't seem to be worrying her, despite her cold. We managed to put her down and were soon enjoying a few glasses of red wine around a roaring fire. This was of course followed by a fantastic meal.
The next morning Sharon decided to hang around Alan's house while Neill and I went fishing. We opted for Trelevans 4 which I'd fished on a previous trip when it was very low. We'd been less than successful on that occasion and wanted to give it another try since the water had finally returned to it's previous levels.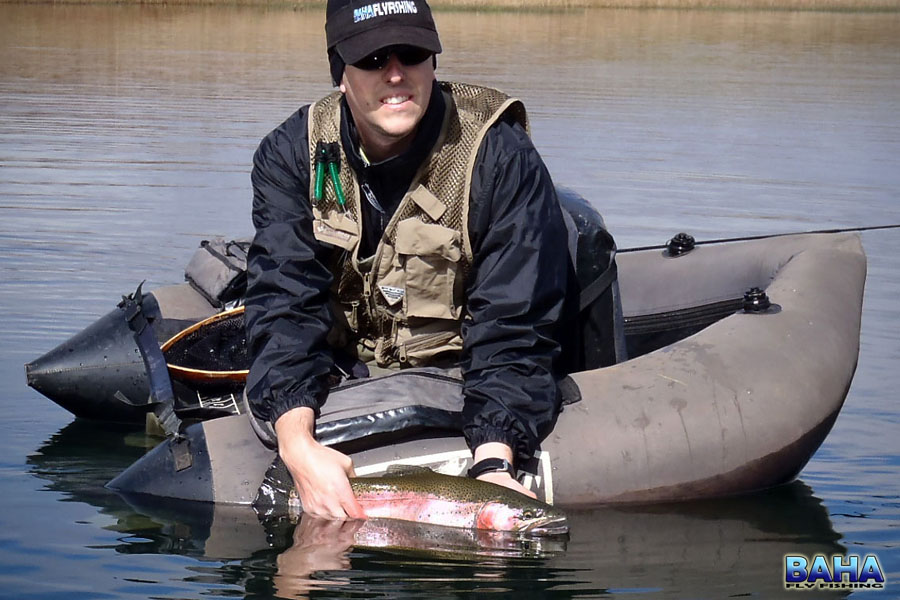 I began the morning by fishing my way along the wall. Sadly I didn't even see a fish and began to wonder whether we'd picked the correct dam. I then kicked over to Neill, who was targetting some week beds in the middle of the dam, and got into a small fish as I pulled up next to him. It was only a stockie but at least I was on the board.
Soon after me Neill also got into a stockie and then all hell broke loose as we pulled stockie after stockie from the water. As fun as that was I was hoping for a bigger fish and therefore moved up to the inlet hoping for better success. Things went quiet again and eventually I headed back towards the car as the sun rose higher in the sky.
As I reached Neill he hooked into a fish that definitely wasn't a stockie. A few minutes later and he landed a nice rainbow of around 2kgs. Shortly after that I hooked into a similar size rainbow which also fought well for it's size. After that the stockies went quiet and we landed another three 2kg rainbows between us before heading back to Alan's place for lunch.
Thankfully Emma seemed as happy as Larry despite a stuffy nose and cough. We enjoyed a quiet lunch and then headed out to our afternoon dam, which I'd never fished before.
The dam offered a great array of structure from a 10 meter deep dam wall to a weeded inlet, rocky sections and sandy bottoms. I was the first to get into a nice 5 pound cock fish over the reeds. It put up a noble battle but I finally got it to the bank and snapped off a few photos.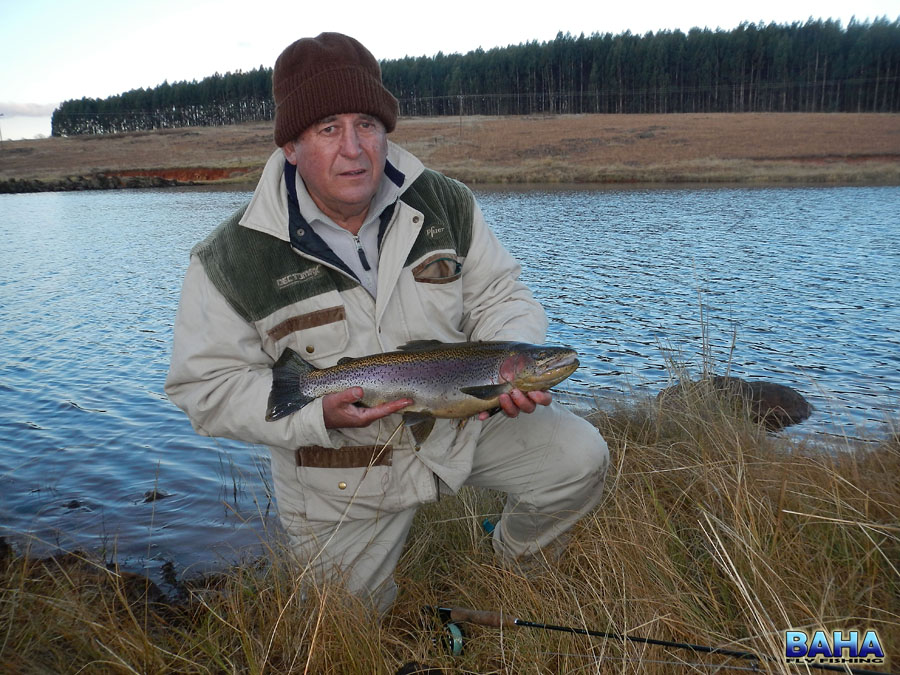 Alan was the next to get into a fish of similar size and landed it as the sun was setting. By this stage the dam was alive with fish and I managed to loose two more who fought downright dirty. Neill also managed to loose a monster of a fish.
Happy with our success we packed up the Jeep and headed back home for another fantastic braai.
The next morning I opted to skip the fishing. Sharon had kindly looked after Emma alone for the whole previous day and I thought she needed some relaxation time too. We packed up early and headed home when Neill and Alan headed out to the water.
We once again stopped at the Pickle Pot for a nappy change and feed. Thankfully this time however it was a beautiful day and we sat outside enjoying the sun. Emma even got to enjoy her first ever ride down a slide, so go Emma! The food was also fantastic so I guess they're forgiven for the smokey reception on our previous visit. All in all a great weekend.