Lowepro Flipside 400 AW Review
Lowepro Flipside 400 AW Review
After years of carrying my camera equipment in the bags it came in my wife was kind enough to get me a Lowepro Flipside 400 AW for Christmas. I'd been swearing I'd buy a bag for many years but had never gotten around to it due to the obsessive compulsive person in me. Somehow I'd been unable to find a bag that did everything I wanted it to do and I'd therefore given up.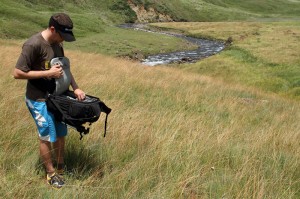 My criteria were simple:
1. It must fit all of my equipment:
Canon 7D body

Canon 18-135mm kit lens
Canon 100-400mm lens
Canon 50mm 1.8 lens
Canon 430EX flash
Wired remote
Tripod if need be
Potentially my GoPro and Nikon AW100
2. It must be easy to access my equipment whether on a hike or game viewing from a vehicle.
3. It must be a backpack style bag.
4. It must be waterproof.
5. It must have extra storage for the bits and bobs as well as potentially a jacket, small towel and water bottle.
6. Everything must fit it neatly and have a place.
Point 6 is of course my obsessive side coming through. But to me a clean environment where I can find everything and everything has its place is somewhat relaxing. I can't think of anything worse than shoving bits and pieces into a bag with force and then not being able to find them when needed.
But back to the bag…
I'm happy to say that it was immediately obvious that the bag would fit all my equipment. And not only did it fit, but it did so with ease. It was also easy to lay out and fitted my body with all 3 lenses attached. This is imporant since when hiking I may be walking with my 18-135mm lens attached, however when in the bush I would generally have my 100-400mm lens on the camera. And I certainly didn't want to have to detach the 100-400mm every time I wanted to put the camera into the bag, especially since the bush is a dusty place.
The Flipside 400 obviously met another of my requirements – that it be a backpack style bag – but it did concern me that access to my gear was from the inside of the bag as opposed to the outside (the bag's zip is against your back when wearing it). This immediately rang alarm bells for me since I wanted easy access to my gear when hiking.
Thankfully I popped onto the website and found what I now consider to be the most amazing feature of the bag. By using the waist strap you can rotate the bag around to your front, hang it from your waist and open the bag. And all of this without taking the bag off! This is not only convenient but also provides a neat platform for changing lenses without taking the bag off.
Colour me impressed! Suddenly what seemed like a con became a pro. A poor design became a great design. Not only is the bag secure, but it also offers a fantastic means of getting to your equipment without taking off the bag during a hike.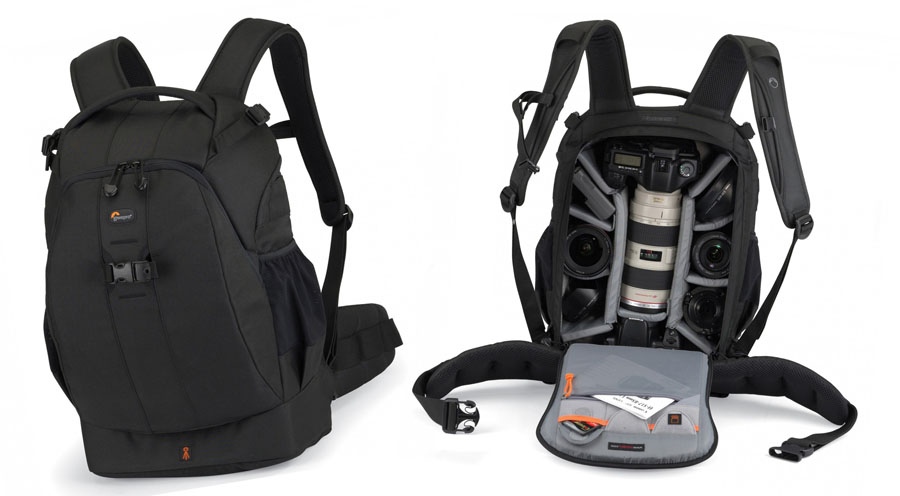 And not only did the bag fit all my equipment and make it easily accessible, but it also ticked all my other boxes.
Inside the main equipment pouch there are several small compartments for spare memory cards, batteries, etc. Over and above this main section there is another large compartment which also has smaller pouches for lens pens, batteries, chargers, etc. This pouch is also large enough to fit my packable Columbia jacket as well as a small hiking towel.
On the outside of the bag there is a small tripod holder which folds into a pouch when not in use. There is also a small zip under the bag which contains a rain jacket which securely covers the whole bag for some level of waterproofing if you're caught in the rain. Finally, on the outside of the bag, there are several other pouches and clips for various other pieces of equipment. And yes, this includes a pouch which fitted my water bottle.
In summary, this bag certainly ticks all my boxes and it does so in style. The Lowepro Flipside 400 AW looks fantastic, holds all of my equipment with space left over, and provides me quick and easy access whether in the car or the bush. At the moment I simply wouldn't use any other bag.