A New Car And A Polluted Umgeni
A New Car And A Polluted Umgeni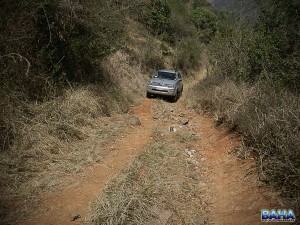 A year has passed since our last Heritage Day but the memories of a day spent fly fishing under snow capped mountains (and the adventure that followed) is still fresh in my mind. It therefore seemed only fitting to spend this Heritage Day in search of yet another adventure and fishing for a purely indigenous fish, the Natal Scaly.
Having just picked up my "new" vehicle, a Toyota Fortuner, we decided to head for the Umgeni Nature Reserve knowing they had a 4×4 route down into the valley. I'd last fished the venue with my dad in around 2007 and fondly remember the fun we had with the scalies. As such is seemed like the perfect choice.
I picked up Nick at a lazy 6am and we headed for Howick where the adventure would be begin. Shortly after 7am we arrived at the park's gate only to discover that they now only open at 8am. What a fail! We tried in vain to awaken anybody who could let us in but were eventually forced to concede defeat and headed for the local Wimpy for a quick R20 breakfast.
Once in the reserve we hunted down the 4×4 route into the valley and then the fun began. At first it seemed like a simple descent as the steeper sections had concrete strips put in to prevent erosion. Luckily (or unluckily, depending on your attitude) these vanished closer to the bottom and we found a few sections worthy of testing out the off road capabilities of the vehicle.
The tougher sections were rocky, eroded, relatively steep and generally next to a good drop into the valley below. I wouldn't say low range was necessary but a 4×4 is a must and low row range certainly made it a pleasure. Without low range the climb out may be challenging but should be doable with a powerful enough vehicle.
Down in the valley we parked next to the bush camp and then set about exploring the Umgeni River. At first it looked promising with good pools and decent rapids. Sadly our enthusiasm quickly ended when we waded into the river and the smell of sewerage filled our nostrils. The banks were lined with litter which must have come from the ever growing informal settlement towering above us.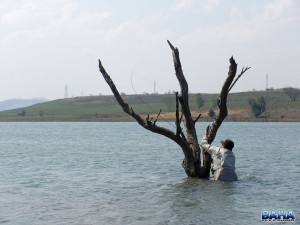 Despite the evidence that the river was polluted we fished for a few hours in which time we didn't see any signs of fish. A sad day really considering how well this stretch used to fish. As Nick pointed out, "humans – we're our own worst enemy!"
Eventually we conceded defeat and decided to head to Cascades as we still had a lot of day left. We climbed out of the valley and 15 minutes later arrived at the inlet to Midmar. Crossing over the bridge we couldn't believe our eyes. It appeared that some form of blasting has taken place in the river and there was building material and rocks strewn everywhere.
Cascades was a little low but we gave it a try for an hour of so with no luck. We then, as a last ditch effort to pick up a fish, headed for the far bank of Midmar and pulled out our bass poppers.
It was amazing to see just how low the dam was. Where we'd been fishing in 2 meters of water in December we could now stand. And the majority of the weed had died off leaving very little structure to fish between from the bank. Another amazing discovery was the number of concrete picnic tables and braai places that are submerged when the dam is full. Boaters beware!
Sadly our attempt at a few bass was unsuccessful and we eventually decided to call it a day and headed for the Hilton Hotel pub where we enjoyed an ice cold Foxes Larger and complained about just how badly humans destroy the environment.
Sadly I must recommend crossing the Umgeni Valley Nature Reserve off your fishing list unless you enjoy wading knee deep in water that smells like human feces. A sad day indeed.