The UHTFC AGM And Fishing Festival
The UHTFC AGM And Fishing Festival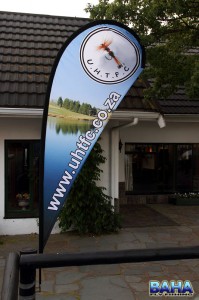 Once a year the UHTFC host their AGM and, in order to make it more exciting and to improve attendance, they throw in a small fly fishing festival as well. The general format is a meet and greet on the Friday evening (where waters are drawn), fishing on the Saturday, and then weigh in followed by the AGM and dinner on Saturday evening.
Not wanting to miss out on any fishing time Neill and I planned to leave Hillcrest at 1pm in order to get in a short afternoon session. Sadly things went a little pear shaped from the start. Firstly, on my way home, I stopped off to pick up some new Baha decals only to discover they weren't finished yet. Neill then got stuck in traffic which meant another small delay. As such we finally made it out of Hillcrest closer to 2pm.
I suppose we did worsen the situation ourselves when we stopped of at the Nip Inn for a quick beer before driving the final 20kms to Underberg. But hey, what's a fishing trip without a beer?
Since we were running somewhat late we skipped Alan's house and headed straight to the waters edge. Our dam of choice was Trelevans 2 since it was fishable from the bank and didn't require a key.
Alan had warned us of the low water levels but it was worse than I'd expected. The dam was down by a few meters but was still very fishable and I spotted several rises as we parked the car. Since I was in shorts and slops I made my way through a marshy area and fished a small, shallow bay hoping the fish would have moved in to feed as the sun dropped in the sky. This didn't seem to be the case and things were annoyingly quiet.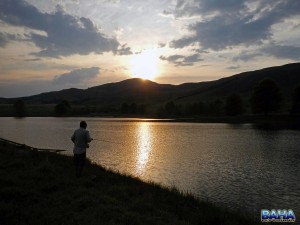 I therefore opted for the other extreme and waded back through the marsh, picked the leaches off my feet, and headed for the dam wall. Fishing wasn't easy as the water was a few meters below me and a couple of meters in front. Thankfully however that didn't seem to matter and I'd soon landed 2 fish of around 1kg each.
We then called it a day and headed to the Himeville Arms for the meet and great and the drawing of the waters. By the time we arrived the pub was full of eager fishermen, most of whom had not had the opportunity to fish that day and were nibbling at the bit.
The evening was spent making new friends and sharing stories from past fishing experiences while sipping on cold beers. Once the waters had been drawn people started slipping out of the pub in the hope of making an early start due to the predicted 35 degree weather. We therefore headed back to Alan's place and enjoyed a 10pm braai and a few more beers. Life's tough in Africa!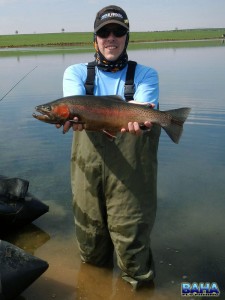 The next morning we were out of bed at a lazy 5am. We enjoyed a quick cup or two of hot coffee and then headed for our water, Lake Ringstead. The water was exceptionally low and clear. There was also a large abundance of weed which was strange for the end of winter (ok, we're quite far into spring, I know).
The three of use began to target various areas of the dam. Neill and I fished from float tubes while another UHTFC member fished off one of the clubs boats. We quickly got into fish although most of them were small in the 1 to 1.5kg range. Neill was the first into a nice cock fish of 2.5kgs. I followed shortly with a bright cock fish of 2kgs.
By this stage it was 10am and already well over 30 degrees. The wind also suddenly picked up and we were sadly blown off the water. We relaxed by the car for a while eating a late breakfast and hoping that the wind would die down. Sadly however it was not to be and eventually we headed home to relax and wait for a short afternoon session.
The wind was still pumping at 3pm but there were fish to be caught and so we headed for the hopefully sheltered Trelevans 2. It wasn't as sheltered as we'd hoped for but by "hiding" behind the wall fishing was at least an option. Things started off quietly but once we cracked the code we quickly got into fish. Sadly they were all stockies but we still had great fun. And Neill claims to have dropped a bus in the corner.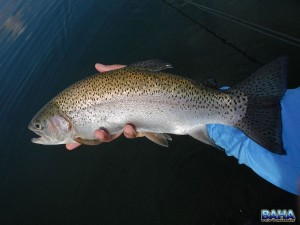 Eventually we were forced off the water by the 5pm weigh in. We grabbed a quick shower and then again headed for the Himeville Arms. After a quick weigh in, of which the results were kept secret, we grabbed a beer and headed into the chapel for the AGM.
Thankfully the AGM itself was short. The chairman gave his report, followed by Alan's report on the conditions of the water. And finally Wolf Avni gave a brief talk on the eradication of trout and how to support the cause to stop it. I was also asked to give a brief talk on the NFDS and their push to get themselves up and running again. It would've been easier had I been prepared, but it went off well enough.
After the AGM we all gathered in the dining hall and had a fantastic dinner. Ilan Lax was kind enough to do a short talk on NEM:BA which was brief, to the point, and well received by everyone. His talk was followed by a short prize giving for the day's fishing. Neill came second while I scrapped in at fourth. That said we both only weighed one fish and if we'd just kept another stockie we'd have taken first and second.
Slowly the evening wound down in the pub and eventually everyone said their goodbyes and headed home.
The next morning Neill and I awoke to a chilly, misty morning with a slight drizzle. Sadly it wasn't enough to effect the low river and dam levels, but just enough to make us pull on a jacket.
Not wanting to set up kick boats we opted to fish the Grange from the bank. I got into a decent fish on my third cast but sadly it came off the hook before I could land it. Other than that we didn't sniff another fish all morning. The dam was heavily weeded and fishing from the bank was therefore a little frustrating. We therefore decided to call it a day and headed back home.
A good weekend considering the purpose of the visit was primarily for an AGM. I'll definitely be back for the festival next year.