Alpine Heath
Alpine Heath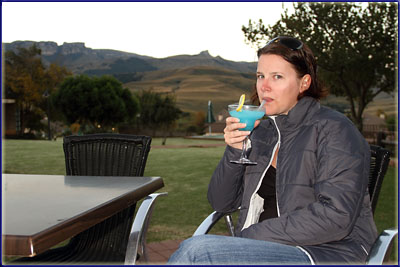 Having left Pilanesberg at 9am my mom, Sharon and I pulled into Alpine Heath at around 2pm. Amazingly we met my dad and Cassia at reception. Clearly they were running somewhat late for the wedding and quickly rushed off to get changed.
We were meanwhile given directions to the unit, climbed into the car and headed for the chalet. As we pulled up things looked slightly off but we unpacked our bags and waved goodbye to my mom. That's when we realised we'd been dropped off at the servants quarters by mistake. FAIL!
Sharon and I started the fairly lengthy walk from the servant's quarters to our actual chalet. We must've looked quite strange walking down the road, bags in one hand and an open bottle of wine in the other.
Since my dad and Cassia had headed to the wedding we ventured out to do some exploring. This included a quick game of putt-putt on the resorts course (sadly we missed the table tennis table) and a look at the other activities on offer.
By now it was getting late and so we headed back to our unit for a shower. It's amazing how good it felt after a week's camping in the bush with poor shower facilities. Now clean and happy we headed to the bar for a few cocktails, pizza and to watch the rugby.
Dad and Cassia slept in the next morning and so Sharon and I ventured out for some more putt-putt, chess on a giant board and a few games of epic table tennis. Eventually we were called back and enjoyed a cooked breakfast before heading out for a walk in the mountains.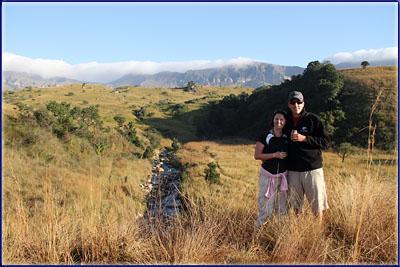 We headed on a route which took us up a steep section to the nearby cliff line where we were hoping to find Vultures and/or Black Eagles. Sadly some of the "older people" struggled with the heights and as such we eventually turned around.
Being relatively early still we then tried the "river walk" which was a bit of an exaggeration. This particular route never got close to the river. In fact, I don't even think we saw it (bar fighting through some long grass just to make sure it was still there).
Walking was followed by lunch and then the ballies were back into bed and Sharon and I once again took ownership of the table tennis and putt putt. We pretty much chilled the rest of the day away before making dinner and drinking far too much wine…enough said…
Cassia was feeling somewhat ropey the next morning and refused to get out of bed. Sharon, my dad and I took the opportunity to head out for another walk, this time following a different river route (the Cascades route if I remember correctly) which turned out to be spectacular (clearly I should've had my fly rod with me).
After the walk we polished off the remainer of the dinner mince, complete with egg, on toast and then packed up and hit the road back to Durban. We had a little time to kill and so we meandered slowly back stopping at the Lavender Trout for a cup of coffee and cheesecake. I also managed to find a fantastic pair of casual shoes and stock up on Mazavaroo.
In fact everything was looking good right up until I walked through the front door and realised I'd turned my fridge off a week ago, prior to heading to Pilanesberg. Dad and Cassia were originally planning to hang around for a while but quickly changed their plans and headed out. What a terrible ending to a fantastic week long break.