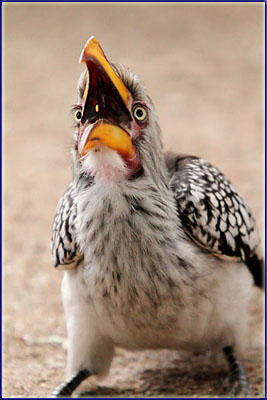 A trip to Charleston is a once in a lifetime experience that I've been lucky enough to experience thrice. Sadly with every up there must be a down, so it should've been no surprise to Sharon and myself that when we walked into our house at 7pm still needing to pack before our 4am departure, that the house would be flooded.
Frantically we mopped the floor, dried the furniture, cooked food for the journey and packed our clothes. Thankfully in a few short hours we'd be in the bush and could forget about all the worries of day to day life (or so I hoped). Being late I opted not to call a plumber and instead called MacGyver, my alter ego. I stuffed a sock down the troublesome drain, taped it up with duct-tape, and said a little prayer.
The next morning the alarms went off at 3:30. We brewed a pot of coffee, had a quick shower and waited for my mom and sister to arrive to pick us up. At 4:30am we were on the road – the journey takes about 9 hours without stops, but we were planning for a little longer since we opted to go through Swaziland and Kruger. This route is actually slightly quicker but we allowed ourselves extra time to stop in the park for lunch, as well as for a little game viewing.
For some reason we went in Kerry's RunX rather than my mom's Corolla. This resulted in the luggage only just fitting in. I counted the bags to try and work out why we had so much and then it dawned on me…we'd packed enough food for a month, and we only needed to feed ourselves for a few hours. The Charleston bop had started…
The beginning of the journey was uneventful and we were in Swaziland at no time at all. But once we were in Swaziland Kerry began driving at a pace that made me think we were in a WalkX rather than a RunX. She fed me some story about there being a lot of police in Swaziland and not wanting to get fined. Having gone through there several times myself, and having never seen a cop, I did some mocking until she sped up. And then…around the next corner…cops…and a fine. Now I call it a fine but it could well have been a bribe. We paid R60 for going 81km/h in a 60 zone and were on our way again. Now that seems a little cheap to me, but we did get a receipt so maybe Swaziland just doesn't know about money yet.
The rest of the trip through Swaziland was painfully slow (in truth it probably took just over an hour) but soon we were back in SA and straight into Kruger. Well, after the cop at the border decided he was hungry and took some of our food that is. Luckily we had plenty to spare and got away with only giving him a few bananas thanks to a cunning mother.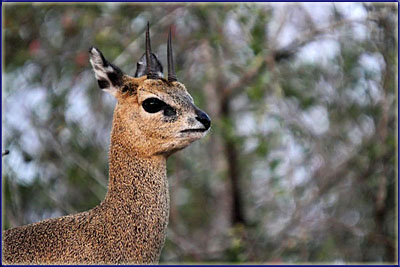 We entered Kruger though the Malelane Gate. This involved a long stop on the bridge which was high enough to see every bird in the world, well so it seemed since we were there for a long time with binoculars glued to our eyes (or in my case a camera).
We trundled through the park stopping at a beautiful picnic spot called Afsaal for lunch. We were all starving from eating so much in the car so the break was well worth it. There was an abundance of birdlife in the picnic site with the attraction being a cordoned off tree in the middle with a Skops Owl sign on it. Tourists flooded around the tree searching every branch and shadow for the little owl. Eventually a staff member walked over and put us out of our misery by telling us the owl wasn't in the tree. Bastards! Why have the sign then?!
I shot off a few pictures of Hornbills and also managed a couple of shots of squirrels fighting over a tomato somebody had left on the table. And then we got back into the car trundled on to Skukuza where we stopped to pick up some cheese for camp.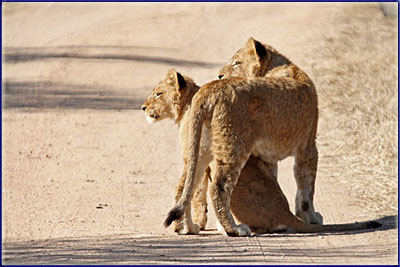 From Skukuza it was out the gate, 100 meters down the road, and then into the Sabi Sands conservancy. We made our way through the park for 30 minutes until we arrived at our destination…Charleston! It was 3:30 and we were just in time for the 4pm drive.
After we'd said our hellos and rapidly chucked our luggage into our rooms we piled into the Landy…it was GAME ON!
Charleston never disappoints and within half an hour of being on the Landy we'd spotted our first leopard. It was a beautiful male walking casually along the road. Sadly there were already 2 Mala Mala vehicles there so we only watched him for a short while before continuing on our way. The excitement wasn't to end here however as shortly after that we were mock charged by an elephant, before the rest of the herd followed us down the road at an adequate pace to make us nervous.
By this stage the sun was setting so we parked on the golf course (it's not currently a golf course, but was back in the day) and enjoyed a few drinks as we watched the sun set in front of a fire in the distance. What amazing colours. It was getting dark now so we switched on the spot lights and headed for camp, only to be greeted by a Rhino grazing around our huts.
Seeing four of the big five wasn't too bad for a first drive.
The rest of the evening was spent in usual Charleston fasion…we relaxed around the fire and had a few beers. This was followed by soup with sherry and then we gathered around the dinner table, under the stars, for a fantastic roast lamb followed by fruit salad, custard and cream. Mmmm… The local hyena joined us in camp hoping for some scraps but after we'd savaged the meat he was certainly out of luck.
Work and flooded flats were already a distant memory…
Day 2, Friday the 13th, will always be remembered for its awesomeness…
It started off with a somewhat less awesome event as Sharon woke up at 3am with bad stomach cramps. I dug around in the dark and eventually found some pain killers for her. I managed to doze a bit more but I don't think Sharon got too much more sleep that night.
We dragged ourselves out of bed at around 6:30 and stood overlooking the river, in the warmth of the rising sun, drinking coffee and eating rusks. At 7am we were back in the Land Rover and ready to go. It wasn't long before we came across three lionesses with 2 cubs. We watched them for ages as they relaxed and played in the road.
A herd of elephants were less that 100 meters away and the lions were keeping a close eye on them as they got closer. Eventually the lions decided the elephants were too close, got up, and walked off. We decided this was a good time to head back to camp for breakfast. We'd been there for less than 24 hours and had already ticked off the big 5. Good job Rod!
Breakfast was served in true Charleston boep style – there was porridge followed by egg and bacon with tomato, toast and more…
And then it was time for more serious matters…the catty shootout. The men (and yes, I'm including myself in this category) bravely headed down into the riverbed to collect ammo for the shootout. Rod then set out a course (yes, you heard correctly…not a target, a course) in front of the camp. We paired up, jumped into the back of the Landy, and tried to take out the targets on the move.
My first round was a bit of a failure as my catty broke on the first shot. I was forced to quickly change weapons and managed to only clip one target as Brett took out two. I must admit, it was far more challenging than expected and ever shot seemed to miss by just milimeters…aaaagggh! After everyone had had a few goes we called it quits with Brett claiming the trophy of catty master.
But the games weren't over just yet. From the catty course it was onto the boules arena. We formed two teams and had just one boule each. Brett, Helga, my mom and myself took on Lauraine, Rod and Kerry. Competition soon heated up and after an epic game we managed to take it in the last round. The game consisted of some fiery competition amongst the guys and some wildly amusing throwing from my mom, who always provides a good laugh.
With the games now over we all gathered under the trees overlooking the river to relax and enjoy a cold beer. In the meantime Kerry and Helga headed to Kirkmans for supplies (and to meet the hot ranger). And before we knew it they were rushing back into camp with stories of a Leopard with a 2 month old cub. We scoffed down lunch and were back in the Landy before anyone had blinked.
Excitement mounting we headed for River Road where we quickly spotted the point where the Landies had been leaving the road. We too left the road and headed into the bush. Everyone was dead quiet with eyes peeled (gross thought) as we made our way deeper and deeper into the African bush. We drove between rocks and under thorn trees until Kerry somehow managed to spot a spot. How she saw it through all that bush I'll never know?!
Rod crept the Land Rover quietly closer (well, as quietly as those things go) and soon we all had the most perfect view of a beautiful female leopard (Jakkalsdraai) sunning herself on the rocks. Sadly there was no cub in sight and we all scanned the surrounding rocks hopefully as we sat there watching her.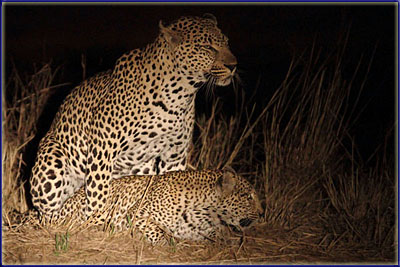 And then…suddenly…a little head popped up from behind Jakkalsdraai. None of us could believe it. It was the most beautiful little cub, and so young it still had blue eyes. WOW!
Eventually another Land Rover arrived and we were forced to move on. Seeing that Leopard cub and its mother was a once in a lifetime experience I'll never forget. We drove to a nearby plane where we stood around watching the sun setting over the mountains while drinking beer and snacking on biltong and cashew nuts. What an amazing day.
…and then, amazingly, it got better. While we were driving back to camp in the dark, Simi picked up some eyes in his spotlight. Rod put his foot down and we accelerated towards them. I must admit, I wasn't expecting anything spectacular…they were after all reflecting green (which apparently means herbivore, predators reflect red) plus we'd used up all our luck. As the silhouette began to take form I first thought it was a hyena, but then, as we got closer the shape morphed into that of a leopard. In fact, two leopards. WOW! Five leopards in 24 hours…beat that.
We followed the pair into the river when they lay down together in a large clearing. The spotlight seemed to be bothering them and so we switched it off. The next minute we heard growling and switched the spotlight back on. Much to our amazement the two leopards were mating. What an amazing sighting. We sat there for half an hour watching them but eventually we had to make our way back to camp.
I must say, mating Leopards are just like mating humans. The mating starts, the female growls at the male, and the male bites the female to show her who's boss. It last about 30 seconds and then the male goes to sleep. And then, just like humans, the female comes over and tries to cuddle.
Back at camp we gathered around the fire for the usual soup with sherry, followed by dinner under the stars. We had the most fantastic lamb kebabs served on natural vegetation sticks of around a meter each. How we didn't poke each other's eyes out I'll never know. This was followed by fruit salad, custard and cream…and finally some chocolate.
Keeping with the day's theme of ultimate gaming we gathered around the table and whipped out the Cranium. It was a first for most of us and was certainly great fun, but due to some poor acting, whistling and modeling skills, progress around the board was not all that fast. Eventually the long eventful day got the better of us and we all headed for our huts calling the game a draw.
While waiting to use the outside toilet the camp hyena decided to come and join me. At that point Sharon, who was in the toilet, proclaimed she was never coming out again. Thankfully the hyena moved on and I was able to relieve myself before bursting.
The next morning, by the time we crawled out of bed at 6:30 for coffee and rusks, Brett and Laurraine were already well on their way home. We piled into the Land Rover planning to eat breakfast on Charleston rocks. Sadly Brett and Laurraine had taken some of our luck with them and shortly after leaving camp Rod noticed the battery light hadn't gone out.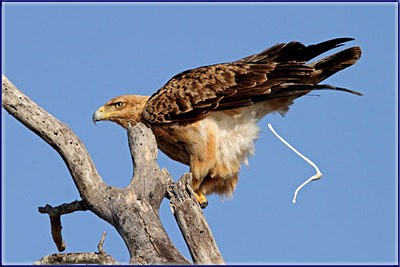 We stopped at Pole in the Road where we took a look under the bonnet; it seemed like the alternator had gone. Sadly Charleston Rocks was on the other side of the river and Rod was nervous that if we stopped there we might not get going again. We decided to play it safe and headed back to camp to wait for a new Landy from Mala Mala.
We sat around the table in camp and enjoyed our picnic breakfast of boiled eggs and sausages. And then, since we were short a Landy, we took the Kombi and headed into Kruger to pick up a few provisions from Skukuza. How is it that their shop is around the same size as a Spar and yet they don't stock lip-ice? We browsed around the shop for a while, had an ice cream, looked out over the river and then headed back to Charleston for lunch.
Back at camp we received our new Landy from Mala Mala. It was too early to head out for the afternoon drive so we relaxed around camp and ate another good lunch. Sharon and I also took the opportunity to move into Brett and Lauraine's room which had an on suite bathroom. This made Sharon a lot more comfortable since it meant not having to walk through camp in the middle of the night to go to the toilet.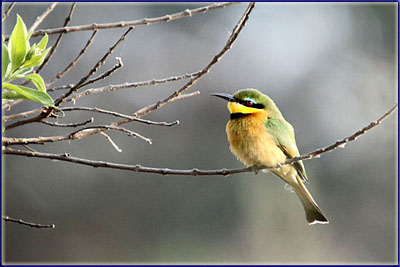 At 4pm we headed out on our normal afternoon drive. Although the game viewing was good we saw no cats on this outing. I guess Brett and Lauraine really did take the luck with them. This being said the area is just so beautiful, and being on the open Land Rover in the fresh air so refreshing, that it really doesn't matter what you see.
We had our sundowners on the golf course once again before heading back to camp to relax around the fire with a few beers.
Dinner was excellent – Soup followed by roast chicken and chips with fruit salad for desert. Then it was off to bed where I took full advantage of having a bath in our room.
Sunday got off to a more positive start than Saturday and we finally made it to Charleston Rocks for a fantastic picnic breakfast overlooking the river. There's nothing quite like breakfast in the bush with a Fish Eagle perched next to you calling wildly. We feasted on eggs, sausage rolls and fruit juice while watching lone male buffalo grazing in the river.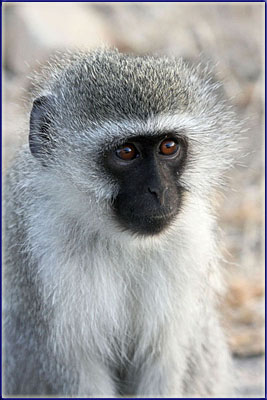 After breakfast we decided to visit Jakkalsdraai and her cub again. We found the spot where we'd left the road two days before and once again headed into the bush. Amazing what was once thick bush had almost become a road thanks to the millions of Land Rovers which must've visited the leopard.
When we got to her den there was a Mala Mala Land Rover watching her. We sat for what felt like ages waiting for our turn. They seemed oblivious to our presence and just sat there eating their breakfast. Eventually, when the Leopard moved off into thicker bush, they moved on. Bastards! Thankfully Jakkalsdraai decided to come back out and sun herself on the rocks. At least she was being polite to us.
Sadly her cub was less optimistic to see us, and although we could see her in amongst the bush playing on the rocks, she never came out into the open.
Eventually another Landy arrived and we headed back to camp for lunch. This was followed by another game of Boule…my sister and Sharon taking on my mom and me. And this time round my mom was on top form. Sadly I wasn't firing like I had in the first game and sadly we lost to a delighted Sharon/Kerry combination.
The afternoon drive saw us heading for the Kruger boundary fence, a drive we had not yet done on this trip. We had a few good bird sightings and then came across what must've been a kill of some sorts. Vultures were circling overhead and there were a lot sitting in the trees too. Sadly, being on the border line, we weren't allowed to head into the bush to find out what it was. I guess it'll forever remain a mystery.
We stopped for sundowners at the golf course for the last time and took in the entire atmosphere. Sadly it was out last day at Charleston and we would be heading back first thing in the morning. *Sigh*
On the way back to camp we were lucky enough to come across a Genet, although he didn't hang around long enough for us to get a good sighting or photo.
Back at camp dinner was a bit different from previous nights. Instead of the staff cooking, I braaied lamb chops over the camp fire for everyone. Amazingly, even though we were braaiing, the hyenas didn't visit for the first time of the trip. I guess it must've been due to the howling wind which probably blew the smell away faster than their noses.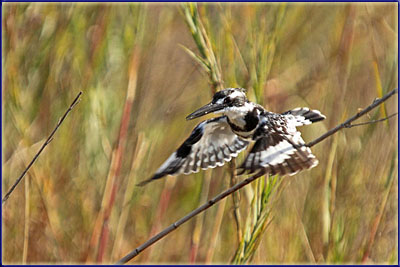 Dinner was fantastic, although I have to say that since I braaied it, and then it was off to bed for the last time. *Double sigh*
We got up at 5am on Monday morning and were on the road by 5:30. At 6am we through the Paul Kruger gate and well on our way home. This time we took a longer route through Kruger, heading for Crocidile Bridge, which took us around 6 hours. Amazingly we saw both Leopard and Lion (kind of) on our way through the park.
I say kind of since the leopard was 100 meters off the road and reminded me why we were so lucky to be allowed into a place like Charleston…Instead of being in an open Landy we were stuck in a small Toyota, and all we could see was a flicking ear since we weren't allowed off the road and into the bush. This combined with the fact that there were 15 other cars around us hustling for position meant the sighting just wasn't the same as the 5 Leopard's we'd seen with the Beautmonts.
The lion sighting was exactly the same, hundreds of cars looking at an ear sticking out of the grass. In fact most people couldn't even see it.
We also managed to see some good elephant as well as a Giraffe drinking which Sharon had been hoping to see for the entire trip. In fact, she even managed a good shot of it lifting its head with water spraying everywhere.
Sadly all good things come to an end and eventually we had to leave the park and head into Swaziland. This time we'd learned our lesson and drove slowly through the country. And Murphy's law…no cops.
I drove the last stretch from the Swaziland border back home. At this point I was starting to fear the worst as distant memories of flooding flats came back to me. We stopped at the world's worst KFC for dinner. And I say worst because they are – they never have what I want, and this time was no exception. I order a toasted twister, and WOW, their toaster was broken. Grrr!
Thankfully, when I opened my front door the floor was dry and there were no signs of flooding. I guess that's a good ending to an AMAZING trip. We unpacked slowly, ate dinner and watched Survivor before heading to bed. Who knows when we'll have another trip like that…but I hope it's soon…