Christmas At iMfolozi
Christmas At iMfolozi
Christmas is a time for family. It's also a time for holidays. And where better to spend this time than in the African bush? So Sharon and I took my mother, as well as Sharon's folks, to iMfolozi for 3 days of game viewing bliss for Christmas. We opted to book into a 3 bedroom cottage in Mpila Camp, arriving on the 24th December.
Sharon, my mom and I drove up together, leaving at 5am while Emma was still fast asleep. We planned to drive through Hluhluwe, arriving at our accommodation in iMfolozi at 1:30pm where we would meet up with Sharon's folks. By 8am we were at the gate and biting at the bit, having already indulged on the traditional egg mayonnaise sandwiches on route.
Game viewing in the heat was slow, but we'd seen the usual suspects as well as rhino, elephant and buffalo by the time we reached Hilltop Camp at 9:30am. The plan was to let Emma stretch her legs and to potentially have an early lunch. However being so hot we snuck into the camp's swimming pool where Emma (and us) spent an enjoyable hour in the refreshing water. Since it was still relatively early we decided to skip lunch and headed for Mpila camp.
Emma immediately fell asleep in the car, worn out by her excitement in the pool. Her timing was poor as we soon came across 2 lionesses in a tree not more than 10 meters off the road. Perhaps it was a blessing in disguise as we waited for over half an hour before some inconsiderate tourists finally moved off, allowing us a turn at the sighting (sadly, despite being so close to the road they were only truly visible from one location). After snapping a few quick photos we moved off, giving other tourists a chance to see the lion, and continued on route to Mpila.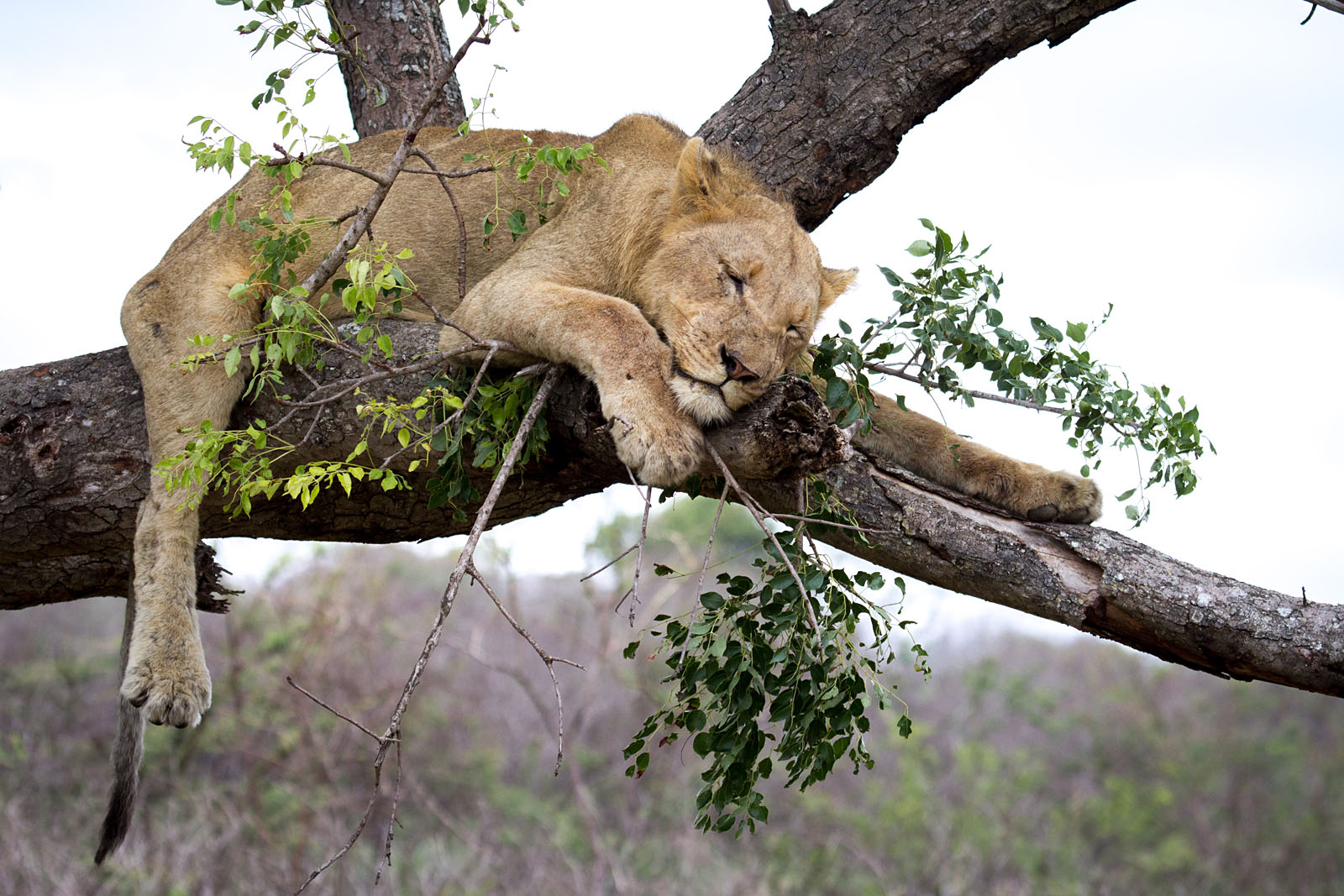 The remainder of the corridor was relatively quiet, more than likely since we were fast approaching midday and it was really getting hot. We arrived in camp slightly early, but were thankfully allowed to check in by some very friendly and considerate staff.
Our cottage consisted of 3 bedrooms, each with 2 beds, as well as a bathroom, toilet, kitchen, and lounge-come-dining room. There was also a beautiful patio with amazing views straight into the bush. These views were further improved by us being the last cottage in camp, and were therefore almost completely surrounded by bush. Despite the cottage showing it's age, it was clean and well maintained, and more than adequate for our requirements.
Having settled in we prepared for Christmas dinner by setting up the table and popping the ham (or turkey, I can't remember which) into the oven. By this stage Tommy and Glenda had also joined us, and it was time to head out for our afternoon drive.
Tommy and Glenda opted to stay in camp, having spent enough time in the car, and were treated to a multitude of buck and warthog grazing through camp. The rest of us jumped back into the car and headed out for a short drive. As is the norm at iMfolozi we were treated to a large number of amazing rhino sightings. We also had a unique experience with a slightly aggressive elephant who shook his ears threateningly at the car before allowing us to move on. And if the big animals weren't enough for us, we also enjoyed lovely sightings of a hunting yellow billed kite, as well as a water monitor ambling across the road.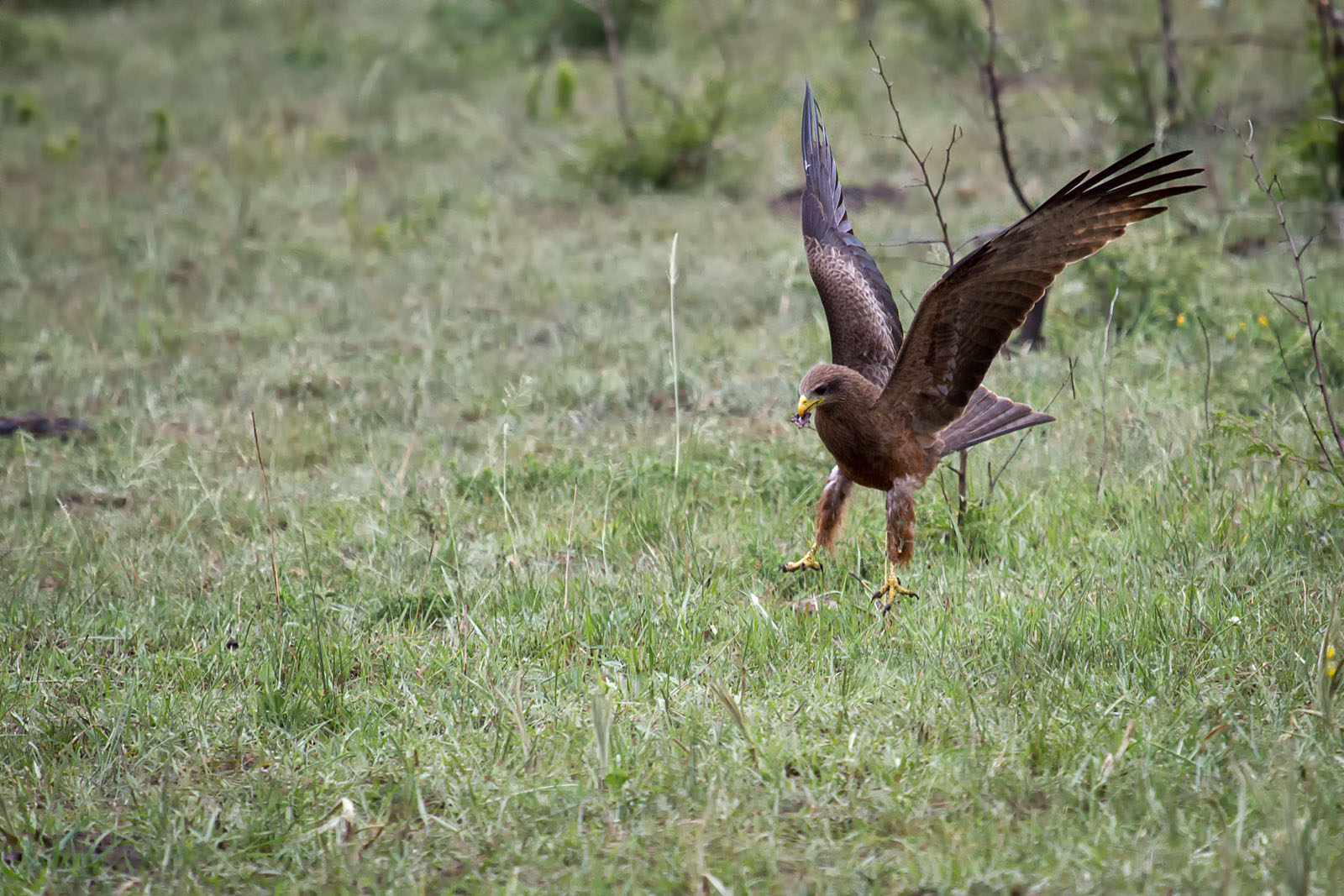 Heading back to camp we came across 3 lionesses relaxing less than 50 meters off the road, just 2 kilometers outside of camp. Having relished the lions for a few minutes, we rushed back to camp where we picked up Tommy and Glenda to show them the majestic cats (before the gates closed). We got lucky and they were still lying in the same spot we'd left them when we got back with Sharon's folks. Once they too had had their lion fill, we headed back to camp and got ready for Christmas dinner.
Christmas dinner was of course amazing. We had everything from turkey to gammon, sausages to stuffing, roast potatoes to vegetables, and oh so much more. Then there was of course the mandatory malva pudding with ice cream to top it all off. And as if things couldn't get any better, we each got a table gift to open to get us into the Christmas spirit. For Emma this was the most important part of the evening, with the meal being something she had to endure to get to the gift.
The next morning was therefore the best day of the holiday for her – Christmas day. We managed to (semi) contain her excitement and held off the opening of presents to an almost respectable 6am. We got through most of the presents quickly, but did hold back on a few for a short afternoon session. We then enjoyed a quick breakfast before getting ready for some game viewing.
Being a hot day we elected to drive back up to Hilltop camp, so that Emma could enjoy the pool again. Not wishing to spend a whole day in the car Tommy again opted to relax in the camp, while Glenda chose to join us for the day. The drive through the corridor was quiet, as it usually is. The lions we'd seen the previous day were long gone, and the majority of our sightings were of birds of prey.
Emma was elated to be in back at the pool, and we spent another hour or two in and out of the water, and under the thorny acacias. This was followed by a few ice cold cocktails (and an ice cream for Emma) at the camp's restaurant before heading back to Mpila.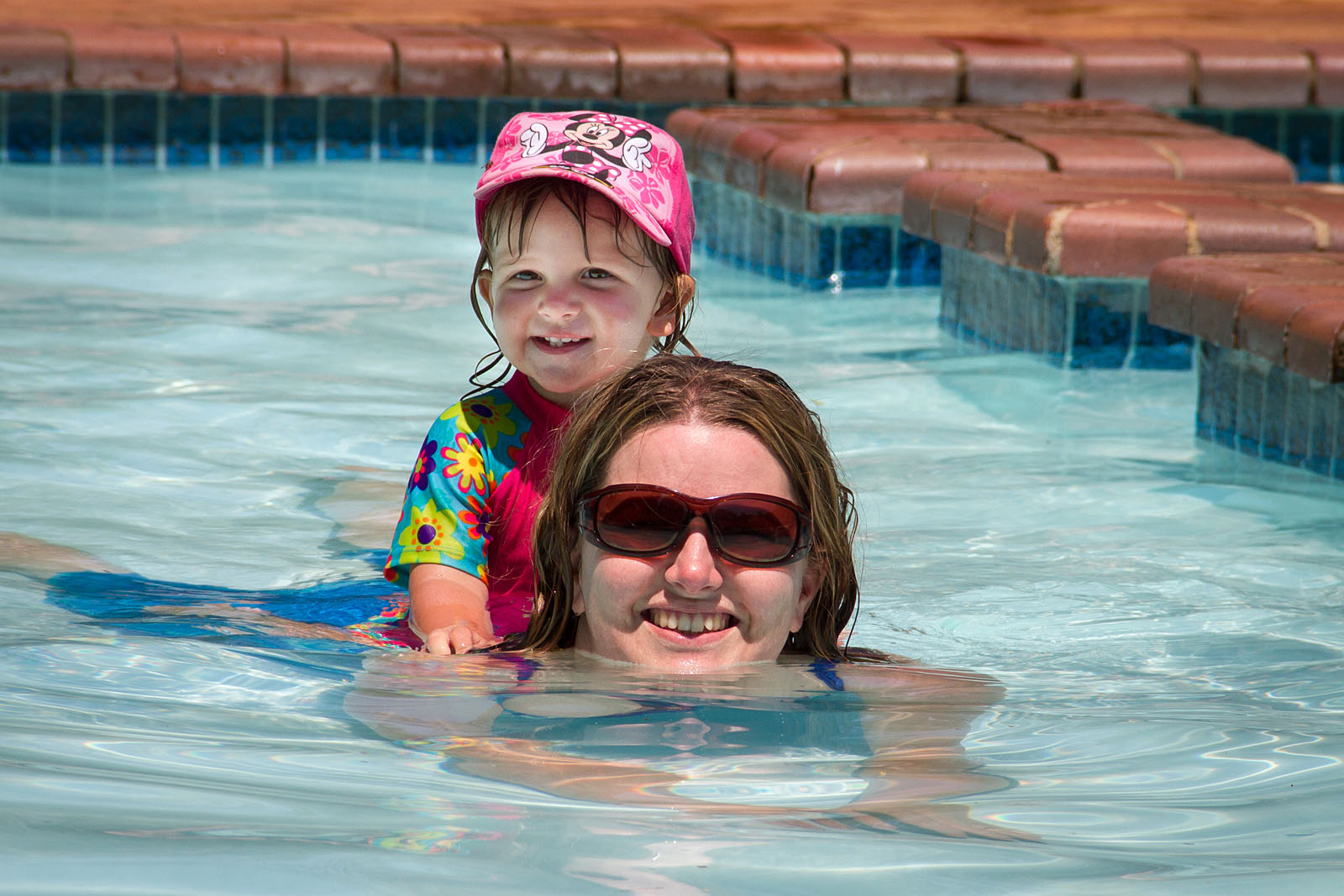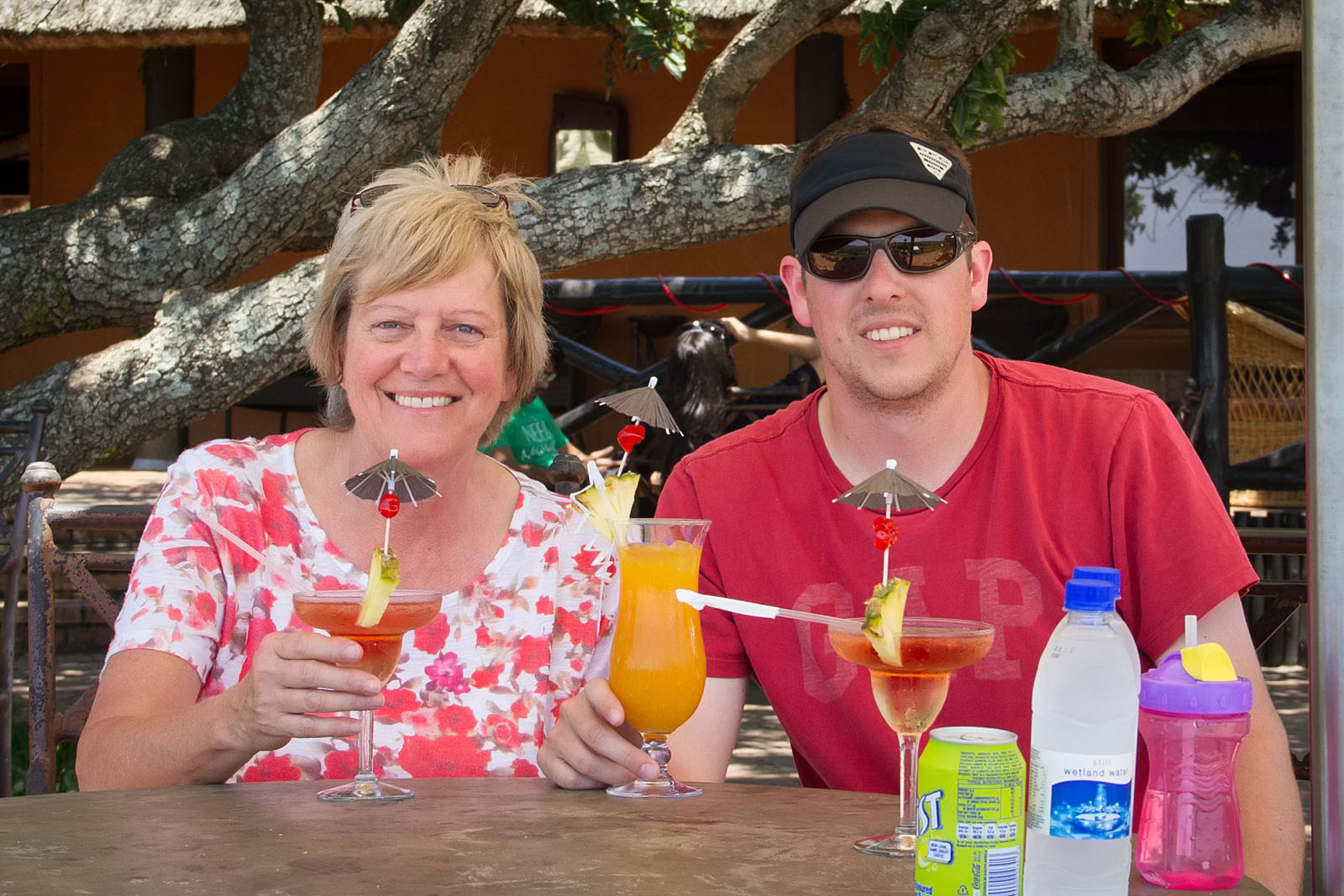 Back at camp we ate a lazy lunch and opened a few more presents, as a hail storm passed overhead attacking the landscape.
Being in the bush is a magical experience, which to me seems even more magical amidst a storm. I'm not sure whether it's the smells, the changing light, or the added element of nature at it's best, but it's one of my favourite experiences.
As the storm passed and beams of sunlight broke through the clouds, a few of us prepared ourselves for a short afternoon drive. Amazingly the highlight of this drive was a simple tortoise. Emma's eyes instantly lit up when we spotted our first tortoise creeping through the wet grass. I'm not sure if it was due to the storm, or just random luck, but we saw several tortoises on that drive, each bringing as much excitement as the last. Seeing Africa through the eyes of a child is truly magical.
That evening was spent enjoying the sights and smells of the bush while eating Christmas left overs. Emma of course spent it playing with her knew toys as the sun set over Africa.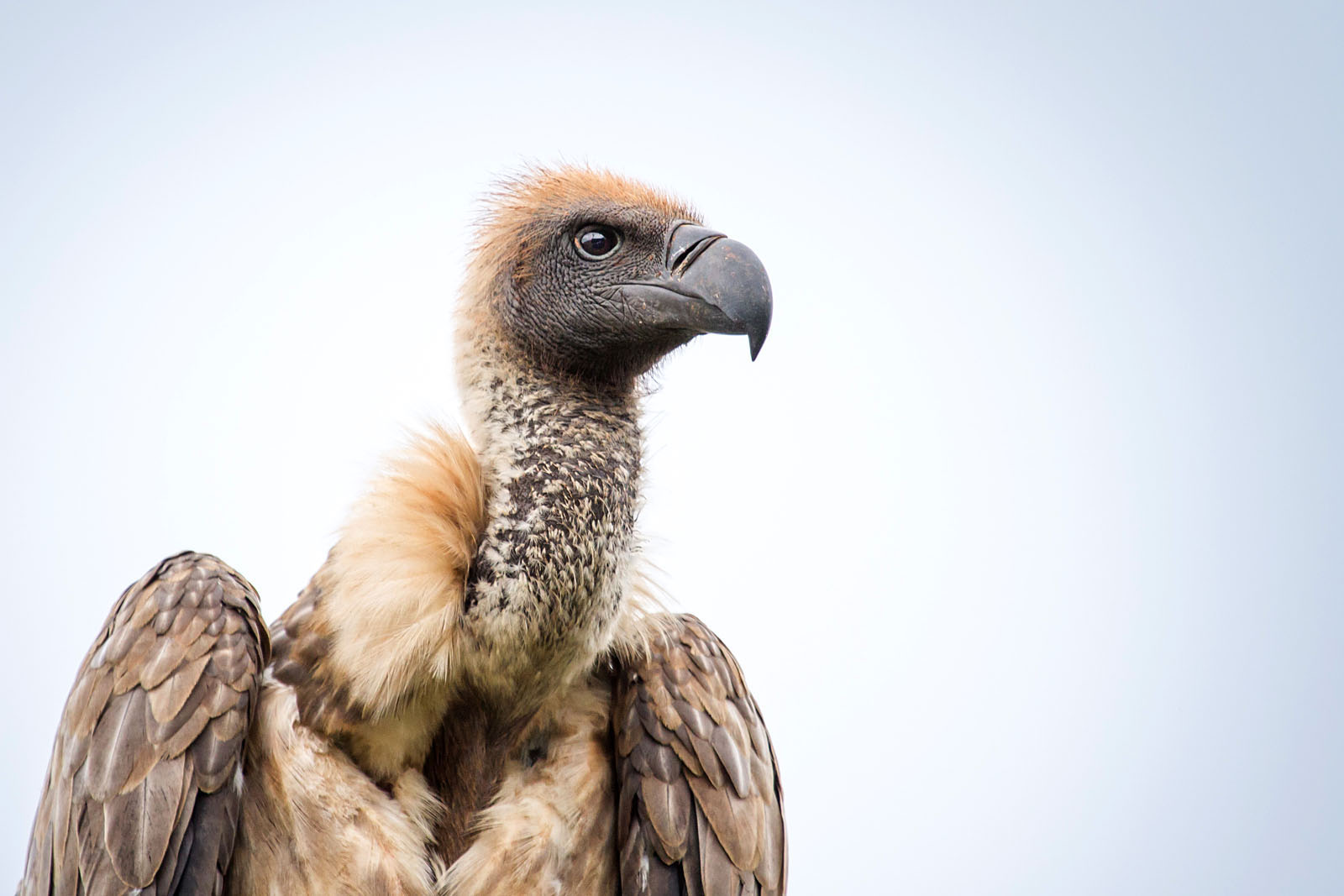 The next morning we packed up, ready to head home. We said our goodbyes to Sharon's folks and then took the long, convoluted, two hour route out of the park to get the most out time there. This proved to be a good call as we came across a pride of lion, with cubs, climbing some acacias. No matter home many times I see these clumsy cats in trees, it never ceases to amaze me.
We sat watching them for close to half an hour, before deciding it was time to head for the gate. The drive home was always going to be tough with a 20 month old in the car, so we couldn't spend too much time in the park. We took our last sniff of the bush and drove back into reality, heading for Plantations and another year.