City2Surf 2020
City2Surf 2020
Having thoroughly enjoyed the City2Surf back in 2018, I was quick to sign up for the 2020 event. I had high hopes of running the Sydney to Bondi route amidst swarms of runners, surrounded by energised crowds, singing and dancing (both me and them). And then 2020 happened…
As such the 2020 City2Surf became a virtual event (VR). This meant downloading the City2Surf app, and then running the event on your own, or as part of a small group abiding by local social distancing laws and guidance. The app records your time and route, and submits it to the race organisers, who in turn validate your time and positioning, and then send you your finishers medal.
The app offered some great features such as in race commentary (assuming you had headphones in while running), a map visualising both your actual route as well as where you would have been on the official course, and the ability to track your friends and team mates.
Since running on the official route meant immediate disqualification, I was forced to plan my own route. The biggest difficulty for me was to find a route where I could run 14kms without having to stop at a traffic light (or similar), or loop around a small area a ridiculous number of times. I eventually opted to run one and a half laps of the 8.5km Narrabeen Lagoon Trail, offering me some great scenery and open tracks.
I headed out early on Saturday morning (you had the whole weekend to run the race), hoping to beat the crowds to the trail. Not in the mood to hunt (or fight) for free parking, I paid $15 dollars to park at Claude's carpark, and got straight down to it.
As planned, the trail was relatively quiet, saving me from having to dodge riders, dogs, and larger groups. And the scenery was spectacular enough to keep me entertained (distracted) for the full 14kms. Having not run this distance in a while, I started off slowly, ensuring I had enough stamina to see me through the full 14kms. This proved to be a mistake, as I completed my first lap with ease, allowing me to accelerate for the remaining 6kms. While negative splits are generally a good thing, I do feel like I could have run this faster.
I'm not sure why, but I didn't turn at my mark, meaning that when I finished the 14kms I was at the opposite side of the lagoon to my car. My final time was 1:13:06, a whole 2 seconds faster than my previous run (on the official course). This left we with a 3km cool-down walk back to the car. I took the opportunity to stop at a coffee shop on the water's edge for a very welcomed flat white, which was a great post-run reward.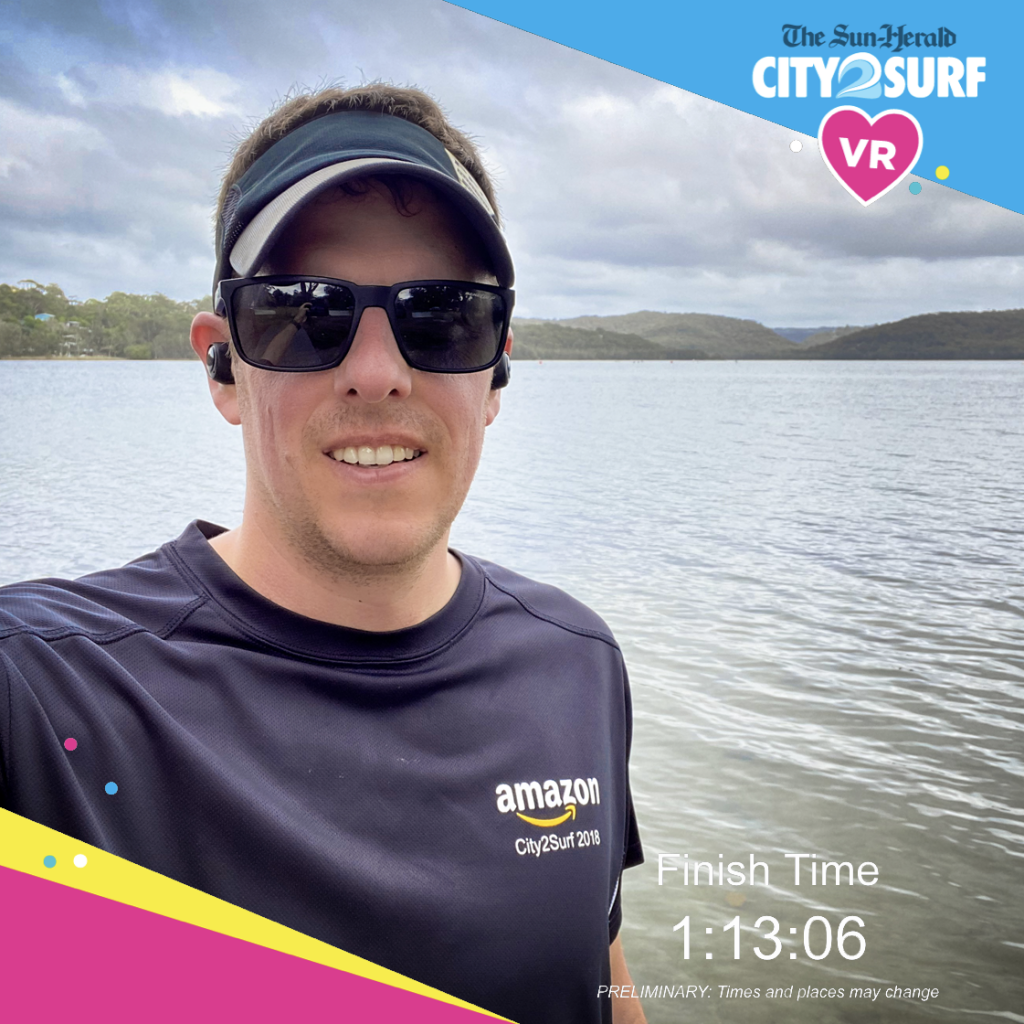 I loved every minute of the run, but the VR format had nothing on the real deal. I hope things are back to normal for next year.