Eating in India
Eating in India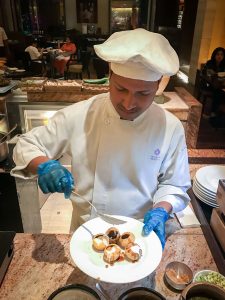 I just completed my third business trip to India in 3 months. It's been a remarkable experience travelling to India so frequently. Unfortunately I haven't been able to travel the country as I've been stuck in the office, but it's been great none the less. I've gotten to experience some of Pune, a lot of New Delhi, and have had the privilege of seeing the Taj Mahal. But what I've really gotten to experience is the food.
I've eaten in restaurants, hotels, and at the offices. I even had the privilege of experiencing some home cooked food thanks to the developers bringing left overs into the office. I've eaten North and South Indian cuisine, and even some "street food". And what I can say, is that everything is AMAZING!
Okay, this statement may not be 100% true. Not everything is amazing. I'm not a huge fan of the drinks or of the sweets. Spices should be added to food, not drinks. I don't need salt or masala in my fruit juice, nor do I need it in my Coke. And buttermilk is not a drink.
As for the sweets (know locally as mithai), they're simply too sweet for me. The majority of them are milk based, and are not dissimilar to fudge. They're slightly grainier in texture, with a slightly different flavour depending on the item, but the idea is there. The sweets are flavoured with nuts (pistachios for example) or spices (cardamon and nutmeg are common), and are often decorated with silver or gold. They're not bad, they're just not for me. Either way, they're interesting and definitely worth trying.
On to the "real food." Interestingly I'm yet to have a dish that is truly hot. This may be because I'm Caucasian and am therefore used to being asked, "how spicy?" in restaurants. I have the feeling that even if you respond "hot," they laugh on the inside and give you medium, silently judging you. That said, I do believe the flavour is in the spices, and not the heat as us Westerners tend to believe.
Something else I noticed is that more than half the dishes are vegetarian, due primarily to the local religions. As a result the vegetarian dishes are incredible in both flavour and variety. In fact I'd happily be vegetarian in India, unlike in South Africa where my options would be either a salad or a vegetarian lasagna (if I was lucky). Often in the office they would have the same dish twice – one with chicken/lamb, and one with paneer.
Some of my favourite dishes include pani puri, butter chicken, chicken tikka, masala dosa and anything lamb. You can try them at home, but I can guarantee you they aren't as good as in India.