Excitement on Fly at Willoughby Creek Bay
Excitement on Fly at Willoughby Creek Bay
I snuck out of the house late on Saturday afternoon, fly rod in hand, ready to explore some nearby waters. Despite having lived in Sydney for close on 2 years, I had only fished the harbour twice, and was eager to find some good fishing spots close to home.
When I arrived at the Willoughby Creek Bay, it was just starting to rain. There was a strong westerly blowing, it was close to low tide, and the water was murkier than usual. But none of that was going to put me off.
I stood on the bank for a while, trying to work out my game-plan, before climbing down the steep wall into the water. The bottom was covered in oysters and, despite wearing rubber booties, it was still sore underfoot. Due to the poor visibility (and again the oysters) moving around was tough, and I wasn't 100% sure as to where the small channel was. So I cast blindly, targeting areas I remembered to have deeper water from previous visits.
Less than five minutes later I heard a loud, "Watch out!" This was followed by a loud splash as a cricket ball plunged into the drink less than a meter from where I was standing. I tossed it back up to a cricketer, and then got into a chat about the kingfish he'd seen cruising in the shallows. Good news for me.
Around 30 minutes later, without so much as a touch, I decided to change my approach and headed for the far bank, where I could see a sandbar starting to protrude from the water.
This proved to be a far better option, as I was able to wade out and cast over the drop-off, into the deeper water amongst the yachts. Fishing remained slow until I clipped off my olive crazy charlie, and tied on a small chartreuse over white clouser.
Almost immediately I hooked into something LARGE! It headed straight for the horizon, stripping line off my reel at high speed. Nothing I did helped to slow it down, and I was eventually forced to straight stick it, as the fish headed for some anchor ropes. Much to my dismay, with the additional pressure on the fish, my line snapped. But what a rush!
Thankfully I had another, larger, clouser in my box, which I tied straight on. I worked my way up and down the bank for another 20 minutes, before hooking into another decent fish. This time I managed to land it, and was rewarded with a beauty of a tailor, measuring in at around 45cms. After snapping off a quick photo I released the fish to live another day.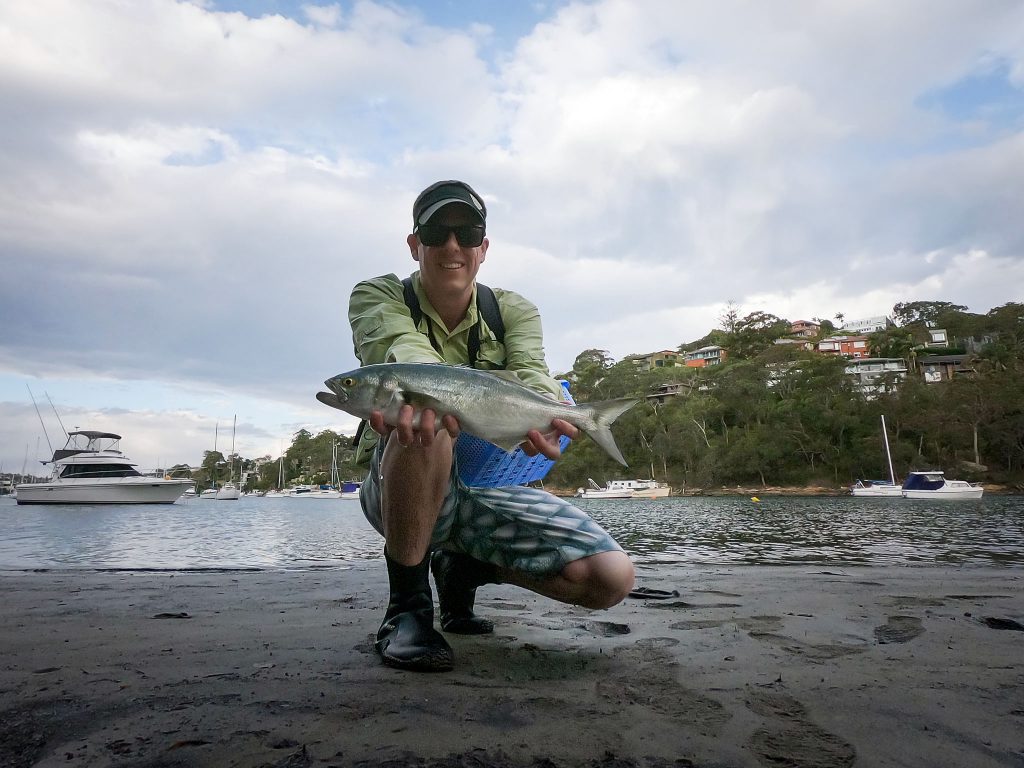 Satisfied with my results, I packed up and headed home. It may not be the best venue, but it certainly produced the results, and is well worth the odd session being so close to home.