Inanda Dam Bass Bashing
Inanda Dam Bass Bashing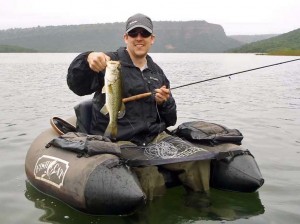 After a rather interesting DFT demo by Marco Breschi, our club's bass expert, I had a chat with him and we decided to head down to Inanda Dam on Sunday morning for a little bass fishing (on fly of course).
With my newly tied strip leech in hand, Nick picked me up, we met Marco at the gate, and we headed down to the dam. Our first mistake was arriving at 5am only to be told that the gate only opens at 6am. We must thank Nick for this great piece of planning, so if you ever happen to run into him please be sure to rough him up a little. None the less we put the time to good use by pumping up the tubes, kitting up the rods, and discussing strategies for the morning.
It was overcast with a light drizzle appearing every now and then. Thankfully this was a vast improvement from Hillcrest where it had been pouring with rain.
When the gates finally opened we headed into the camping spot, put the tubes into the water, and headed out. Well, Nick and I did anyway. We'd already crossed the small bay and I'd landed my first fish before the rest of the boys got onto the water (which we later discovered this was due to a broken fin).
Having landed my fish relatively early I was convinced it would be a good day. Sadly things slowed down and I struggled for the next hour and a half. That was until I switched to a floating line with a bass bug. First cast I got into a nice laremouth bass, and I landed a couple more after that.
All in all a good morning with most of the guys getting a couple of fish. Marco got a nice 2kg bass which must've been the fish of the morning.