Inanda Dam In The Baha Vessel
Inanda Dam In The Baha Vessel
With Inanda fast becoming our most fished venue we decided to head down with a new objective in mind…to cover more water. We therefore left the float tubes at home and hitched up the boat, ready to explore the uncharted nooks and crannies of the dam (well, for us anyway).
We launched the boat at 6am and were soon flying across the dam, sulking that neither of us had bothered to pack breakfast. Thankfully our hunger pangs were quickly forgotten as we pulled into our first bay. While Nick was still navigating the boat into our drift I threw out my popper and got straight into a fish.
The water was murky with a lot of algae on the surface. It was also incredibly warm which probably explained the rapid algae growth since our previous visit. There was also a slight breeze blowing which put a nice ripple on the water and nice cloud cover which added to the good surface fishing conditions.
Within an hour we'd picked up multiple fish on poppers, all in the region of 500g – 1kg. Nothing huge but fun none the less.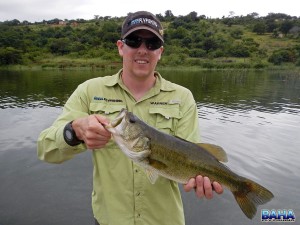 The fishing then slowed down as the sun moved overhead. We therefore decided to look for deeper water and began prospecting with both surface and sub-surface flies. We picked up a few more fish but the morning's hive of activity was definitely over.
During this period of inactivity we managed to keep things exciting by drifting under a few low hanging branches. What followed was panic as the spare fly rods in the rod holder snagged the branches. Thankfully they didn't snap but as we drifted off the fly rods remained, dangling from the tree like expensive Christmas decorations. Thankfully a well placed cast meant I hooked into the cork grip and the rod was safe.
Eventually getting bored of the deeper bays and sub-surface action we moved back to the shallows where I picked up the fish of the day on some nice structure with a popper. We then decided to call it a day and headed back to the launch site, our hunger pangs returning.
As we approached the launch site we noticed the cleaner water and decided to fish one more bay closer to the wall. It was amazing to see how much cleaner the water was but sadly it produced no fish. That said there was still some excitement when a huge water monitor fell out of an overhanging tree and landed in the water right next to the boat.
That marked the end of the day and we headed back to the slipway to take out the boat and put on clean pairs of shorts.