Inanda Dam On Fly
Inanda Dam On Fly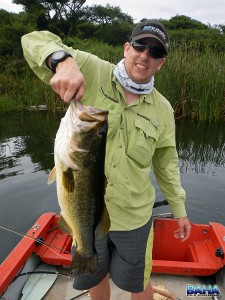 For the second week in a row we headed down to Inanda Dam to target bass. Conditions were close to ideal thanks to the warm water, a decent cloud cover, and a slight breeze creating a gentle ripple on the surface.
Nick was convinced that he'd been at a disadvantage on previous trips due to the onerous task of skippering the Baha vessel. I therefore took control of the wheel for this outing and decided to head towards the dam wall for the morning's fishing.
My first choice of venue yielded no fish (although Nick did miss one) which left me a little nervous in my new captain's hat. Thankfully my second choice proved rather fruitful and we landed several bass, as well as my personal best largemouth bass tipping the scales at 3kgs. Relief!
We continued prospecting bays as we headed closer and closer to the dam wall. As expected the fishing slowed as the sun rose and the cloud cover started to break up. That said we landed fish all morning and ended the day in double figures once again.
We also came across an awesome (and dangerous) looking zipline which may need to be experimented with on future trips.
Never a dull moment!