MacNicol's Mayhem
MacNicol's Mayhem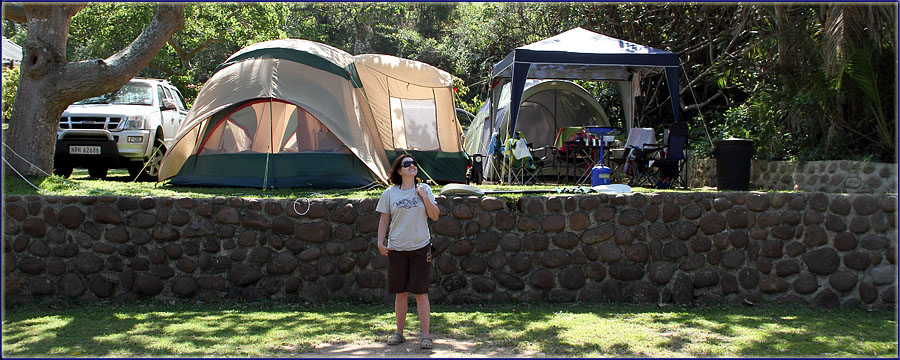 In breaking with the "lazy Friday at home" tradition, Sharon and I braved the world of kids and headed for MacNicol's. For those of you who are not familiar with the camping scene, you basically get two types of camp sites.
Type 1 is quiet, relaxing and normally spacious and relatively empty. Facilities are minimal, but sufficient, nature is abundant and birds soar overhead. Type 2 is however a completely different beast and resembles a world similar to that from Lord of the Flies. Kids run amok in spaces crammed with swimming pools, jungle gyms and trampolines. Nature has long since left this world and birds darest not soar overhead in fear of catties. Those birds which do remain are either too small to be hit with a catty (and noisy as hell) or resemble something from a farmyard (and chase you if you carry around a bag of peanuts).
MacNicols is a type 2 campsite…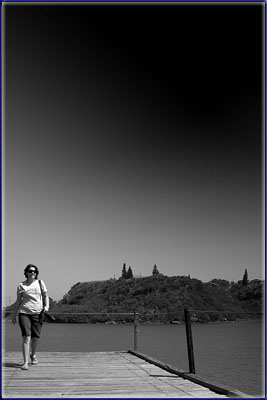 Having said this, the weekend was great fun thanks to me still being one of those noisy kids. Hey, if you can't beat 'em, join 'em.
To continue, I left work a little early on Friday afternoon and picked up Sharon and Robyn en-route. Wayne was already on his way down with the kids (sucker) and so the weekend had begun. We arrived at around 6pm and, just as I started putting up the tent, a swarm of workers arrived and did it for me. WOW! Other than a few bent pegs I could get used to this.
Sweaty from watching camp being erected, I grabbed a beer and fell into my chair…aaaagh! It was 6:30pm, the kids were swimming, and the bigger kids were drinking beer and catching up – it was the best lazy Friday yet.
At around 8pm we moseyed over to the pool (where braais had been made for us) and burnt some meat. The kids then headed (were sent) to bed, and us adults went for a little swim of our own….nudge, nudge, wink, wink. It's been years since I last skinny dipped and it's as fun as ever. Sadly everyone else must've been intimidated by my awesomeness and quickly left the pool.
Back in camp, and being extremely quiet due to the 3 kids sleeping in the tent next to us, we were casually informed that we were too noisy and needed to go to bed. WTF?! So kids are allowed to wake us up at 5am, but we're not allowed to keep them up at night? Double standards me thinks?
WARNING! MacNicols has a curfew!
At 5am the sun was up and with it the kids and weavers. I managed to lie in bed until 6am when the smell of coffee dragged me from the tent. The kids were already in the pool and we set about skottling a fantastic English breakfast.
After breakfast we grabbed three of the kayaks and paddled across the lagoon and to the beach. When we got there the wind was howling, despite it having been dead still at the campsite. I've got to hand it to them, they chose a good location. We chilled on the beach for half an hour or so before jumping back into the kayaks and heading up the river.
(Mental note…there are some fantastic looking fishing spots both off the beach and into the lagoon, which is open to the sea)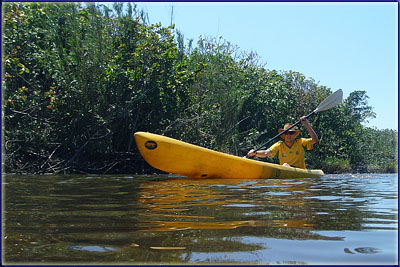 We made it just less than a kilometer up the river before the water was only ankle deep and the boats beached themselves. At this point we climbed out the kayaks and messed around in the shallow, warm water. A Pied Kingfisher was happily fishing less than 50 meters from us and we were all having great fun, until something resembling a giant Anaconda swam past us…Aaaagh! Before I'd even turned around Sharon was already 100 meters away and dragging the kayak at speed. Eventually I caught up to her and we made our way back to the camp site.
After a lunch of cold meat sandwiches, Sharon and I decided to go for a walk on the trail through the mangroves. Cameras in hand we walked through the site and eventually found the start. Sadly, and unbeknownst to us, the walk was actually outside the MacNicols fence and we found a rather large padlock between us and the trail. Somehow we were willing to walk the 2km trail but were not willing to walk the 500 meters back to reception to collect the key. Instead we headed down to the lagoon and lurked around the water's edge taking photos of farm birds.
As 4pm approached we headed back to our site, put down the cameras, picked up the beers, and headed for the bar and the SA vs. Scotland game. Things got off to a semi decent start with SA taking an early 6-0 lead. Our expressions quickly changed however as Scotland kicked penalty after penalty over the poles. With the game drawing to a close the Springboks were well off the pace, and were not doing themselves any favours, as they kicked all their ball away. With a few minutes to go they managed to put in the only try of the game but this was not enough. Victory to Scotland.
We all sulked our way back to camp and set about braaiing on the readymade fires. Being rather tired from the night before, and still rather sulky, we all crawled into bed shortly after the kids.
Once again we were awakened just after 5am by a combination of kids and weavers. The weather was looking rather ominous so Sharon and I opted to take the tent down in case there was some unexpected rain. And amazingly, by 7am, camp was packed up and in the car. All that remained in our site was a cunningly placed beer fridge and the gazebo for some shade.
We set about skottling another fantastic breakfast and then headed for the games room where we played the All Africa table tennis championships. After that we had a quick ice-cream and then headed home just before lunch time.
The awesome weekend was over and it was time to return to day to day life. We stopped off at Knowles to do the weekly shop and then chilled in front of the TV while the rain bucketed down outside. What a great way to end a great weekend.