Reekie Lyn And Kamberg
Reekie Lyn And Kamberg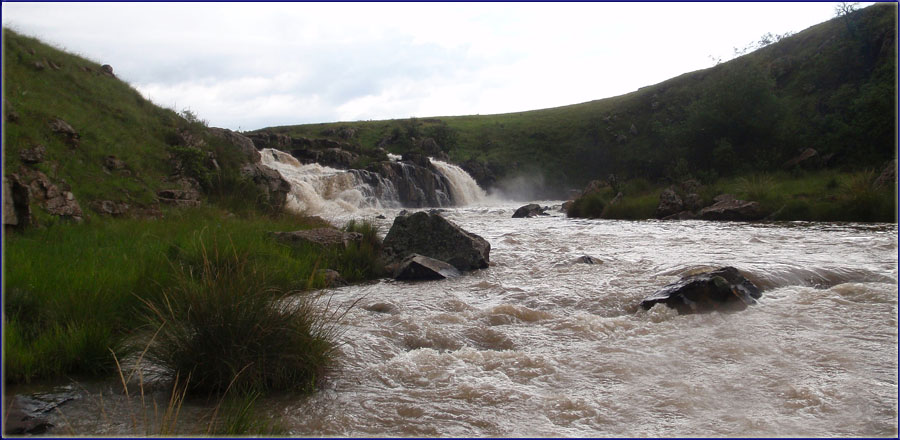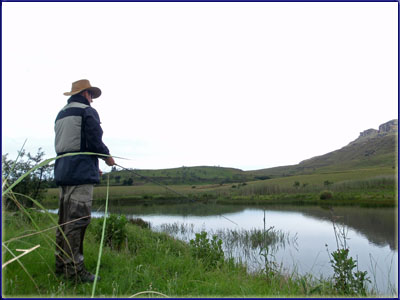 I picked up Bruce and Nick at 5:30am and we began the long journey to Reekie Lyn, a 5km section of the Mooi River just below Kamberg, which we would be fishing for the day.
Sadly things got off to a bad start when the rain started bucketing down before we'd even reached Cato Ridge. None the less we pushed on, stopping only for our regular cup of very average coffee from the Wild Bean Cafe. An hour later, and nearing Nottingham Road, the rain was still pouring down. Bruce had taken to dropping hints about stopping for a cooked breakfast and Nick was starting to nod in agreement.
Thankfully, just as the two looked as if they may mutiny, a break appeared in the clouds directly above Reekie Lyn. I parked the car and we peered down at the waterfall below us. A thick, chocolate milk was pouring over it at a dramatic pace which seemed to rival Victoria Falls. The river also appeared to be in flood (well almost), but having driven all that way we decided to rig up and give it a try anyway.
As we started the walk down the valley it become very clear that the water was flowing far too quickly for us to cross safely. None the less we continued downstream hoping that the water would slow as we got further from the waterfall. En route we came across two otters in the space of less than 500 meters. A good sign? I hoped so at the time. Sadly however, less than a kilometer from the car, our journeys was halted thanks to a cliff and some overhanging trees. Sulkily we turned slowly and started walking back to the car. It was time to come up with a plan B.
In retrospect it was probably a good thing that we were forced to return to the car. With only a few hundred meters to go a bolt of lightning dug into the ground far too close for comfort. We quickly packed our rods into the car and, just as we climbed in, the rain started bucketing down once again. Thankful that we weren't stuck in the valley amidst all the lightning and rain, we slowly made our way to Kamberg Nature Reserve. Our thinking was that we would wait out the storm and then fish some of the still waters. At least this way we would never be too far from the vehicle (and shelter) should the storm return.
Upon arriving at Kamberg we took cover under the lapa overlooking Eland Dam and, eating some of our lunch, stared hopefully at the water where fish were rising consistently all over. All that we needed now was for the storm to pass. Lightning and fly rods are not a good combination.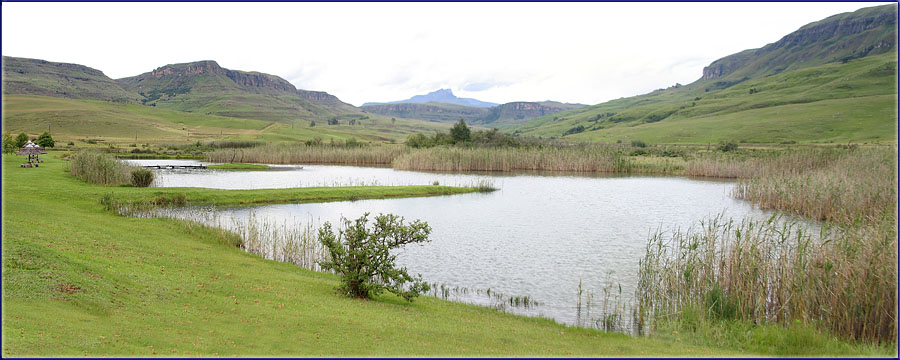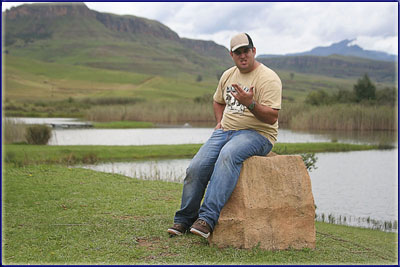 Half an hour later and the storm had thankfully moved off. It was still raining fairly heavily but this had never stopped us before. We kitted up the rods for the second time and made our way down to the water's edge. It was just after 8am.
Nick was fishing a floating line since that was all he had packed (he was after all expecting to fish the river). However with the fish actively feeding on the surface this definitely wasn't a bad thing. In fact, within 15 minutes of his fly getting wet Nick was in to his first fish, a strong Rainbow Trout of just under a kilo.
And then, five minutes after Nick had landed his fish there was a big rise about 20 meters in front of me. I pulled my olive green, bead headed nymph from the water and gently laid it on the remaining ripples. I stripped once and it was fish on! It was also a Rainbow of just under a kilo. Was this the Kamberg of old? I was feeling excited but it was still too early to voice my opinion in case I jinxed it.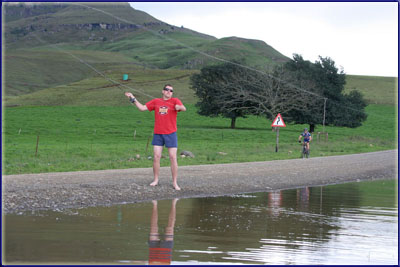 Bruce meanwhile stood sulkily between us, soaking in the pouring rain, wondering if he was once again going to blank. The pressure was on!
The three of us then moved down to my favourite Kamberg dam, Erskine. Nick headed straight for my most productive jetty and landed another fish almost instantly. I fished off a nearby grass jetty and successfully missed two fish in short succession. Somewhat annoyed with the spot I moved around to one of my favourite weed beds. A few more casts and I was on, this time on a filoplume dragon.
Almost immediately as I released the fish I saw Bruce's rod bend. He was on! And the pressure was off! Even from a distance I could see him breathe a sigh of relief.
By the end of the morning's session Bruce and I had both landed three fish, and Nick was nipping at our heals on two.
We gathered back under the lapa for lunch and Bruce once again tried to grab a quick nap on the grass. Nick and I took the opportunity to head back down to the water hoping to extend the lead. Bruce obviously sensed this, quickly grabbed his rod, and joined us.
The afternoon session got off to a slower start with no fish coming out for the first half an hour. Bruce had headed back to the same spot where he had picked up all three of this fish in the morning. I was fishing a nearby weed bed and, after landing my first fish of the afternoon, decided it was time to poach Bruce's "magic" spot (this is what he'd named it at lunch).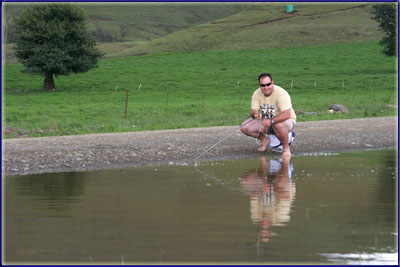 I moseyed up opposite him on the narrow channel he was fishing and landed a cast almost at his feet. Amazingly I was instantly into a fish. I almost felt guilty…almost. Thankfully while I was fighting the fish Bruce also got into a fish. Sadly his came off shortly after that and we were unable to complete the double up.
Bruce picked up two more fish in the afternoon session taking his total to five. I also got another two fish leaving my tally at five. Sadly Nick's afternoon session was less productive and he had to end the day with just his two fish from the morning session. I guess he just peaked to early…or got too cocky after landing the first fish of the day.
At around 3pm another storm started rolling down the valley and we decided it was as good a time as any for a beer. Earlier in the day a ranger had come down to collect his rod fees and since none of us had our wallets with us we assured him we'd pay on our way out. In return he had assured us that he had cold beer at the coffee shop. It turns out that this cold beer was all a lie. As far as I can tell it was a cunning plan to lure us to the office to make sure we paid. Why lure us? Probably because the cost of a day's fishing had rocketed from R60 a person (a few years ago) to a whopping R120 a person. Ouch! But then I suppose that's what people charge these days?
It's probably also worth mentioning that the river looked really good. And even though the water was flowing rather quickly (thanks to the recent rain) it was still crystal clear and definitely worth a try in future.
The journey home from Kamberg always feels long. Thankfully this time we had a little entertainment on the way home. Due to the heavy rains the puddles on the side of the road were actually fishable. Don't believe me? Ask the cyclist who passed me mid cast. Oh, and did I mention that puddle fishing is best done wearing only your underwear?
This combined with the fact that the Nottingham Road Pub had an ice cold beer waiting for us made it a decent trip. We sat around the pub watching SA crush India and chatting merrily (albeit quietly) about the days fishing. Kamberg certainly seems to have returned to its former glory (as a fly fishing haven) and I'm sure we'll be back in the future. So watch out Kamberg, the Baha Boys are on to you!