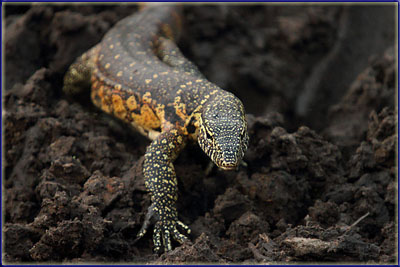 Sharon and I jumped out of bed like eager kids on Christmas morning. After freshening up we climbed into the car and headed over to my mom's house where we had a quick breakfast and then got down to opening presents.
Sharon spoiled me immensely with a beautiful telescope for our trip to Mkhuze. Sadly there were some issues with it and we were unable to swap it out before the trip.
The mandatory present opening was followed by a fantastic Christmas lunch with all the usual food; turkey, ham, sausages, potatoes, and more. And when that was done we relaxed by the pool for the rest of the day playing darts and various other games.
Eventually, at around 5pm, we headed home and packed for our trip to Mkhuze the next day.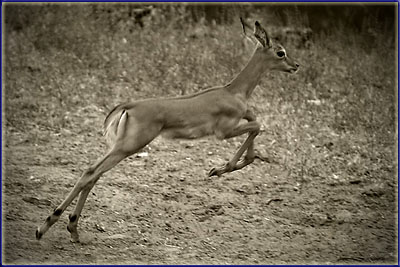 On Monday morning we were up early and on the road by 5am. As per usual we opted to drive through Imfolozi and Hluhluwe on route to Mkhuze. The drive was spent enjoying egg mayonnaise sandwiches and various other snacks.
After reaching the Imfolozi gate at 8am we made our way to Sontuli Loop in very hot conditions. We stopped briefly at Mpila Camp where we admired the new chalets (which had bathrooms added to them) and took a sneak peak at the sightings board. Instantly we noticed the multiple cheetah sightings at the end of Sontuli and crossed our fingers.
Sadly by the time we reached the end of the loop we'd seen no cheetah, just the usual game. We decided to give it one last ditch effort and headed deeper into Imfolozi rather than up towards Hluhluwe. Less than 2kms later our perseverance was rewarded when we came across 5 cheetah stalking something on an open plain.
They made a half hearted dash for whatever it was they were stalking (it was out of our sight) and then gave up and slumped under a tree in the heat. We sat watching intently as a pair of white rhino approached the same tree. The cheetah were unimpressed with the rhino (of course) and gave them a few snarls in the hope of scaring them off. The rhino were not deterred in the least and eventually claimed the shady tree as their own, scaring off the cheetah.
At this point we realised it was getting late and headed off towards the Hluhluwe gate, far north of where we were. At this point a brief storm passed overhead and we saw very little as we crossed the two parks in the rain.
When we reached Mkhuze town it was 33 degrees and there was no sign of 50ppm diesel. Eventually I was forced to put in a half a tank of 500ppm in the hope that the camp had 50ppm. After covering the last 30kms of dirt we entered the park and made our way to Mantuma Camp. Amazingly the office was closed for lunch but thankfully our key was in the door of our chalet.
The chalets are old but well maintained and consist of a single room with two beds and a sink. There is also a fridge and a fan, but no air conditioning. Each chalet has a braai and they all share a communal bathroom and kitchen. Amazingly, despite what they lack, each unit has DSTV.
We unpacked all we could and then headed out on an early game drive. One of the first animals we came across, still in camp, was a tortoise crossing the road. As per usual we stopped and Sharon picked it up to help it across the road before it was crushed. This idea seemed lost on the tortoise which quickly unloaded its bladder onto an unsuspecting Sharon.
Our chose route went down Beacon Road and we were please to see that a viewing platform was being added to the beacon. It should prove spectacular once its opened to the public. We then headed through the sand forest and on to Kumasinga hide where we sat and watched a heron fishing, a water monitor playing, rhino and an injured zebra.
When it started to get dark we headed back to our chalet to enjoy our traditional first night meal – hamburgers. We then climbed into bed, under a very noisy fan, and tried to fall asleep in the 30 degree heat.
The next morning we were out of bed by 6am and quickly headed out on a drive. Our energy was rewarded with a few great bird sightings including an osprey, blue eared bee eaters, a purple collared sun bird, a golden tailed woodpecker, forest weavers and more. We also saw the usual game although there seemed to be far less nyala than we'd seen on previous trips.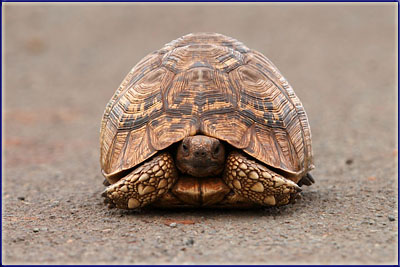 It's worth mentioning at this point that a lot of work is currently taking place at Mkhuze. All of the hides are being rebuilt and the park is looking in great condition. Definitely an improvement on previous trips.
On route back to camp we stopped of briefly at the sand forest hide where we saw the usual wallowing rhino and resident purple crested lourie.
Back in camp we enjoyed leftover turkey and ham from Christmas before heading to the swimming pool to cool off. It was there that we met several birders from a Durban based birding club. They were kind enough to share information with us regarding a few good birding pans just outside of the new Mkhuze gate.
The majority of our afternoon drive was spent relaxing in the sand forest hide with a beer. Sometime it's better to let the game come to you. Although we saw nothing spectacular, sitting in the hide is akin to watching a bush TV, there's always something happening.
One of the special things about Mantuma Camp is that its unfenced. As a result you are often joined at the braai by impala and eland as you cook your evening meal. Hyena are another common visitor, especially in the tented camp, so you definitely need to keep an eye open. That evening was no different as we braaied our chicken surrounded by various animals. Thankfully it was slightly cooler than the previous night and we got a good night's rest.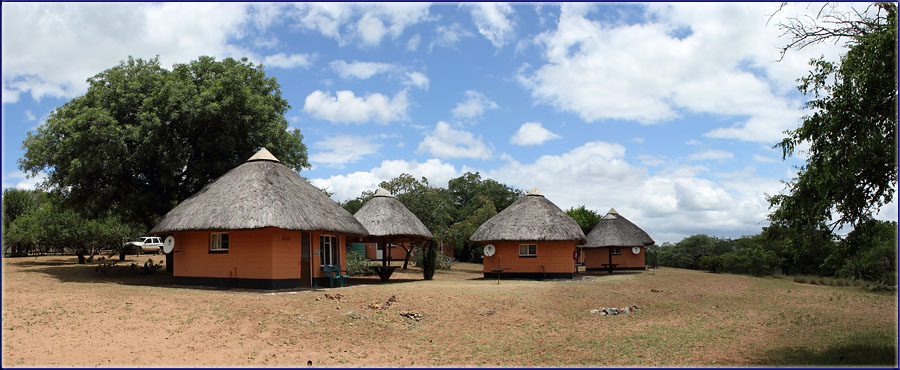 On Wednesday we were once again up by 6am. Our chosen route was along loop road and the birding was once again a treat with sightings of greater flamingos, a mangrove kingfisher (as well as 2 other kingfishers) and the ever popular puffback.
Thankfully the clouds had moved in and it was a lot more pleasant back in camp. We enjoyed a pie for lunch and once again ran into our birding friends. This time however they were less than friendly insisting we couldn't possibly have seen a mangrove kingfisher as it was out of its range. Thankfully we had a photo and knew what we saw, but the birders were not impressed.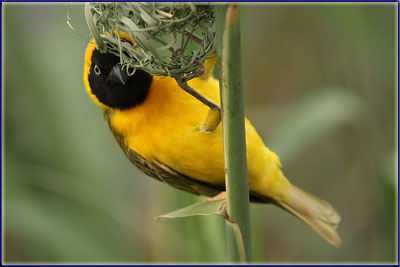 After passing the midday lull with a little fly tying we headed out on our afternoon drive in a light drizzle. This time we opted to head down to the hunting area which was on a road less travelled. We were treated to seeing a suni, one of Africa's smallest antelope, standing only 30cm high at the shoulder.
On route back to camp we made the mandatory stop at sand forest hide and were amazed to find, for the first time ever, that it was completely empty of both animals and people.
Back at camp we braved the rain to braai at steak and garlic mushrooms before heading to bed.
On Thursday morning we headed out a little later than usual. Sharon drove and I'm convinced that's why we saw very little game (kidding). That said it could also have been the late start or the terrible weather conditions. We headed past Nsumo Pan but the wind was howling and we could only sit in the hides for so long before we headed back to the warmth of the car.
Lunch once again consisted of cold meats and more Christmas leftovers. This time I passed the midday lull by processing a few of the photos I'd taken on the trip.
Our afternoon drive on our last evening went past all the usual places and produced all the usual game. We enjoyed our final beer in the Kumasinga and managed to tick of a few more lifers for Sharon.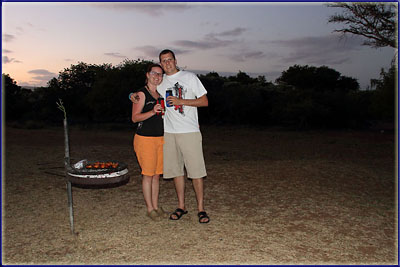 The weather improved in the evening and we enjoyed a very pleasant braai once again in the presence of various antelope. Mkhuze really is a special place, especially if you're a birder and don't worry about the lack of the Big 5.
On Friday morning we got up with great plans to pack up quickly and go on a drive. Somehow we got distracted by a movie on DSTV (while packing) and ended up finishing it before heading out. We opted to exit through the new gate which was a pleasure and is definitely worth using if you're coming from the Durban side. Essentially you go through Hluhluwe town instead of Mkhuze and, although it has the same amount of dirt, it is closer to Durban.
After exiting through the gate we stopped off at the two pans mentioned by the birders. Being out in the rural areas and close to villages there was a lot of rubbish on the ground and they were far from the pristine environment we'd gotten used to in the reserve. That said the bird life was exceptional and they're definitely worth stopped at on route to the park.
From the pans we headed to Sharon's families house in Richards Bay where we exchanged Christmas gifts, braaied and had an early night.
The next morning we relaxed in the garden, watching the local birds, while the kids swam. We eventually left at around lunch time and were home by 2pm, just in time to gear up for an epic braai and New Year's party at Nick's place. Lets just say that many crates of beer were bought, lots of caramel vodka was consumed, and that we only got home at 2am. What a week!